No More Reckless Corporate Tree Plantations Please!
She fought for the humble Sarus Crane, a bird inhabiting the vast wetlands of Safai village in Etawah district. And the Sarus Crane lived to tell the tale. A state-of-art airport was proposed in this location in 2006, by then chief minister of Uttar Pradesh, Mulayam Singh Yadav in an attempt to 'develop' his ancestral village.
Knowing that this was a death warrant for Sarus Cranes of India, Bahar Dutt questioned Mr. Yadav on abandoning the non-migratory crane's natural habitat. Tempers flew, interviews were refused but as a result of this timely intervention and ceaseless reportage, the expansion of the airstrip was controlled, saving the wetlands. "The story of the sarus crane is dear to me because it was my first story and also became the biggest story of my career" says Dutt. "We were not able to stall the airport but what we succeeded in doing was to control the expansion of the airstrip on to the wetlands, which is the natural habitat of the Sarus Crane. I think I didn't even know at that stage in my career who Mulayam Singh Yadav was, all I knew was I had the evidence of the destruction he had caused to the cranes habitat and that the story I had to tell!"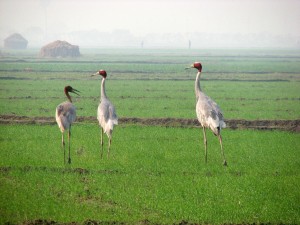 This and many more such investigative-environment stories are chronicled in Bahar's book Green Wars – Dispatches from a Vanishing World, which was released on 5th June, World Environment Day. Development, environment, conservation, global warming – what do they mean in real terms, on the ground, to the people there? Having traveled extensively from Arunachal Pradesh to the Arctic, from Goa to Gangotri, Bahar Dutt has witnessed some of the richest wilderness areas, and explored the tension between a developing economy and a vulnerable ecosystem. The book can be an interesting read not only for green enthusiasts but also for all stakeholders of CSR. Based on her 16 years of experience in the field of environmental conservation highlighting serious problems & concerns, Bahar now wants to shift gear by talking about solutions and the people working on them. So when questioned on CSR projects as a potent tool for solutions in environmental sustainability Dutt has some do's and don'ts handy.
"What I can advise is what kind of projects corporates should NOT take up! Please don't initiate any drives to plant trees when you can't look after the trees. Please don't initiate projects like 'switch off the lights' or 'use less paper' as this is just doing a lip service to environment problems. What they can take up is say initiating a citizen's drive in your colony for better waste management. Or how about ensuring your company is less carbon intensive, uses less sources of energy, ensures the next building you make is green certified. The scope is endless but I hope we do it with a sincerity else it just ends up being a misnomer like 'sustainable development'.
For her critically-acclaimed TV series- 'Saving the Ganga' which was telecast on the news channel CNN-IBN and also run in six regional languages including History India, Dutt undertook a 2400 km journey and followed the river Ganga from its source at the Gaumukh Glacier to the Bay of Bengal where it empties into the sea. While she found plenty of initiatives by NGOs that improve local habitats during this journey, there was a dearth of effective CSR models. "I am still a bit skeptical about corporates commitment to environmental issues because they are the first ones to cry foul about green issues. So I still need to be convinced that corporates do genuinely care about the environment."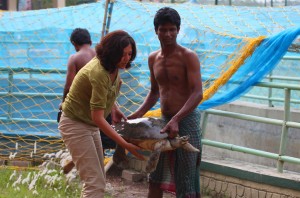 In her travels, Dutt found that there was a surge in the number of citizens initiatives in every city. Citizens groups in Delhi have been actively working on Saving the Yamuna. Likewise a group in Lucknow has been working on a drive to Clean the river Gomti. Dutt feels there is potential for a genuine CSR model that could effectively mobilize such groups, and most importantly involve the people who live close to the river. "It would certainly work if that corporate for instance was a tannery on the banks of the Ganga!" says Dutt. "Corporates could also  help small scale industries set up effluent treatment plants or get a commitment from them that they will not dump toxic chemicals straight into the river."
Bahar Dutt's tales of eco-adventure in Green Wars may just be what the doctor ordered for the CSR world.