SDGs were adopted on 25th September 2015 in Paris where 193 countries, including India, ratified and signed the convention to accomplish 17 Sustainable Development Goals (SDGs) with its 169 targets by 2030. The goals take a pragmatic approach to achieve sustainable growth at all levels of the social, economic and environmental dimensions of the planet, making it probably one of the most holistic development models evolved. The SDGs have also evolved to provide flexibility to nations and organizations alike to develop action plans to achieve the set targets thus providing a roadmap for the next 12 years. India along with other countries has signed the declaration on SDGs, setting itself ambitious targets for implementation of the SDGs by aligning it with the national development agenda, including setting up a monitoring dashboard in its Niti Aayog.
India, almost considered as a poster child of the SDG community, needs to make large investments and the achievement of these goals may not be possible with government initiatives alone. Rather, it needs a high level of collaboration between the government, private sector and the civil society. SDG #17 highlights this need for partnerships which constitutes the final of the 17 goals but perhaps the most significant and complex aspiration of the sustainable development movement.
India is one of the first few countries of the world to mandate a CSR law on eligible corporations. Under the Companies Act of 2013 passed by the parliament, all companies with a net worth of INR 500 crore or more or a turnover of INR 1000 crore or more or a net profit of INR of 5 crores or more in a financial year are required to spend 2% of its average net profit over 3 years in developmental activities prescribed in Schedule VII of the Act. A staggering amount of funds have entered the country's development sector since the last 4 years of the law's implementation. The CSR expenditure has increased by about 40% during 2016-17 as compared to 2014-15, the first year of the law's implementation. The CSR spending trends of the top 100 NSE companies by market capitalisation shows significant increase in the alignment of CSR initiatives to national priorities.
Interestingly, SDGs and the Indian CSR law were formulated and implemented around the same time. The SDGs have a much longer history of evolution but there is considerable evidence to support the claim that even globally, CSR co-evolved with the sustainable development movement. In the Indian context, the CSR leadership can quite easily correlate the prescribed areas of CSR spending with the 17 SDGs.
Linking CSR with SDGs
Taking a closer look, each of the eleven areas of CSR prescribed in Schedule VII of Section 135 in the revised Companies Act of 2013 could be linked to multiple SDGs. To illustrate this point with a few examples: CSR area 1 on eradicating poverty, hunger and malnutrition and promoting preventive healthcare and sanitation could be correlated to SDG goals #1 (No Poverty), #2 (Zero Hunger), #3 (Good Heath & Well Being) and #6 (Clean Water & Sanitation). Similarly, CSR area #2 on promoting education and vocational skills, including special education for the aged, differently abled and women, and livelihoods could be correlated with SDGs #1 (No Poverty), #2 (Zero Hunger), #4 (Quality Education) and #8 (Decent Work and Economic Growth). CSR area #3 on promoting gender equality, empowering women, providing housing for women, orphans, elders and day care centres for children and reducing inequalities faced by socially and economically backward groups could be correlated with SDGs #1 (No Poverty), #5 (Gender Equality) and #10 (Reduced Inequalities).
With just these three CSR areas, one can clearly observe that SDG #1 (No Poverty) is impacted by all three as prescribed by the Act in India. Thus, companies spending the money and NGOs designing and implementing the various projects in different communities and geographies in all three areas could potentially explore ways to leverage, scale and benefit from cross-learning if only SDG #17 (Partnerships for the Goals) were to become a reality.
In other words, if three or more companies were to design and implement varied projects via NGOs in the same or neighbouring geography to fulfil their CSR obligations, all of them could be contributing to, let's say, SDG #1 (No Poverty). It's theoretically possible to examine which projects are duplicated and which are less efficient by an objective impact assessment agency. The duplications could be eliminated and the more efficient projects could be scaled up.
It's even possible to pool in CSR funds and NGO capacities to leverage scaling up longitudinally and vertically across geographies. All relevant stakeholders will also be able to determine the impact made on SDG #1, for example. It would make the job for a central monitoring agency such as Niti Aayog much easier to assess regional and national accomplishments on SDGs. It would even be possible to determine the contributing stakeholders and document the best practices and projects as benchmarks. These could constitute teaching and research case studies that higher education institutions could collaborate with the other development stakeholders to put together for collective benefit. In other words, linking CSR to SDGs in India could open up a new paradigm of partnerships.
Paradigm of Partnerships
What one already observes by analysing the evolving Indian CSR landscape is the myriad partnerships taking place between the corporate and civil society sectors, which were few and far between if happening at all. Now with various government schemes and programs also impacting on the 17 SDGs, it is very plausible to weave a thread of complementary partnerships across the public, civil and private sector actors in India's social, economic and environmental development. The accelerating pace of collaboration between the social and private sectors noted in an earlier article by the same author, one among the emerging trends in India's CSR scenario, could be positively leveraged by using the SDG targets and indicators as measurement tools for outcomes and impact of the CSR spending; thus overcoming one of the gaps commented in the earlier article which is the lack of a standardised impact evaluation system in India.
Applying the same logic of linking CSR with SDGs to the various Government of India's development programs could also open up partnerships across the public, private and civil society actors. Consider the same SDG #1 (No Poverty) and its correlated government schemes and programs: National Urban Livelihood Mission/National Rural Employment Guarantee Scheme; National Rural Livelihood Mission (NRLM); National Social Assistance Program; Digital India Land Records Modernization Program; Pradhan Mantri Jan Dhan Yojana; and the Pradhan Mantri Bima Yojana.
What private sector interventions could complement these various public schemes towards collaboratively impacting SDG #1? One could imagine the CSR projects by the private sector on livelihood opportunity creation, equal pay and safe working conditions, eliminating bonded and slave labour in supply chains. One could conceivably leverage the knowledge and research capabilities of higher education institutions to increase capacity and training of the implementing NGOs/CSOs. In fact, a new paradigm of partnerships may well emerge if India could effectively synergise its CSR with the SDGs.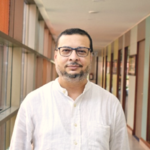 Amit Lahiri is the Chief Sustainability Officer of O.P. Jindal Global University in India, the Associate Director of the IIHED (International Institute for Higher Education Research & Capacity Building) and the Founding Executive Director of the Center for Excellence in Corporate Responsibility & Sustainability (CECRAS) at the university. He combines 10 years of managerial experience in the global life sciences industry with about 20 years of experience in the higher education sector across North America, Europe, India and the Middle-east. He has a Masters Degree in Environmental Studies (York University, Canada), a Graduate Diploma in Sustainability from the Schulich School of Business (Canada) and a MSc in Life Sciences from the University of Bombay.
Views of the author are personal and do not necessarily represent the website's views.
Thank you for reading the column until the very end. We appreciate the time you have given us. In addition, your thoughts and inputs will genuinely make a difference to us. Please do drop in a line and help us do better.

Regards,
The CSR Journal Team