Globally, the advent of digitally enabled Fourth Industrial Revolution (4IR) has already been termed as the fastest period of innovation ever. Rapid advancements in technology, disruption of conventional markets and reconstruction of business-as-usual models are transforming and realigning the ways economies and societies operate.
India, with an estimated growth rate of 7.4% in FY19, expected to increase to 7.8% in FY20 (International Monetary Fund) is uniquely positioned to be one of the most significant players in this era. For India, the Fourth Industrial Revolution is poised to pave way for leapfrogging traditional stages of development, thereby expediting its transition towards a sustainably developed economy.
How can India ensure that the inexorable progression from First to Fourth Industrial Revolution, holds the key towards addressing one of the most pressing challenges of current times, posed by climate change?
The confluence of emerging trends in Artificial Intelligence (AI), Robotics, Blockchain, Big Data, and Internet of Things (IoT) is inevitable in addressing complex challenges constituted by resource constrained economy, exacerbated by climate change. Global corporations are eyeing 'new-Gen' startups and entrepreneurs to re-energise innovations in sustainable sectors like clean energy production, smart mobility, water and waste management to name a few.
Enabling a sustainable Fourth Industrial Revolution in India
The exciting times ahead provide a window of opportunity to governments, business and society to deliver on India's climate targets and global goals, while leveraging the sweeping advances of the 4IR. The enablers to actualise India's sustainable transformation includes:
First, creation of an enabling ecosystem through incubators and accelerators to develop and scale innovations in 'Future Now' Cleantech sectors like clean energy, climate-smart agriculture, circular economy, green buildings and e-mobility, critical from the Indian context, to achieve transformative goals.
Incubators, accelerators and innovation labs provide the necessary technical and financial support across various life cycle stages of a start-up by creating a collaborative and mentoring platform. For instance, Infuse is a venture catalyst and an exemplary first-of-its-kind partnership between Government, Academia and corporate to pool-in technology, business, market and policy expertise to scale Cleantech business in India.
Second, proactive initiatives and policies to build on the positive aspects of the new industrial revolution and preventing further widening of the inequality gap. The Government of India, through its unique initiatives like Digital India, Startup India and Make in India Initiative is bolstering the opportunities for 4IR and green entrepreneurs. Participation of relevant ministries (like MoEFCC, MNRE) and Government-led coalitions (like International Solar Alliance) must be leveraged to champion this on-going movement. World Economic Forum, in partnership with the Government of India has set up the Center for the Fourth Industrial Revolution India to design and pilot practical tools for specific technologies. Such platforms and coalitions must be leveraged to assess the feasibility and scale innovative business models.
Third, access to finance commensurate with maturity of the business model and beginning stage of the start-up lifecycle is extremely important to scale innovations. While Government-led initiatives like Start-Up Sangam will play a key role in crowding capital, private sector participation through grants, seed funding, equity capital and mainstream debt is necessary to scale innovations.
Corporates will have a key role in championing this on-going movement, leveraging the ART Model – Alliances, Relationships enabled through Technology. Globally, there are examples of corporates like Saint-Gobain supporting Greentown Labs, largest Cleantech start-up incubator in the United States, Wells Fargo Innovation Incubator aimed towards reducing the energy impact of commercial buildings and Shell Foundation Incubator focussing efforts on identifying potential game-changers aimed at helping low-income customers to provide access to electricity.
India is currently at a cusp of 'technovation revolution' and the transition to a sustainable and inclusive growth trajectory will be accelerated by path-breaking innovations, enabling policies and availability of finance. These developments will lead to the emergence of 'new-Gen' business models, characterised by DICE – Design, Innovation and Creativity led Entrepreneurship to create social, environmental and economic positive impact.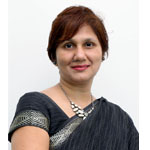 Namita Vikas is Group President & Global Head, Climate Strategy & Responsible Banking at YES BANK. As the Chief Sustainability Officer of the Bank, she spearheads Sustainable Development and CSR, thus driving sustainability principles within its core operations and its value chain towards creating stakeholder value. Namita has an Advanced Management Degree in CSR and Leadership from the Swenska Institute, Sweden.
Views of the author are personal and do not necessarily represent the website's views.
Thank you for reading the story until the very end. We appreciate the time you have given us. In addition, your thoughts and inputs will genuinely make a difference to us. Please do drop in a line and help us do better.

Regards,
The CSR Journal Team