Sonam Wangchuk, who inspired actor Aamir Khan's character in 3 Idiots, has made India proud. He is one of two Indians to be given the Ramon Magsaysay Award this year, recognised as Asia's premier prize, "honouring greatness of spirit and transformative leadership." The prestigious award is given to persons — regardless of race, nationality, creed or gender — who address issues of human development in Asia with courage and creativity, and in doing so have made contributions which have transformed their societies for the better.
Innovator and education reformist, Wangchuk, was felicitated for his uniquely systematic, collaborative and community-driven reform of learning systems in remote northern India, thus improving the life opportunities of Ladakhi youth, and his constructive engagement of all sectors in local society to harness science and culture creatively for economic progress, reported IANS.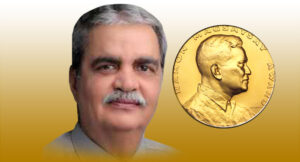 Psychiatrist Bharat Vatwani from Mumbai, has been recognised for "his tremendous courage and healing compassion in embracing India's mentally-afflicted destitute", started an informal operation of bringing mentally-ill street persons to their private clinic for treatment. Vatwani established Shraddha Rehabilitation Foundation in 1988, aimed at rescuing mentally-ill persons living on the streets; providing free shelter, food, and psychiatric treatment; and reuniting them with their families.
Their rescue work has been aided by the police, social workers, and referrals. Shraddha's free custodial care and treatment ranges from personal hygiene, medical check-ups, psychiatric treatment, to appropriate medication — all done in the open, healing environment of the Karjat facility, the board of trustees noted in a statement in the Philippines. Since its inception in 1998, the SRF has treated free of cost over 7,000 such wanderers and even helped them to reunite with their families.
Talking to IANS at this Borivali residence, Vatwani said: "I remember, a couple of years ago, the Mother Teresa's Missionaries of Charity, Mumbai, found a 74-year old man from Punjab, mentally ill and wandering on the streets. We not only completely cured him but reunited him with his family back home 54 years after he went missing." Vatwani said mental illness affects over 16.50 crore or nearly 14% of all Indians, but 80% of all the districts lack even one psychiatrist in the public health care system. "There are around 3,500 psychiatrists in India or three per million, compared to 100 in Australia or 150 in developed countries, and just one bed for 44,000 patients," he said.
The other recipients of the annual honour include Cambodia's Youk Chhang, Maria de Lourdes Martins Cruz from East Timor, Howard Dee of Philippines and Vietnam's Vo Thi Hoang Yen.
As for Wangchuk, he founded Students' Education and Cultural Movement of Ladakh (SECMOL) and started coaching Ladakhi students, 95% of whom used to fail the government exams. In 1994, with Wangchuk in the lead, Operation New Hope (ONH) was launched to expand and consolidate the partnership-driven educational reform program. Taking a life of its own, to date ONH has trained 700 teachers, 1,000 VEC leaders, and dramatically increased the success rate of students in matriculation exams from just 5% in 1996 to 75% by 2015.
For a nation as vast as ours with a population of youngsters that exceeds the other age brackets, we don't have nearly enough role models like Wangchuk and Vatwani. Watch this space for more stories on such real life heroes.
Source: IANS
Thank you for reading the story until the very end. We appreciate the time you have given us. In addition, your thoughts and inputs will genuinely make a difference to us. Please do drop in a line and help us do better.

Regards,
The CSR Journal Team