Kolkata preschool's 'different gift' for toddlers on Children's Day
This is the story of Children's Day Celebration, but in a slightly different way. On Children's Day 14th November, schools and preschools across India mark the day by hosting cultural functions for their students, screening a motivational film or events like fancy dress competition. Some even donate alms to the needy. However, a kindergarten school in Kolkata arranged for a free eye checkup camp for their toddlers on the occasion of Children's Day.
Free eye check up for students on Children's Day
Lyceum Nursery and K.G. School, a preschool located in Kolkata's Salt Lake in association with Rotary Techno Netralaya, Salt Lake hosted a free eye checkup camp for their students, guardians, teachers as well as non-teaching staff to mark the special day for children. The school currently has around 200 students.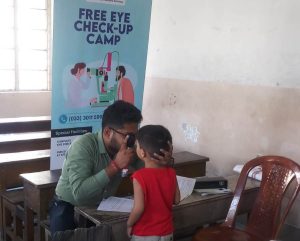 Some parents are unaware of child's vision problem
Talking about the initiative, Lyceum School Principal Swapna Ghosh told The CSR Journal, "The children who are our students, not all of them come from a privileged background. In such families, parents often fail to notice that their child is having a vision problem. There have been times when we have detected during a class that a child is unable to read the blackboard even while sitting on the first bench. In such cases, we call their parents and inform about the same. That's why we decided that we will host an eye checkup camp in association with Rotary Techno Netralaya as a gift for our children on Children's Day."
Students from underprivileged background
"We have children within the age group of 3-5 who study from Nursery class to K.G. 2. Our students come from diverse family backgrounds. We have students whose fathers drive auto rickshaw, sell flowers, vegetables or run a roadside snacks eatery. We also have children of BSF (Border Security Force) Jawans who are posted in various corners of our country guarding our borders. We even have children coming from remote rural ares whose mothers cannot even sign their names. These mothers also learn ABCD while we teach the same to their kids. Our fees are also very nominal, which is only Rs 400 per month and a onetime admission fee of Rs 1200. However, a lot of parents struggle to pay even this amount," Mrs Ghosh added.
Mobile phone addiction among kids
The teacher-in-charge also spoke about mobile phone addiction among children, especially since the Covid- 19 pandemic, which is causing vision problems. "Mobile phone addiction is becoming a problem with young children which has increased from the time of the lockdown. That is a major reason why children are suffering from vision problems at this age. However, not only for children, we even arranged for a free eye checkup for their parents not all of whom are capable of going to any eye hospital and paying for a checkup."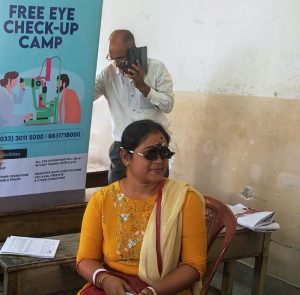 Hygiene and waste disposal training
Not only free eye checkup, this school has earlier hosted free dental checkup for their students and arranges for free basic hygiene training for the kids from time to time. The munchkins are also taught waste disposal practices like throwing their waste only in the dustbin, not to throw papers, food wrappers or any other waste on the roads while traveling, and their parents are strictly advised not to pack kids' tiffin food with plastic wraps and carry bags which are harmful for children's health.