Kolkata Durga Pujas highlight Women Empowerment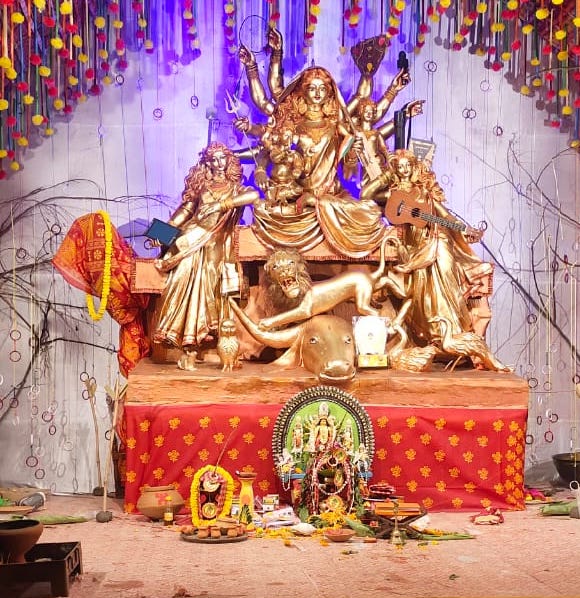 Durga Puja is a celebration of Nari Shakti or female power. While Goddess Durga is worshipped for defeating the evil and protecting the universe, it serves as the most appropriate platform for spreading the message of women empowerment.
Several Durga Puja committees in and around Kolkata have chosen to share the message of women empowerment through their themes for this year. Struggles faced by girl children and women in a patriarchal society have also been highlighted through the themes.
Kashi Bose Lane Durga Puja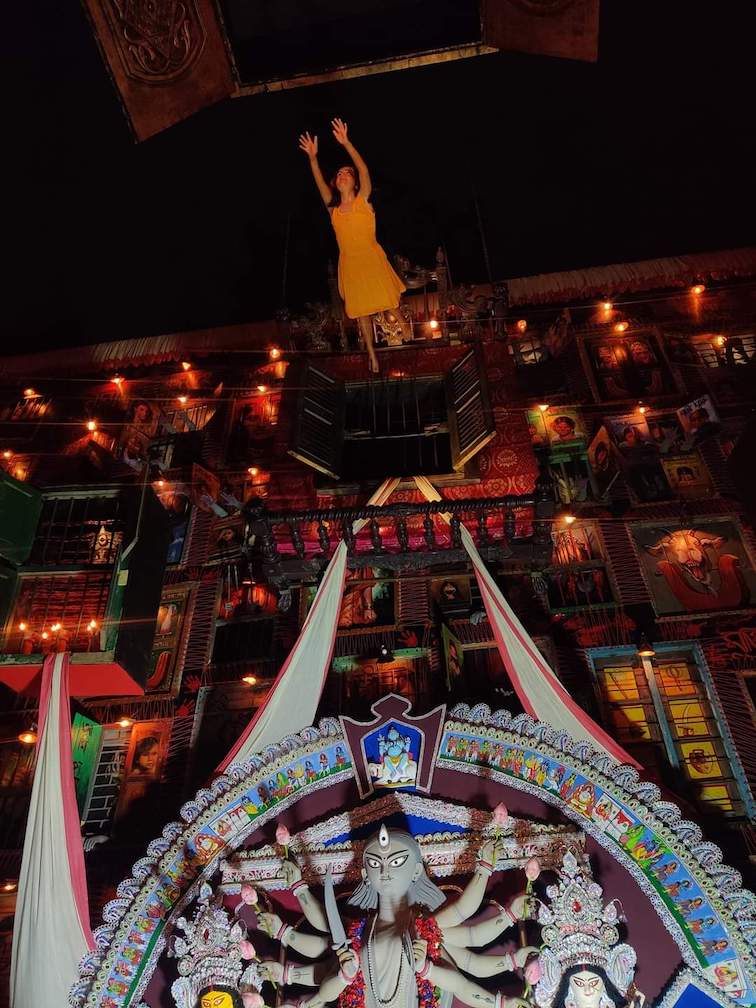 North Kolkata's famous Kashi Bose Lane Durga Puja in its 86th year has chosen the theme "Chai Na Hote Uma" (I don't want to be Uma/Durga) which shares a message against trafficked women and girls and how these victims who are ill-treated, aspire to come back to their normal life.
Durga idol's face within a cage, caged faces and hands of girls and models of girls with chains tied to their feet inside the pandal shares a message against gender-based abuse and violence.
Pathuriaghata Pancher Palli Sarbojanin Durgotsab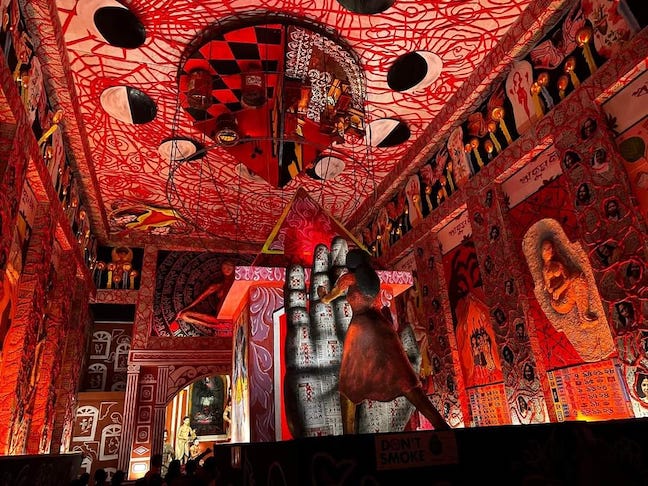 North Kolkata's Pathuriaghata Pancher Palli Sarbojanin Durgotsab Committee has chosen to raise awareness around menstrual hygiene and challenge taboos and myths surrounding menstruation. "Ebar Abagunthan Kholo" (Time to remove the veil) is the theme for Kolkata's Pathuriaghata Pancher Palli Sarbojanin Durgotsav in its 84th year.
Using a UNESCO-recognised festival like Durga Pujo as a platform to raise awareness on a subject like menstrual hygiene, will have a greater impact as the message can be spread to a huge group of people coming to visit the pandal, feels the committee members.
Dankuni Saptarshi – Amra Nari Amrao Pari

The theme for Saptarshi Durga Puja Committee of Dankuni, Hoogly district this year is "Amra Nari Amrao Pari" (We are women and we are no less). The all woman Durga Puja committee has come up with this theme in its 31st year.
The pandal features a model of a school going girl child whose feet is chained as she tries to go to school from home, the message is clear that even today girl children are made to drop out of school in our country. Daily use items of women like make up accessories, vermilion etc. have been used to decorate the pandal. Paintings of women police, military, teacher and medical professionals also adorn the walls of the pandal.
Dankuni Milan Sangha – Dugga Theke Durga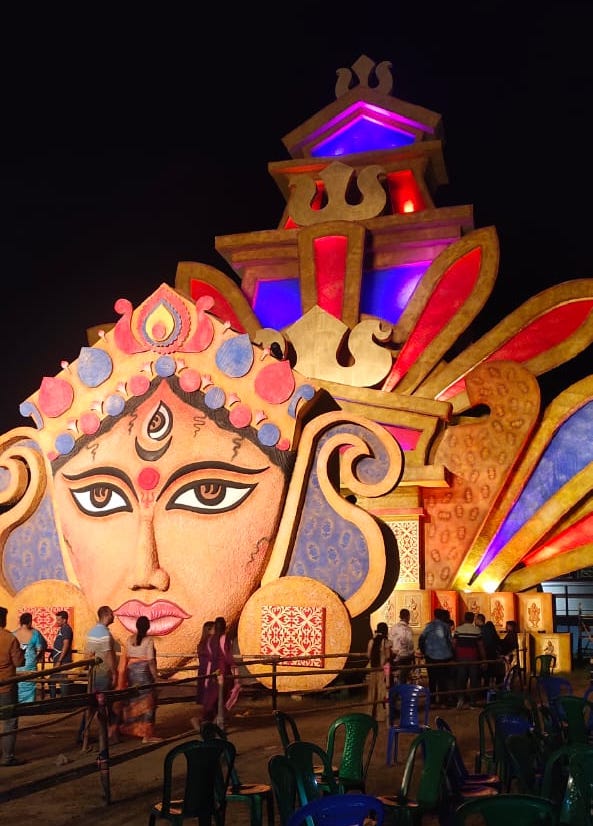 The theme of Milan Sangha Durga Puja committee, Dankuni, Hoogly district in its 9th year is "Dugga Theke Durga" which depicts the journey of life of a woman from her childhood till old age irrespective of her religion, caste and creed. The theme also shares a message about the struggles faced by girls while growing up in a patriarchal society.
The interiors of the pandal is designed in the form of a mother's womb and features models of girl children and women.
Baruipur Phultala Sarbojanin – Narishakti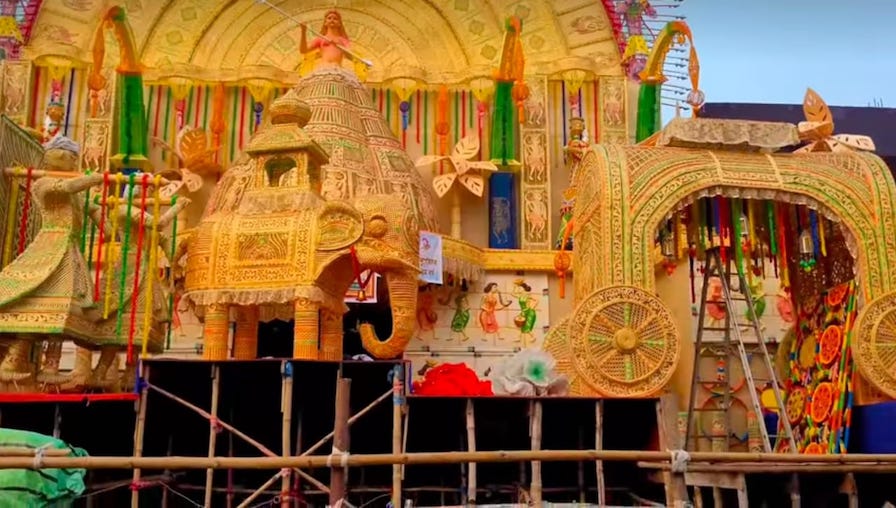 Baruipur Phultala Sarbojanin is one of the popular Durga Pujas in Baruipur area, South 24 Parganas district near Kolkata.
The theme in its 73rd year highlights Narishakti or female power. The theme focuses on the problems faced by women in our society, the role played by women in day to day life and women empowerment in today's time.