International Literacy Day 2020: CSR for Adult Literacy
"
How would you feel if you stepped out of blinding darkness into the light? That is what the gift of literacy does to you," says 46-year-old Asha Devi residing in Narayanpur, Rajasthan. As a young girl, she did not pay much heed to her parents' efforts to send her to the local school.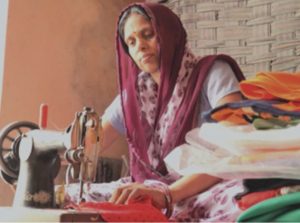 However, as she grew older she started to perceive the handicap that illiteracy brings. She was naturally inclined to stitching and tailoring but with no way to write down measurements, women complained her clothes didn't fit well and her work didn't take off. Her fate turned when Tata Consultancy Services (TCS) came to her village to launch the Adult Literacy Programme. Asha enrolled herself and learned to read and write.
To say her business took off would be an understatement. Asha runs a tailoring class out of her home today where she imparts training to five students at a time. They are assured a monthly income of Rs. 5,000 per month after taking her course. Her students seem to be making that kind of profit since no one has asked for her fees back. When she's not teaching how to cut and sew, Asha Devi is stitching clothes for her regular clients. This is the transformational power of literacy.
On International Literacy Day 2020, we commend the difference that adult literacy CSR campaigns have made to people's lives and livelihoods. International Literacy Day is celebrated on September 8 every year. The

practice was started by UNESCO

more than 50 years ago as a call for more literate societies. The importance of literacy and numeracy in children and grown-ups cannot be emphasised enough. It opens the doors to livelihood, economic self-reliance, better health and nutrition, and freedom from various kinds of exploitation.
Theme for International Literacy Day 2020
The pandemic has taken over the collective consciousness. Naturally, International Literacy Day 2020 won't veer far off course from the global sentiment. The theme for this year is: 'Literacy teaching and learning in the COVID-19 crisis and beyond'.
The focus is on lifelong learning, so the spotlight is on youth and adult literacy. The coronavirus pandemic is an uneasy reminder of the gap between policy discourse and reality: a gap that already existed in the pre-COVID-19 era and negatively affects the

learning of youth

and adults, who have no or low literacy skills, and therefore, tend to face multiple disadvantages. The pertinent question is: How can we effectively position youth and adult literacy learning in global and national responses and in strategies for the recovery and resilience-building phase?
This is where corporate social responsibility (CSR) programmes in adult literacy come into the picture.
CSR for adult literacy:
1. Adult Literacy Programme (TCS)
TCS set up an Adult Literacy Programme (ALP) in the year 2000 to augment the Indian government's efforts. This flagship CSR programme won 2018 India Digital Awards in the category of Digital Social and Economic Empowerment. The same year, ALP won the SABERA award in the Responsible Business category.
TCS developed a Computer Based Functional Literacy (CBFL) solution to accelerate adult literacy in the country. The CBFL solution supports non-literate adult learners to easily achieve literacy in their native language. CBFL is an innovative teaching method based on Information and Communications Technology (ICT). It uses animated graphic patterns for easy visual and auditory learning, and enables functional literacy in approximately 50 learning hours. CBFL has three parts – Reading, WRiting and aRithmatic and is available in two forms. The first is the Puppet Theatre model involving animated puppetry built around a localized theme. The second is an Electronic Book or e-book, which is an electronic version of the NLMA primers. On completing this course, the adult learner acquires a vocabulary of about 700 commonly used words in their native language.
2. Gramshiksha Project (Nayara Energy)
The Gramshiksha project aims to ensure inclusive, equitable quality education as well as promote lifelong learning opportunities for all. The average literacy rate in the project area in Gujarat stood at 59%, which is lower than the district averages. Through multiple interventions, the project Gramshiksha worked towards improving access to education in 15 villages to both children and adults, covering an age group of 6-35 years.
The project endeavours to improve the quality of education through enrolment drives like Shala Praveshotsav, remedial teaching, ICT education, and annual cultural events. Gramshiksha established of 16 National Institute Open Schooling (NIOS) centres and promoting ICT education.
The CSR team engaged with the community through Gramshiksha centres, awareness campaigns and adult literacy classes to ensure equitable access to functional literacy. Across 15 villages, 16 Gramshiksha centres were established and 16 community volunteers trained to engage in various community and school interventions. 180 villagers learned to read and write in the adult literacy classes.
3. CSR project of JK Tyre
Adult literacy is a big part of the nation-building agenda of JK Tyre & Industries. The tyre brand is running an adult literacy programme at all manufacturing locations and has benefitted more than 40,000 rural women to become functionally literate. Other locations for the intervention Ekalavya Nagar, Palahalli, Soligara Colony, Gopalapura and Lingadevara Koppalu in Tamil Nadu. What makes this gender-positive initiative unique is that it reaches out to jail inmates as well. The company has set up permanent literacy centres in Central Jail, Mysore, where all the inmates who cannot read or write are being taught Kannada.