International Day Against Drug Abuse 2020: Are Bollywood movies glamourising drugs?
From Easy Rider to Fear and Loathing in Las Vegas, Hollywood movies have a long tryst with substance abuse. Drug cartels, destructive-level addiction and illicit trafficking are so common in American films, it doesn't shock in the least. In Indian cinema, however, any portrayal of drugs on-screen is a trend that began only in the 1970s. Drugs have become a lot more prominent in this decade, with the leading men in Sanju, Udta Punjab, Kabir Singh and other recent movies, shooting heroin into their veins, snorting coke and popping 'party pills' compulsively. As we observe the International Day Against Drug Abuse and Illicit Trafficking 2020 today, let's explore whether these portrayals of drug abuse are glamourising narcotics.
The first hit
Hindi cinema in the 50s and 60s did not bother so much with drugs. It was in the 70s that LSD, marijuana and heroin started making an appearance. It wasn't the hero who indulged, however. The profile of villains changed from conniving village chiefs to notorious drug lords and smugglers. 
Drug mafia and violence
While substance abuse is a visual motif in many flicks, the drug trade is a theme. Jaanbaz (released in 1986) and Charas: A Joint Operation show the strategies adopted by the drug mafia to strengthen its hold on the system. The movies also deal with the problems of

drug violence and corruption

.  The underworld drug mafia runs through the storyline of another Priyanka-starrer Kaminey directed by the brilliant Vishal Bhardwaj. Shahid Kapoor plays identical twin brothers caught in a cocaine deal gone wrong. Once Upon a Time in Mumbaai is a modern-day retelling of the time illicit trafficking began spreading its roots in Mumbai in the 70s, and made it the lucrative illegal business it is today. 
Another 2011 film Dum Maaro Dum is about the drug trade in Goa. Abhishek Bachchan is ACP Vishnu Kamath, a corrupt narcotics specialist who comes to his senses after a car accident with a drug addict kills someone in his family. Kamath joins a special unit put together by the chief minister to bring Goa's drug mafia to book. Lori and Zoe are two locals who are ensnared into peddling psychotropic substances because of the money in it. Zoe loses her life to drug lord Lorsa Biscuit and therein lies another lesson about getting involved in the trade.
Hippie culture in Bollywood
Hare Rama Hare Krishna in 1971 focused on the problem of addiction in addition to the social problems of broken marriages and the sense of alienation in youngsters. 
Zeenat Aman played the role of Dev Anand's estranged sister who's submerged in the hippie counterculture and the free love movement it endorsed.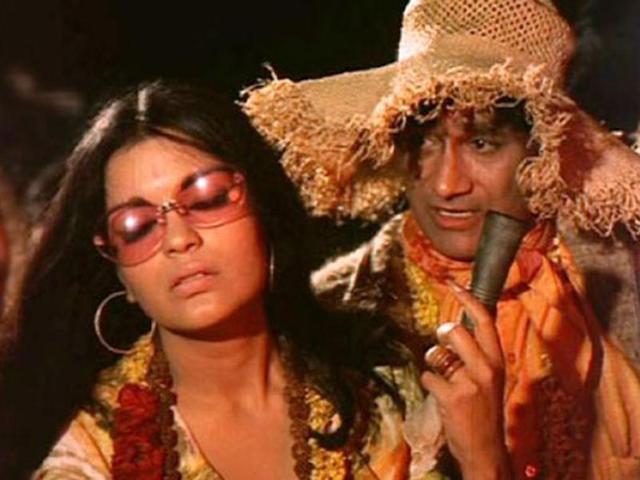 The cult 1971 film was rather critical of drug culture. It implied that she takes to drugs to escape the pain of loneliness and a broken family. It's one of the more mature and honest portrayals of the 70s counterculture by a Bollywood filmmaker.
Getting high or escapism?
Jalte Badan, which was released two years later, was also

anti-drug abuse

. It told the story of a young student becoming addicted to drugs but later coming out of the vicious trap. Crime thriller Khamosh had Pankaj Kapur playing a depressed heroin addict.
More than 20 years later, Priyanka Chopra-starrer Fashion showed how cutthroat competition, the inability to accept failure, loneliness and a career downfall can push one towards substance abuse. Through the character of a former supermodel Shonali Gujral (Kangana Ranaut, slaying it), the gritty Madhur Bhandarkar film depicted the prevalence of drugs in the fashion industry. Shonali turns to dope to escape the sense of failure she's experiencing in her modelling career.
Meghna (Priyanka Chopra) too resorts to alcohol and cocaine when the chips are down. There's a scene in the aftermath of her substance abuse that is uncomfortable to watch. She wakes up in a stranger's bed after a night of reckless partying, with no memory of where she is and how she got there. Fortunately, the incidence is a reality check for her. Meghna takes a sabbatical to get clean and ends up stronger than when she started out.
Trippy haze
A year later, director Anurag Kashyap pushed the envelope of Indian filmmaking with his ground-breaking Dev D in 2009. He cast Abhay Deol as spoilt-rich-brat Dev drowning himself in cocaine, charas and vodka to get over a break-up with his childhood sweetheart. On the surface, this iconic movie might appear to be glamourising drugs with its trippy visuals and alternative music. But watching Dev slowly lose his grip on reality actually gives you a sense of the life-consuming power of narcotics which we believe was the filmmaker's real intention.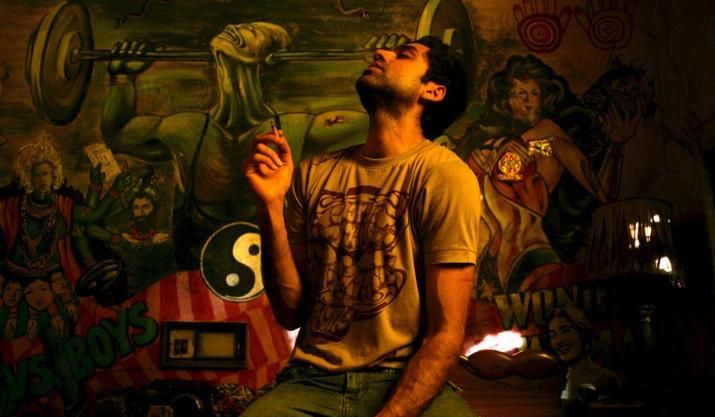 Deol's Dev D co-star Kalki Koechlin was the highlight of 2011 sleeper hit Shaitan. Her character Amy and her gang of friends, turn to drugs after being depressed and mentally disturbed. Another Priyanka-starrer 7 Khoon Maaf depicts John Abraham as musician Jimmy Stetson who happens to be a junkie and dies of a drug overdose soon after his wedding. None of these drug-addled characters gets a happy ending.
Under the influence
It took many years for Bollywood to catch up with the rave scene. When it did, it was fleeting. Model Lisa Haydon cavorting with trippers in the hazy Manali Trance from The Shaukeens or the meandering Malang that came and went with a whimper in 2020.
However, zombie comedy Go Goa Gone from 2013 presents a more accurate picture of the euphoria of rave parties which are usually underground events. It also shows the hand that the mafia plays in the rave scene. The zombies symbolise addicts, who are reduced to mechanically devouring and destroying, unaware of their reckless actions or the consequences they will face. Didn't expect a zom-com to have depth, did you?
We surmise, far from glamourising drugs, each of these Bollywood movies depicting substance abuse is actually anti-drugs. So, watch these (some brilliant and some average) films today without worry of being under the influence!