Indian Oil CSR is Making India Future-Ready
PSUs, short for Public Sector Undertaking, give the impression of being hefty mammoths in size and spread (across topography) yet low-grade in the quality of the social welfare they dispense. Their development initiatives are notorious for being high in resources, manpower and most importantly funding but abysmal in the degree of visible change accomplished. The company we are delving into today, however, is far from archaic, whether in order of business or environmental stewardship. Indian Oil Corporation (IOC) is the first oil PSU to cross the 1,000-patent milestone; testament to this oil-and-gas company's spirit of innovation. From what we can gauge of the resources dedicated to conducting business responsibly, Indian Oil CSR is a catalyst to India's SDG targets for the year 2030.
The conglomerate has aligned many of its ESG targets with the Global Goals set by the United Nations in such a way that they meet the welfare objectives of government schemes like Skill India Mission and Swachh Bharat Abhiyan.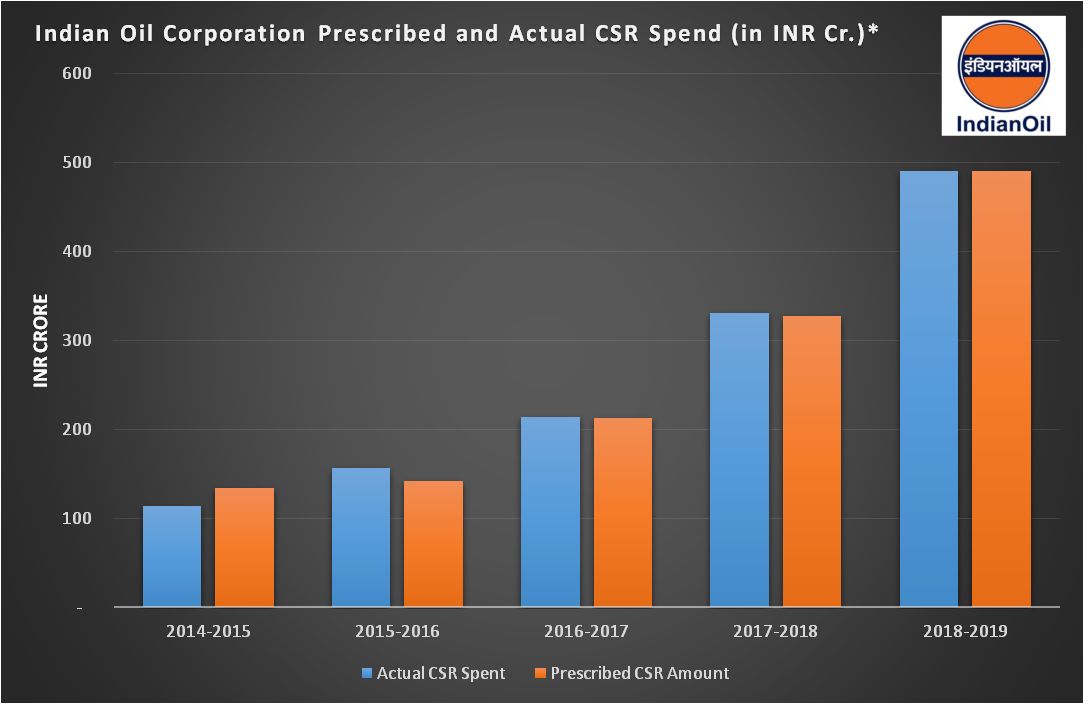 The CSR spend has been increasing year-on-year, from Rs. 113.79 Crores five years ago to a generous Rs. 490.60 Crores in the financial year 2018-19. Actual amount spent on CSR funding was higher than the prescribed spend for the last four years in a row. Last year, there was 100% budget utilisation; the entire budget of Rs. 490.60 Crores allocated for social responsibility was spent on CSR projects.
1. About Indian Oil Corporation
Based out of the capital city of New Delhi, Indian Oil is easily among the biggest energy companies in our country. Known for distributing affordable energy, it has a palpable global presence as well. It stands at 137 in the prestigious Fortune Global 500 list of the biggest conglomerates in the world. With a combined staff strength of 33,000 employees and counting, it has a large enough workforce for effecting change through employee-driven initiatives.
Indian Oil took its initial shape from an oil refining company back in 1959. Over the last 60 years, it has grown into an integrated energy giant that deals in the exploration and production of crude oil and natural gas; refining, pipeline transportation of petroleum products and petrochemicals. 
The company has, like all forward-thinking organisations, understood that clean energy is the future. In the recent past, it has been making continuous efforts to be at the top of the game in renewable energy and natural gas. This justifies the vast extent of research work in solar, nanotechnology and other new forms of energy in the context of the ongoing energy transition.
1.1 Sustainability at Indian Oil
Being climate-positive is one of the major threads running through the sustainability initiatives driven by Indian Oil. Engineers are designing processes to meet future energy needs of our countrymen while simultaneously keeping climate priorities in perspective. There is a conscious effort to utilise renewable energy within the plants and in the supply chain spanning retailers and distributors. 
One breakthrough initiative that is successful in greening the supply chain is "retail outlet solarization". Indian Oil has begun encouraging fuel stations in its network to use localised solar power rather than conventional energy sources. The positively aggressive push to solar meant that the number of solar-powered retail outlets went from 9,140 to 14,173 in a year. Most of these fuel stations are in villages or small towns. This number accounts for more than half of all the PSU's retail outlets. Other unseen benefits from this clean energy initiative were that retailers were able to do business after daylight hours (since electricity is available throughout) and they made higher profits because of the costs saved in operating diesel gensets.
1.2 Appreciation for sustainability efforts
The efforts to rejig outdated modes are being noticed by watchdogs and industry bodies. The company won the Sustainability 4.0 Award 2018 by Frost & Sullivan and TERI as a 'Leader in the Mega Large Business Process Sector'. Indian Oil shared the PETROTECH-2019 Special Technical Award for 'Greening of the Oil & Gas Business and Sustainability' with Engineers India Ltd. The award was conferred for BS-VI DHDT project at Haldia Refinery employing indeDiesel® technology developed by the company's R&D.
2. Alignment of CSR with Government Schemes
The company has a pan-India presence, from Leh in North India to the Northeastern states, Kerala in the South and Gujarat in the west. The operations also run through aspirational districts and Naxal-hit areas, hence increasing the scope for making a difference in the lives of the most marginalised people through its CSR interventions. For this purpose, the CSR team takes conscious steps to stay abreast of government schemes at the national level.
2.1 Swachh Bharat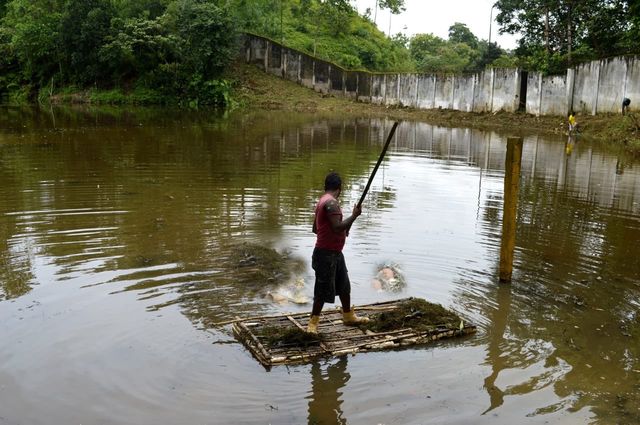 CSR of Indian Oil is undertaking various cleanliness projects under the scheme, including putting up toilet infrastructure in schools, cleanliness drives at operating locations and retail outlets. The Company has 3 waste-to-energy plants in Varanasi to process the city's solid waste.
Recently, it donated a vehicle fitted with a desilting machine Mysuru City Corporation (MCC) to clean underground drainage. The vehicle costs Rs. 30 lakhs and will be used to keep the city of Mysuru clean. The Indian Oil corporate social responsibility wing will be providing 12 RO drinking water units. It has constructed over 100 toilets in Mysuru itself as part of Swachh Bharat Abhiyan.
2.2 Digital India
It has developed a slew of digital applications and forums for ease of customers, business partners, employees and supply chain. From placing orders to communicate, to knowing more about the company's products and services, raising complaints, undertaking digital payments, every service is available on the e-platform.
2.3 Startup India
The company invested a revolving corpus of Rs. 30 crores in Start Up Scheme to give a boost to start-ups innovating in the domestic hydrocarbons sector. Social or environmental relevance was a must to qualify. The scheme was driven by the company's R&D centre in Faridabad.
2.4 Make in India
To promote the local energy industry, the conglomerate has given preference to indigenous manufacturers in its tenders. In 2018-19, 29.07% of all items procured (excluding procurement of crude oil, petroleum products and natural gas) was sourced from indigenous Micro-Small Enterprises (MSE).
2.5 Skill India
Indian Oil CSR has set up several new and old skill development centres across the country. Kaushal Vikas (Skill Development) initiatives have benefitted 15,000 unemployed youth. Assam School of Nursing, Skill Development Institute (Bhubaneshwar), Gyanodaya Scheme are all part of a skilling framework that has augmented the employability of India's youth in their own way. 
3. Overview of Indian Oil CSR
The company proudly identifies itself as a "responsible public sector enterprise" and efforts to stay true to this self-imposed description are evident in the Indian Oil CSR strategy. Considering the size, scope and breadth of its operations, there are thousands of miles and dozens of sectors to cover. 
The CSR team has been working on a variety of social welfare and community interventions for decades. They follow a crisp and clear
Sustainability and CSR Policy which you can access online
. Various NGO partners and government bodies work closely on bringing to life the CSR programmes drawn out by the committee, on which the Chairman presides. The flagship programmes are longer in duration, spanning many years and various states where Indian Oil has a presence.
3.1 Key CSR thrust areas
It is a no-brainer that in a fuel-deficient rural economy, the company has been making essential fuels – kerosene, LPG, petrol and diesel – available in every corner. Besides this all-important exercise for food safety and mobility in the villages, there's a gamut of key areas that get special attention in the strategising and social programming. Persons with Disabilities (PwDs) are the subject of some projects as are citizens belonging to scheduled castes and scheduled tribes. As a responsible corporate, it wants to lend a helping hand to the most vulnerable people in any walk of life. CSR thrust areas include:
a) Safe drinking water and protection of water resources,
b) Healthcare and sanitation,
c) Education and employment-enhancing vocational skills,
d) Empowerment of women
e) Empowerment of socially/ economically backward groups
3.2 Recognition and awards
Recognition is not the goal of social welfare yet when it is given, there is reason to mark the achievement. Awards in the CSR domain serve as reminders of the good that the private sector is carrying out despite thriving in a profit-hungry capitalist economy. 
A vegetable cellar project at Leh (J&K) won Indian Oil the 2019 Dainik Jagran CSR Award and the PSE Excellence Award (by the Indian Chamber of Commerce). Indian Oil CSR initiatives in Haryana are gathering steam; they ushered in the Diamond Haryana CSR Award among PSUs during the state government-organised Haryana CSR Summit two years ago. The company performed well during the Swachhta Pakhwada fortnight (July 1-15, 2018) and was the runner-up at Swachhta Pakhwada Awards-2018, an initiative by the Ministry of Petroleum and Natural Gas, Government of India.
4. Healthcare initiatives
Health and safety for all is the primary concern for this organisation, from its employees to the communities it works with. Over the past few months, since the pandemic gripped the nation, Indian Oil has been conducting COVID-19 awareness workshops for the benefit of the uneducated masses. Health programmes take place regularly throughout the year to sensitise people to safety measures and precautions.
4.1 Child and Maternity Health Centres
Child and maternity health centres address problems of anaemia in expectant mothers, malnourishment in babies, vaccination of children against polio. A happy mother means a carefree child and a peaceful household. Married women are given tutorials in nutrition and self-care for healthy deliveries and happy motherhood.
4.2 Indian Oil Aarogyam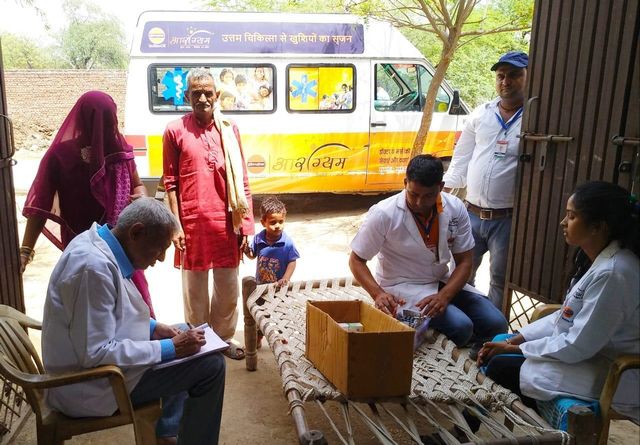 Aarogyam is a flagship CSR project of Indian Oil. It was launched in the previous financial year and covers 140 villages in the catchment areas of three refineries. Aarogyam dispenses free medical care on-the-go in the form of Mobile Medical Units (MMU). MMUs are a boon for health interventions in hard-to-reach regions bereft of hospitals and clinics. They are becoming a standard fixture in rural healthcare. Each MMU rolls with a doctor, nurse, attendant and driver who doubles up as a Community Mobilizer.
4.3 Assam Oil Division Hospital
In the care of the CSR division is Assam Oil Division Hospital in Digboi. It caters to people in Digboi and surrounding areas of Assam. This 200-bed facility treats a whopping 1 lakh patients every year of which 15% aren't employed with the company. It has a high footfall, with 2,000 operations being conducted in its premises every year. The CSR team and their partners regularly hold health camps and checkups for villagers who might not be able to afford treatment nor have access to a specialist.
4.4 Swarna Jayanti Samudayik Hospital
This hospital in Mathura (Uttar Pradesh) opened its doors to the public in 1999. It was launched on the golden jubilee of the Corporation, which explains the name 'Swarna jayanti'. Residents near the Mathura Refinery benefit from the services of this 50-bed hospital facility. Treatments are subsidised for people in the region. The underprivileged living below-poverty-line are given medical treatment free of cost. Last year alone, 56,437 patients were treated at Swarna Jayanti Samudayik Hospital and surgeons conducted 727 operations.
5. Animal welfare
CSR initiatives for animal welfare in India don't go beyond the standard farm animal management and vaccination. Few corporates have the vision to see the earth as an inclusive space for all sentient beings. Interestingly, this PSU does take note. Last year, Indian Oil donated more than one ambulance with a hydraulic system to NGO Blue Cross which rescues and shelters animals. Another unique CSR initiative is directed at "good health to all".
5.1 Sarve Santu Niramaya
Sarve Santu Niramaya means "good health to all". The programme considers the health of animals equally important to humans. This compassionate initiative started dispensing free consultation and medicines for humans and animals in December 2012. The biggest beneficiaries have been the livestock near Digboi Refinery. It has gone on to become a livelihood generator for the nearby villages since livestock is healthier. Sarve Santu Niramaya held 21 camps last year in which 2,507 human beings and 6,510 animals were vaccinated and given medical care.
6. Project to End Manual Scavenging
Despite the strides our nation has made in culture and the legal system, there are some things that continue to boggle common sense. How Indian law doesn't recognise same-sex marriage, for instance. Or the continuation of the

cringe-worthy practice of manual scavenging

; it's the worst blow to human dignity and a shameful remnant of the desi caste system. At least one Indian dies every 5 days while cleaning gutters. Inventors at Indian Oil have come up with a solution to end manual scavenging; it goes by the name Bandicoot!
Technically, it's the Robotic Scavenging Machine and looks like a spider with four limbs. Bandicoot comes with multiple sensors and 7 cameras. It is lowered into the manholes for cleaning sewers. The "limbs" do the cleaning–efficiently and in less time–and deposit the debris to one side which is then lifted using a bucket and ropes.   
7. Indian Oil Vidushi
Educate a girl, you will educate a whole family, is a notion development experts swear by. Underprivileged girls may manage to get a school education but when they show aptitude for higher education in fields such as medicine or engineering, they have to step back since their family can't afford the high college fees.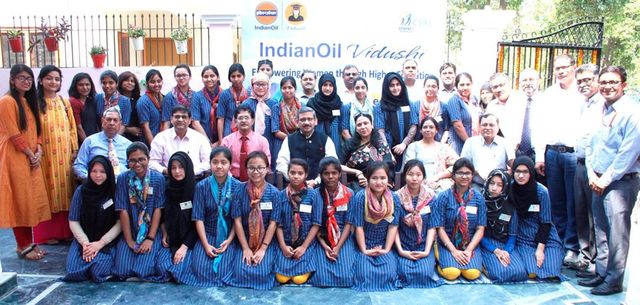 Project Vidushi is working to change that by helping girls gain admission in prestigious engineering colleges like IIT, CET etc. The Bhubaneswar centre coaches scholastically bright girls in Odisha, Jharkhand and Chhattisgarh while the Noida centre coaches female students from Jammu & Kashmir, Uttarakhand, Himachal Pradesh and Punjab.