Bengaluru company promoting sustainable packaging in corporate gifting
When you buy a ceramic bowl or coffee mug online or clothes, what is the amount of plastic packaging that goes into your dustbin? As the world is moving towards sustainable life choices, so is the packaging industry. Remembering their responsibility towards the environment, Indian companies are increasingly opting for sustainable packaging options while sending out gifts to their employees and customers on various occasions.
OffiNeeds is a Bengaluru-based company works for corporates sending gifts to ther clients and emplopyees. The company's CEO Srikanth Acharya opens up to The CSR Journal about their sustainable packaging choices while sending out gifts on behalf of corporates to their clients and employees.
Zero plastic packaging
"We are a Bengaluru-base firm also having branch in Hyderabad and Chennai. We serve mostly large to medium sized corporates, our top customers being Infosys, Standard Chartered Bank, Flipkart, TVS Motor and several others. We do end to end corporate gifting, whatever companies like to gift to their employees, to their customers. These mostly include t-shirts, jackets, coffee mugs, speakers, headphones, notebooks, and water bottles etc. which are customized with the respective company's logo," informed the CEO.
"Especially in the last two years, a lot of people continue to work from home. So, we are even delivering gifts to employees' homes instead of their office. And when we do that, it requires additional packaging like bubble wraps, plastic covers, plastic packaging case, shrink wrap covers and all of that. We have started using 100 percent eco-friendly alternatives for bubble wrap sheets, for t-shirt covers, shrink wrap covers and all of these which are compostable and biodegradable. That way, when a gift item is sent to a person's house, it has zero packaging which is plastic," he added.
Sustainable alternatives for packing gift items
Quizzed about what kind of alternatives they choose for packing the gift items, Acharya revealed, "First, when we buy t-shirts for gifting, we remove the plastic cover, dispose it off responsibly by giving it to recycling unit. Instead we pack the t-shirt in compostable packaging, which are made from corn starch and other materials. Secondly, shrink wrapping is used for notebooks, power banks and electronic items so that the product does not catch dust and is well protected. Plastic shrink wraps are commonly used but we use an alternative which is compostable."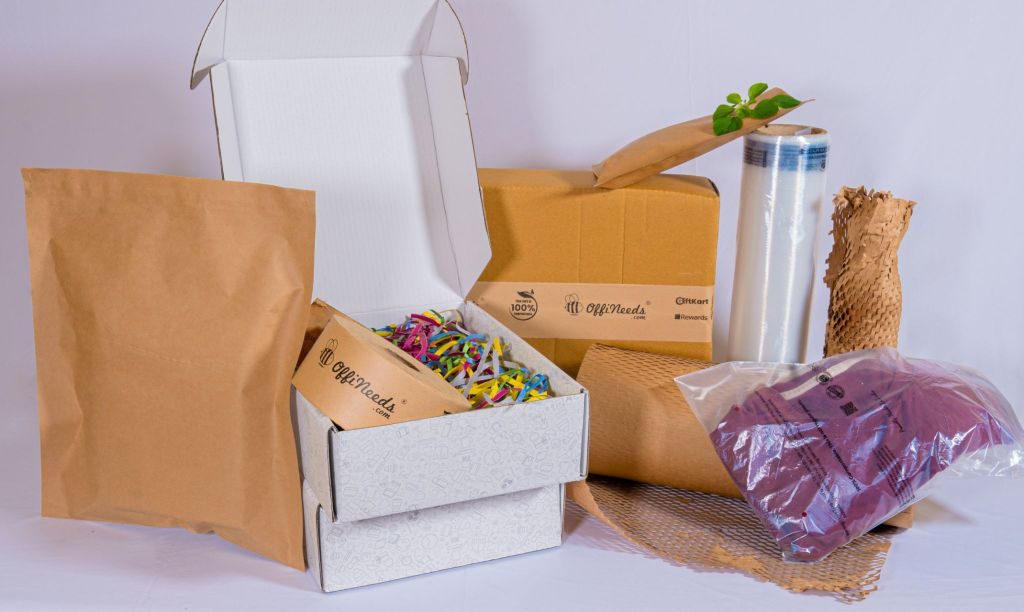 "The third alternative is bubble wrap sheets to protect goods like glass, ceramics etc. from being damaged. We use hexagonal paper cut rolls which offer similar protection. Fourthly, packaging boxes come with a layer of plastic coating. We use boxes which have UV coating so that it is equally effective and at the same time compostable. When we send out a gift to an employee, the packaging is 100% eco-friendly," he added.
Why sustainable packaging is the need of the hour
Answering that, the OffiNeeds CEO expressed, "Going eco-friendly or sustainable is not an option anymore. We are at a threshold where the amount of single use plastic which is being used is ridiculously high. Every organization must do what it can to minimize the use of single use plastics. When a company is sending gifts to employees, especially to their homes, it is also sending out a lot of goodwill. It is a positive gesture. But unintentionally they are also burdening the employee with the liability of disposing the plastic packaging. It is the responsibility of every individual to minimize the use of plastic. On occasions like Diwali, a substantial amount of packaging is going. So giving a gift in sustainable packaging also sends out a positive message to the employee."