Home
Header News
Gurugram-based Home Chef offers low sugar cake recipes for Christmas
Gurugram-based Home Chef offers low sugar cake recipes for Christmas
Christmas is in the air! This is that time of the year when we flock to bakeries to taste finger-licking flavours of Christmas cakes or bake at home. This is that time of the year when tea cakes, cup cakes, sponge cakes, marble cakes, plum cakes, rich dry fruit cakes, wine cakes, dates, walnut, banana, carrot, apple, cinnamon, lemon, orange and every possible kind of mouthwatering cakes make their way to our dining tables!
However, with cake, comes a good amount of refined sugar, which increases our calorie count and contributes in making us gain a few kilos. But does that mean we will stop eating cakes during the festive season? Never!
If low sugar variants are not available in the bakery, why not try at home? Gurugram-based Home Chef Samita Halder offers a quick solution to this problem with her choice of low sugar delectable easy to bake Christmas cakes!
The Home Chef suggests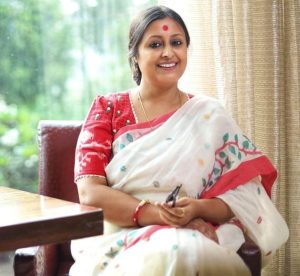 "Consuming too much sugar can lead to health problems, such as increasing the risk of weight gain, diabetes and teeth cavities. So it's better to avoid refined sugar and opt for healthier choices like honey or jiggery instead," suggests Samita.
"On festive occasions like Christmas, many people request for low butter, low sugar cakes while placing an order. They also ask for atta cookies and jaggery baked, sometimes gluten free items for health reasons. Normally in my cakes, the sugar level is slightly on the lower side. For example, I use honey and jaggery powder in tea cakes to avoid refined sugar. To avoid white flour (Maida) I often use almond powder and other gluten-free baking options," expressed the home chef.
If you are a baking enthusiast or trying out your hands in baking for the first time, here are a few quick and easy low sugar yet mouth-watering cake recipes which you must try out this Christmas. Samita's low sugar cakes will not only satiate your taste buds but also keep your calorie count in control. Happy baking!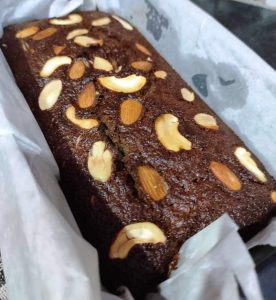 Sugarfree Dates Cake
Ingredients
1. ½ cup dates seedles
2. ½ cup hot milk
3. Dates soaked in milk for 15 -20 minutes
4. Two bananas
Preparation
Blend the dates and bananas in mixer. Now in a mixing bowl put this mixture and add ½ cup oil or melted butter. Mix all well. Sieve 1 cup whole wheat flour, 1 tsp (teaspoon) baking powder, ½ cup lukewarm milk, ½ tsp essence. Now mix the dry ingredients into liquid gradually with spatula in cut and fold method. Add crushed walnuts.
Pre heat the OTG or microwave oven in 180 degree for 5 minutes in convection mode. Reset convection mode again (the most important thing to remember). Set the temperature at 180 degrees and then bake for 30-40 minutes.
For Gas oven: Heat the kadhai for 5 minutes, spread salt and place a wire stand , now place cake tin , bake for 30-40 minutes in medium heat.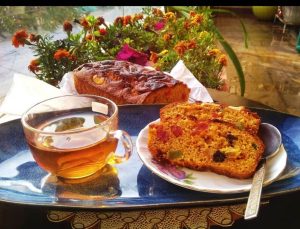 Apple Cinnamon Cake
1. Apple peeled and grated ½ cup
2. ½ cup jaggery or ¼ cup honey or ¼ cup brown sugar
3. Milk ¼ cup , butter 1 tsp
Heat a pan, add all above ingredients and make a sauce.
For cake batter
1. Whole wheat flour 1 cup
2. Baking powder 1 tsp
3. Salt ¼ tsp
4. Curd ½ cup
5. Cinnamon powder ½ tsp
6. Ginger grated ½ tsp
7. Oil ¼ cup
8. Apple thin slices
Preparation: Sieve dry ingredients and beat curd, mix oil, mix dry ingredients, apple sauce and spices. Now pour the batter in tin, tap it and decorate with apple slices, bake the cake as mentioned above.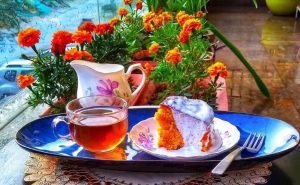 Carrot cake
Mistakes we do
• Large shreds
• Baking time too short
• Under or over spicing
• Frosting with cream cheese when warm
Ingredients
1. 2 cups (230-250 gram) white flour (maida)
2. 3 eggs
3. 2 tsp baking powder
4. 1\2 tsp baking soda (optional)
5. 1 cup brown sugar (100 gms)
6. 1 cup vegetable oil (100 gms)
7. 1 tsp vanilla
8. ½ tsp salt
9. 10 tsp roasted walnut, crushed
10. ¼ tsp nutmeg + cinnamon + ginger (spicing)
11. 2 cups fresh grated carrot
12. Raisins 5 tsp
Preparation
Pre heat the oven or vessel on gas oven at 170 degree for 10 minutes. Whisk oil, eggs, sugar together, when egg changes colour add vanilla to it.
In another large bowl, sieve maida, baking powder, baking soda and salt. Now add the spices to it. Pour the dry ingredients slowly by batch into liquid and mix like making 8. Don't overdo mix or the cake will sink. Mix till the dry materials get mixed. Spatula will help. Fold the carrot and walnuts and raisins now.
Pour the batter evenly in pan. Before this, grease the butter paper, place it in cake tin. Bake for 30 minutes (OTG 180 ˚C) (microwave convection mode 170˚C) (gas oven medium flame) preheat oven for 4-5 minutes. (If using IFB, the temperature must be 150 degrees, for Samsung/LG 170 degrees). Rest the cake for 2 hours before cutting.
Frosting: If you want a frosting, cream cheese and whipped cream (3:1) beat it and use as carrot cake frosting.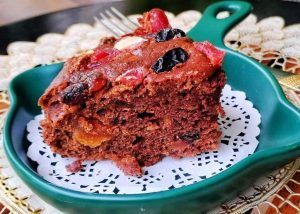 Christmas cake
Day before baking the cake, soak all dry fruits (except cashew and almond) in orange juice or rum. Drain the excess juice before making cake. Mix berries, black raisins, normal raisins, lemon or orange peel 1-2 tsp, cut them in small pieces and soak all these in the juice.
Ingredients
1. White flour (Maida) 1½ cup
2. Baking powder 1 ½ tsp
3. No baking soda
4. 3 spoon fruit jam
5. Cinnamon + nutmeg powder (½ tsp); sieve maida, baking powder and cinnamon powder together
6. Ginger grated ½ tsp
7. Cashew, almonds cut and mix with maida with spoon
8. Butter 125 gram
9. Brown sugar 1 cup
10. 3 eggs
Preparation
Beat butter (room temperature) till it becomes white. Add sugar and mix. Now add the eggs one by one, add vanilla. Now add soaked berries (not the juice) and mix dry ingredients slowly with spatula until the maida is mixed properly. That's all. Batter is ready.
Now preheat oven or kadhai, use butter paper, grease well and bake again in 150-160 degree for 45-50 minutes. If you are using gas oven, keep it for 50 minutes on low heat.