In an earlier column, Anirban Ghosh, Chief Sustainability Officer, Mahindra Group, shared the need to shape urban spaces sustainably. As a follow up, here he elaborates on how cities across the world are pushing the agenda of being sustainable.
Reliable utility services such as electricity, water, handling waste and providing transport services are an essential prerequisite for any city in the world. According to a UN Habitat Report 2018, cities consume about 75% of global primary energy and emit between 50 and 60% of the world's total greenhouse gases.
There is a lot being done to address these issues across the world. So let's start with the bold actions being taken on energy savings. Masdar City's Eco-Villa in Abu Dabi has homes that are 72% more energy efficient because of the way they are built. The Rooftop solar panels generate enough energy over the course of a 12-month cycle for these homes to run without having to draw excess energy from the grid. Similarly in Austin, Texas, the Austin SHINES project is testing a solar PV system with integrated storage and software that will allow homeowners and businesses with on-site panels to automatically switch between grid power and their own stored electricity based on current load and other factors.
Projects like this showcase the need for autonomously despatching energy storage for the future. The Indian government is also heavily invested in green energy. According to government estimates, India will spend a whopping $1 trillion (about INR 65 lakh crores) by 2030 on ramping up its power infrastructure as one of the world's largest energy consumers aims to provide 24/7 electricity to its citizens. It has set an ambitious plan to add 175 GW of renewable energy generation capacity, 100 GW of solar power and 62 GW hydro generation capacity by 2022. So to begin with, our second step needs to look at smart grids. Also as an opportunity we must rethink how we design and operate buildings so that they use less energy – or, better still, generate energy. With 70 per cent of the building stock that will be there in 2030 yet to be built in India (2010 McKinsey report), one of our greatest tests to urbanization will be to improve living conditions without wreaking havoc on the environment.
We must reform how we manage water resources and water infrastructure, so that this precious resource can be re-used several times, and on a city-wide scale. Drought-prone cities are introducing innovative ways to save water. One strategy is to use greywater – water from bathroom sinks, showers, bathtubs, clothes washers and laundry sinks, but not from toilets or kitchens – for purposes other than drinking, such as flushing toilets. In the Unites States, residential greywater is allowed in 26 states. In 2016, at least nine states – California, Florida, Hawaii, Kentucky, Maryland, Massachusetts, Michigan, Oklahoma and Utah – considered greywater legislation. Bills in Florida, Kentucky, Oklahoma and Utah were enacted. Japan relies on a blend of reclaimed water sources (e.g., greywater, rainwater, municipal wastewater) and meets 61% of all non-potable water demand by reusing water.
Finally, we must change the way we manage solid waste so that it becomes a resource, not a cost. Mangalore city is now working with private contractors to clean up trash in the streets and storm drains. With a population of about half a million people, Mangalore has historically struggled to provide residents with good waste management.
In 2012, the city also faced a serious problem due to uncollected, smelly garbage. To fix this, the Mangalore City Corporation (MCC) contracted its trash collection duties to a private company that will increase sanitation by cleaning walkways and removing sand that clogs storm drains. MCC then contracted its composting facility to a second company. The facility already uses Mangalore's trash to produce and sell up to 20 tonnes of compost daily. The company is also installing a machine that will sort waste before it decomposes. The machine allows waste in sealed plastic bags to decompose, reducing odour and increasing compost quality. The root of a good waste management system is segregation and Mumbai city is trying to make this a way of life for its citizens.
The Indian government through its Smart City initiatives is increasing its focus on the creation of future cities to address rapid urbanization, manage complex processes, increase efficiency and improve the quality of life for citizens. On this front, Intelligent Transport Systems (ITS) include applications of advanced sensors, computer electronics and communication technologies which enable smarter, safer and more coordinated use of transport networks.
GPS-enabled buses with fleet tracking and smart bus shelters with intelligent display are helping cities to improve rider experience, reduce traffic and road accidents. Tightly integrated mass-transit systems reduce greenhouse-gas emissions dramatically and this is our future.
We can learn from the success of Mexico City which has made remarkable progress over the recent past. They have added a bus rapid transit (BRT) line, expanded its public bike-sharing system, and implemented a parking system in a busy area. Meanwhile, Rio de Janeiro implemented a 150 km network of BRT corridors, doubled the size of its bicycle share system, and opened new green spaces that encourage sustainable urban living in advance of the 2014 World Cup and 2016 Olympics.
Finally, let's talk about growing our food. Kitchens of the future will address everyday needs and empower people to be their healthiest selves by turning intentions into positive actions in a comfortable, collaborative, and connected environment. Israeli startup Flux designed Eddy – the world's first "growbot" for personal use – is to make hydroponics accessible to the average person. Eddy comes packed full of expert grower data and a knowledge base that grows with his A.I. brain. Using wireless sensors, Eddy can tell you the pH level, temperature and relative humidity, detect contamination, and provide information for how to resolve problems.
Urbanisation in India is rapidly accelerating. Many small towns and cities will double or triple in size and population over the next decade or two. It is crucial that a new development paradigm is adopted and areas marked out for development using all the wisdom that has accumulated about urban systems over the years.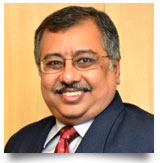 Anirban Ghosh is the Chief Sustainability Officer at the Mahindra Group. He has been working with Group in Sales, Marketing, and Strategy since 1999 and has been recognised as a distinguished CSO in his current role. A gold medal-winning engineer from Jadavpur University, Calcutta, Ghosh has pursued doctoral studies in Marketing Management at IIM Ahmedabad. He is an active public speaker and has represented the nation at the Festival of India across multiple nations.
Views of the author are personal and do not necessarily represent the website's views.
Thank you for reading the story until the very end. We appreciate the time you have given us. In addition, your thoughts and inputs will genuinely make a difference to us. Please do drop in a line and help us do better.

Regards,
The CSR Journal Team