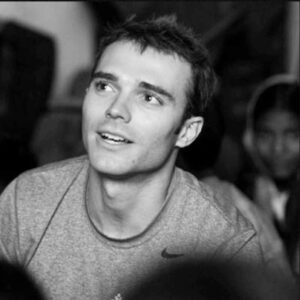 YUWA India a Not for profit organization is changing lives of young girls in Jharkhand by empowering them to escape the age old evil of child marriage.
Franz Gastler Co-founder of YUWA India is a well accomplished name in the field of sports in USA. He had trained at the US Olympic Training Centre in Judo and played as Goalkeeper in Ice hockey. Before starting YUWA he worked as a consultant with CII, India's biggest industry body where he was involved in advising corporate on managing their social strategies and wp programs.
YUWA founded in 2009 started its operation in Jharkhand, India. Considered to be the state with one of the highest number of human trafficking in Asia.  Girls customarily get married by the age of 15, thus depriving them of any economic empowerment or independence.  Franz had first started with English language teaching to the girls. During his interaction, he asked what would they like to do in their spare time. Football was the unanimous response he got.
Football is one of the world's most popular sport. Training the girls would be a task for Franz. Challenges included opposition from local boys for playing in their field to convincing parents to send their girls for this program.
"Society tells girls to fit in, we coach girls to stand out. Through football, Yuwa provides a platform for young women to make a change in the world. The sport serves as a powerful weapon to combat child marriage and human trafficking inorder to get girls back to school. Teamwork is a powerful force to promote health, education and improve livelihoods amongst the most important agents of change- young women." says Gastler when asked about the intention behind starting the program.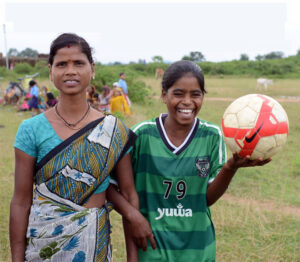 Yuwa initially started with 15 girls in a single hamlet organized by 1 girl with many more joining the program every couple of weeks. The girl's football program is one of largest of its kind in India. It has over 150 players practicing daily.
Yuwa is expanding its presence in urban slums including Dharavi in Mumbai, considered to be Asia's largest slum. Challenges faced by the organization were very different from what they had seen in rural places. Less commitment by the coaches, bad ground conditions because of monsoon and garbage dumping, girls show less commitment, parents being restrictive and reserved.
Yuwa India team came 3 and won the bronze medal in Spain's Gasteiz Cup. The team also participated in Spain's prestigious Donosti Cup tournament where more than 400 teams participated from around the world. Yuwa mentions that none of the girls who are part of its program under the age of 18 got married.