Feeding From Far: An Initiative tackling Hunger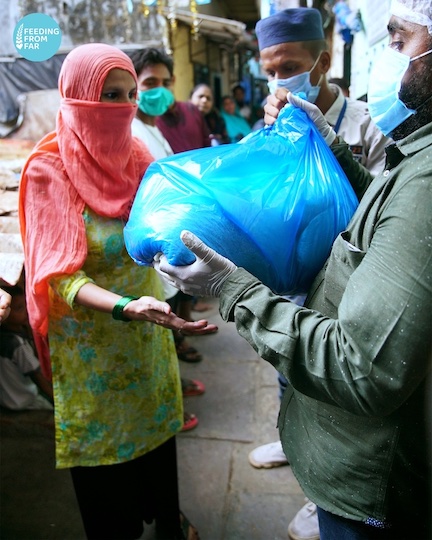 Feeding from Far is a unique project that distributes ration kits and food to the most disadvantaged communities. It is a hunger-relief campaign that focuses on bridging the gap between the poverty lines by tackling the root cause of hunger.
Feeding From Far came into being in 2020 to provide meals to people who were adversely impacted by the pandemic. The initiative is dedicated to building a solid resource tool to advance the nation's development sector. Having served 32 lakh meals and counting, the project works towards curbing poverty-induced hunger in the country.
Working and Impact of the Project
The crowd-funded volunteer-driven campaign identifies community leaders who lead meal packaging and distribution in their local sub-groups, with resource planning and management being spearheaded by the core team. It is mainly being implemented in different parts of Mumbai, such as Govandi, Macchimar Nagar and Dharavi. The primary beneficiaries of the project are the slum-dwellers, especially unemployed and widowed families reeling under the pressure of the financial turbulence created by the pandemic/lockdown.
The project has been a resounding success with the delivery of 4.5 lakh meals during the lockdown and 2 lakh meals in 33 flood-affected areas within 48 hours during the 2021 Chiplun floods through the Feeding From Far community kitchens. The campaign has touched millions of lives and families through Feeding From Far, which has successfully been able to home-deliver more than 32 Lakh meals to date.
Support Feeding from Far
To support the organisation, one can follow the below steps:
Write to the team at feedingfromfar@gmail.com if you are an individual programmer or a tech start-up, and can support the development of its digital product idea.

Contact the team for volunteering opportunities if you are a graphic designer or a content writer. The volunteers will be tasked with running digital fundraisers.

Donate to participate in the current fundraiser in the effort to feed people in Macchimaar Nagar, Govandi & Dharavi, by scanning the below QR code, or visiting bit.ly/FeedingFromFar