How RSKS India is empowering girl children in Rajasthan
Gender gap in education is persistent in almost every state of India, in some areas it is more, and in some areas it is less. But it exists. Even today, the number of school dropout girl children is higher than that of boys that is the harsh reality. Non-profit organisation Rajasthan Samgrah Kalyan Sansthan (RSKS India) is working relentlessly in order to address the existing gender gap in certain areas of rural Rajasthan.
RSKS India
Founded by late Dr Vinod K Sharma, the non-profit organisation has been working since 1992. Run by a group of enthusiastic youngsters, RSKS India has completed 30 years of its journey and works on areas like girl child education, healthcare, women empowerment, nutrition and awareness programmes in rural areas among others.
Focus areas
In a candid chat with The CSR Journal about the same, Dr SN Sharma Deepak, CEO, RSKS India, said, "We are currently 31 members who are young and enthusiastic. We also have students from India's top engineering and management institutes interning with us. We work on a total of ten focus areas, the core ones being sustainable livelihood, girl child education and women empowerment. Our main target beneficiaries are women and girl children. We also focus on environment & sanitation, health, agriculture & livestock, disability, disaster relief etc. Till date we have benefitted over two lakh women and girls under our different projects. Our next goal is to benefit one million women and girls by 2030."
Places of work
"We are based in Rajasthan's Ajmer and currently cater to urban as well as rural areas and districts like Nagaur and Sawai Madhopur. However, we forget geographical boundaries, when it comes to disaster relief. We have worked during the Nepal Earthquake, Kerala floods, and Western Rajasthan floods and during the Covid-19 pandemic," he added.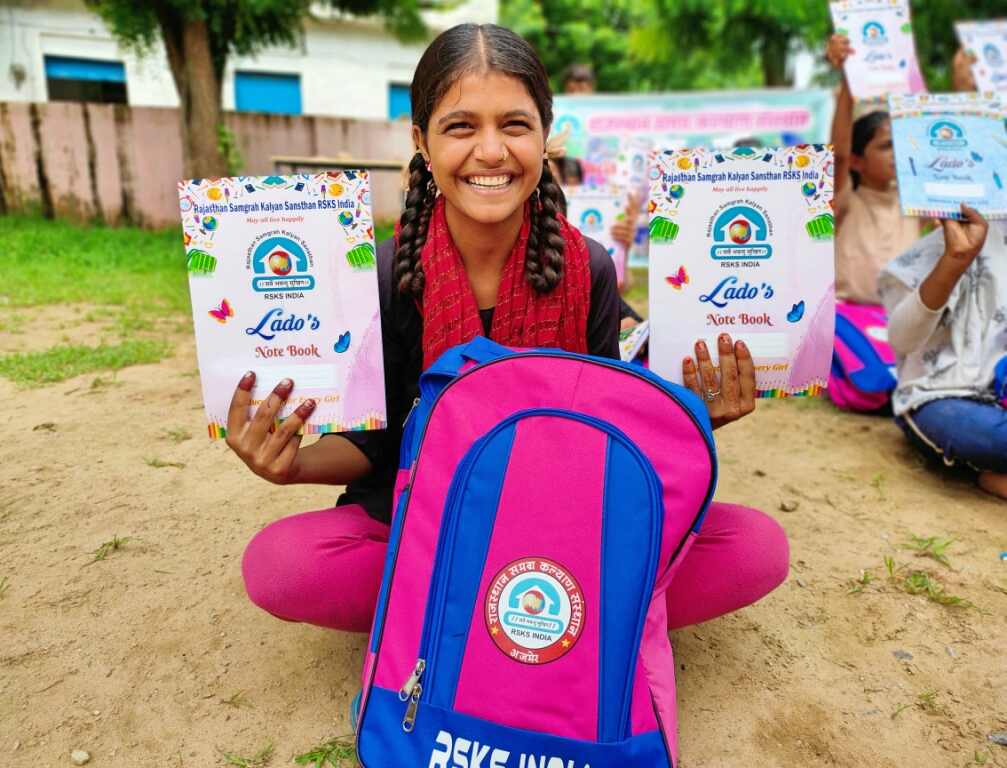 Educational projects for girl children
Talking about how they are working to bridge the education gap in rural Rajasthan, Dr Deepak said, "We have provided educational support to over 45,000 girl children in the last 30 years. Our projects for girl child education include:
1. Education For Every Girl
This project is providing essential education stuff/materials/fees to the marginalized & deprived community girls going to schools so that they could continue their education without having to worry for the education materials or for the school fees. In this project, awareness about water, sanitation, hygiene, gender equality, end child marriage and sexual & reproductive health is also done with the girl children through flipcharts, road rallies, poster making, card sheets etc. and also they are being given a hygiene kit at the end of the awareness programs so that they could start their hygiene journey from that day itself. Currently a minimum of 1000 rural, marginalized and deprived community girls are getting benefit from this project.
2. Pathshala
A Value Based Education School- It provides education free of cost to hundreds of girls in rural remote areas. In this school, the girl children are not only taught about the academic education but also taught about the moral values, yoga, discipline, sports, plastic recycling, capacity building, life skills, sexual & reproductive health, hygiene, environment conservation, science models etc. value based education so that an overall development could be seen in the girls getting education at the Pathshala. At the Pathshala, UN Social days, Indian social days, festivals etc are celebrated. This project caters to girl children who have never been to school, school dropout girl children and regular school going students who need additional support for their academic improvement.
3. Udaan
Under this project, mid level courses of classes 7 and 8 are offered for school dropout women. Women who mostly dropout of school after classes 3-4, are motivated to resume education. They are educated in the local village school. We try to collaborate with the government and make these students appear in the examination in a completely transparent process.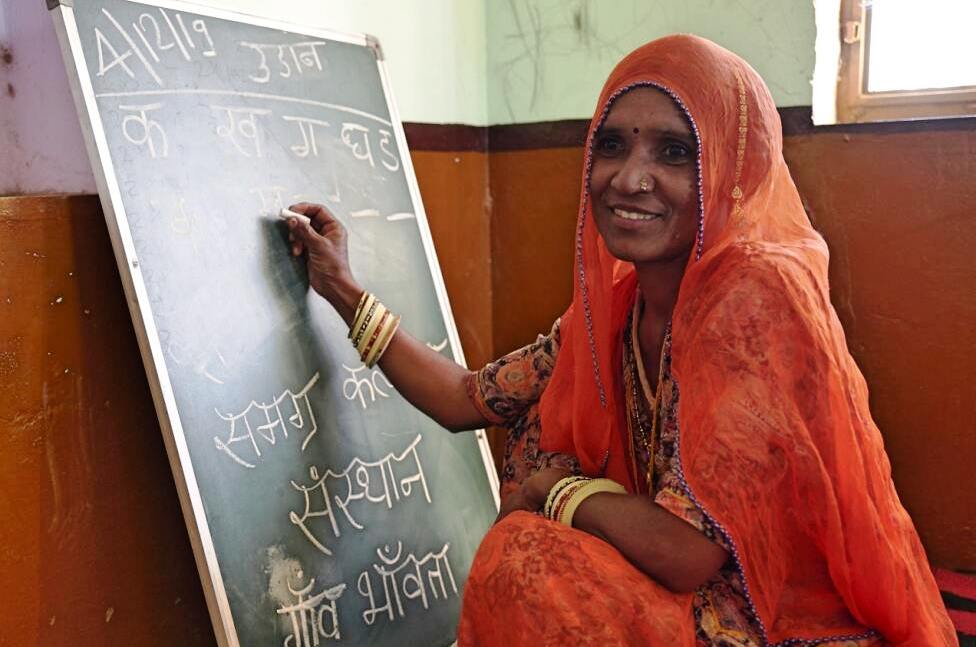 4. Home-based education for children with disability
We offer home-based education for children with disability. Our team visits their homes on a weekly basis and teaches them in an interactive method using toys, colours, blocks, cards and other tools. At the same time, they are trained about life skills required for everyday activities, i.e, the daily routine like bathing, washing, how to take medicines and counselling session with their family members. These include children with Cerebral Palsy, mental illness and other disabilities.
5. Financial Literacy and Inclusion
Under this programme, girls, boys, men and women are educated about financial literacy. This is done through different types of activities like workshops, road shows, puppet shows and street plays. They are made aware about cyber security, knowledge on banking, government schemes etc.
6. Make a wish for street and slum kids
Under this programme, we host education camps called 'Gurukul' where these children are taught things like numbers, alphabets, how to write their names etc. At the same time they are taught discipline and life skills. We select slum children from these camps and get them into mainstream education by enrolling them in schools. We have done this to 72 children in the last one year. We also regularly follow up on these children because their parents tend to change cities every 1-2 years. Hence, it becomes difficult to track them.
7. Humanity
Under this project, we cater to both boys and girls where urgent help is provided in matters related to education, like providing school fees, stationery etc. We mostly help orphaned children or those having single parents."
Work during Covid- 19
During the Covid- 19 pandemic, RSKS India focused especially on those girls whose education has been discontinued due to the pandemic, those girls whose family has experienced any kind of casualty during the pandemic and those girls whose parents' source of income has stopped due to the pandemic.
"We have also provided for cash scholarship for 100 such girls through bank cheque. We have also provided them with masks, sanitary pads, multivitamin tablets etc. during the pandemic," informed the spokesperson.
Achievements
Quizzed about RSKS India's success stories, the CEO proudly expressed, "We have a vocational education programme under which a lot of youngsters get trained in garment making, makeup and beauty, computer training, data literacy, handicrafts etc. A lot of girls have learned work under this programme and started their own business ventures. We have multiple success stories. We had a student who cannot walk due to polio. She was trained under this programme and then worked with us as a trainer. Last year she was honoured by the Confederation of Indian Industry (CII) with a Woman Achiever award. Currently, she is one of our board members!"
Challenges
The road to selfless work is replete with obstacles. Quizzed on the major challenges they face, Dr Deepak replied, "Transportation is a problem which we face while working on the ground level over here, fundraising becomes an issue at such a small level, and a major problem is certain people's typical mindset in remote rural areas. At least 10 people out of 100 have this problem. They are not ready to accept changes or adopt new things; it becomes a problem to even explain them via counselling. These are some of the major challenges we are facing."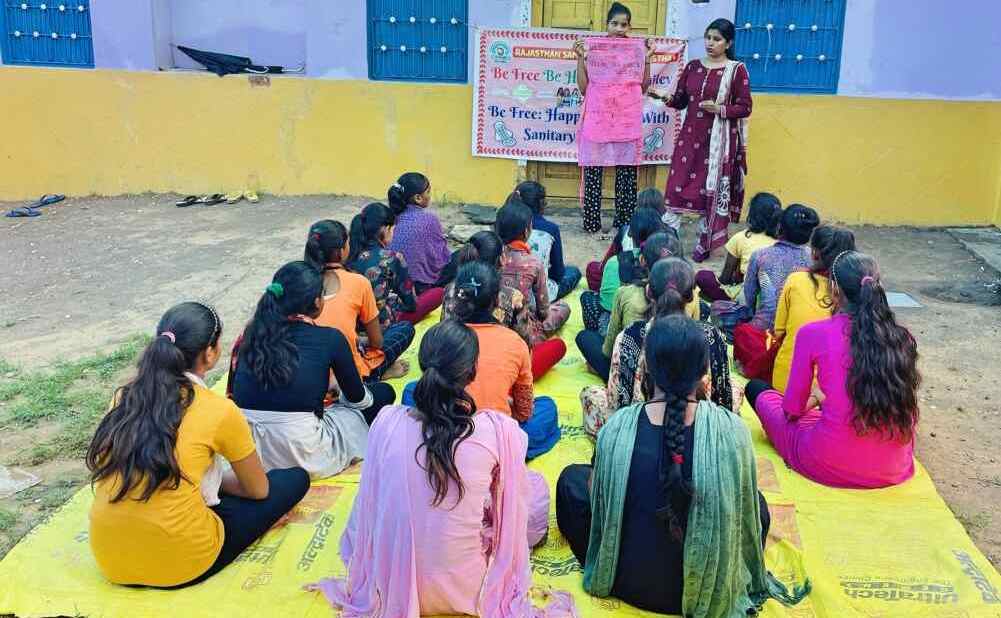 Breaking taboos
Not only education and skill training, RSKS India is also trying to break taboos like open discussion on sexual and reproductive health in rural areas. Menstrual hygiene awareness is also spread via distribution of sanitary pads to women and girls.
"We are also trying to spread awareness regarding sexual and reproductive health in rural areas, which is not easy especially in villages. However, the picture has started changing due to our relentless efforts since the last six years. Ladies who would refuse to even get clicked during this kind of a session, now sit together with the male members of the village and attend the session," the CEO signed off.
Ahana Bhattacharya can be reached at ahana@thecsrjournal.in