Top CSR projects advancing girl child education
Girl child education is a joke in our country. Girls bear the burden of cooking and cleaning growing up yet are considered a burden. Most girls in rural areas still don't go to school, leave alone higher education. In fear of exploitation and abuse, many girls are not sent to school and kept at home only to be married off early, continuing the cycle of dependence and discrimination from their families and society at large. Education is the way out.
Girl child education is key to empowerment
It is ironic that people across socio-economic strata think that investing in a girl child's education is a waste of money but will borrow and spend on their daughter's marriage expenses or dowry instead. When a girl is educated, she is empowered. She can make decisions for herself, raise the standard of living for her family and children, become economically independent, and reform society as a whole. Strategic CSR projects of Covestro, Intuit India and Mahindra Group are not only changing the mindset towards girl child education in India, but also building ecosystems for young girls to get the quality education and respect they deserve.
1. Project Nanhi Kali
There are millions of girls in India who are denied education, and inequality persists with poor female literacy levels, high dropout rates for girls and poor learning levels. Project Nanhi Kali is one of India's largest girl child education programmes that enable girls from economically and socially disadvantaged backgrounds to complete their schooling.
The CSR project is jointly managed by KC Mahindra Education Trust and the Naandi Foundation. Each girl is provided with a 360-degree academic as well as material support through an annual school supply kit consisting of a school bag, uniforms, stationery, female hygiene material, etc. Nanhi Kali's academic support centres engage girls in concept-based learning through a specially designed pedagogy for two hours on a daily basis.
Digital tablets with pre-loaded audio-visual educational content are provided to girls studying in secondary school (6th-10th grades). The project also works extensively with the families of the girls and engages with community stakeholders to sensitise them on the importance of girl child education and build safe, conducive female-friendly ecosystems.
Impact
Since its inception, Project Nanhi Kali has provided access to quality education to over 3,50,000 underprivileged girls. A reduction in the dropout rate has been recorded with a high retention rate of around 90%. Girls have shown improved learning levels year on year, which is being monitored through individual assessments. The CSR project has also successfully created a safe ecosystem and environment for underprivileged school girls.
On the occasion of Raksha Bandhan, Project Nanhi Kali has started #ShikshaBandhan for donors to empower young sisters with the gift of education.
2. Konecranes – Girl Child Education Project
The Girl Child Education Programme (GCEP) was an initiative of the NGO IIMPACT, which is the CSR partner of Konecranes and Demag Private Limited. GCEP aimed to empower and mobilise young girls between the age group of 6-14 years by providing quality primary education up to the 5th grade. It also intended to increase access and enrolment to basic primary education through community mobilisation and subsequent transition into secondary education post completion of the 5th grade.
The target beneficiaries were girls who were out of the formal schooling system and belonged to the socially disadvantaged and economically marginalised rural communities in India. GCEP was implemented by establishing model learning centres across rural India for a period of five-six years. These were only teacher-led centres, imparting primary level education to girl children using Multi-Grade Multi-Level (MGML) grouping. The MGML grouping was done due to infrastructure and pedagogical reasons, and the system provided training to children based on their level of learning, competencies and capabilities.
The centre ran till the time all the enrolled girls achieved a firm grounding in primary education. The teachers and supervisors at these learning centres underwent training every quarter to ensure standard quality delivery of knowledge across all centres. The programme also encouraged setting up of centre management committees in every village to foster community ownership and promote discussion regarding girl child in the area.
Impact
This initiative has changed the outlook of girl child education in targeted areas of Uttar Pradesh and Odisha. Parents and the community, in general, are more open to the idea of providing education to the girl child in rural communities. There has been an increase in the number of girls with access to primary schools along with increased interest among girls to pursue training for longer years.
3. Covestro India – #STEM4Girls
STEM activities provide hands-on and minds-on lessons for the student. Making maths and science both fun and interesting helps the student to do much more than just learn. But the challenge arises when it comes to women making their

career in STEM

. UNESCO published a factsheet in March 2015 which says that women account for minority in world's science researchers with numbers as low as 20% – 26%. With an aim of averting the situation, Covestro, in collaboration with various partners is committed to enlighten the minds of children across the world by improving awareness amongst children and teachers about the value of learning with a special focus on STEM.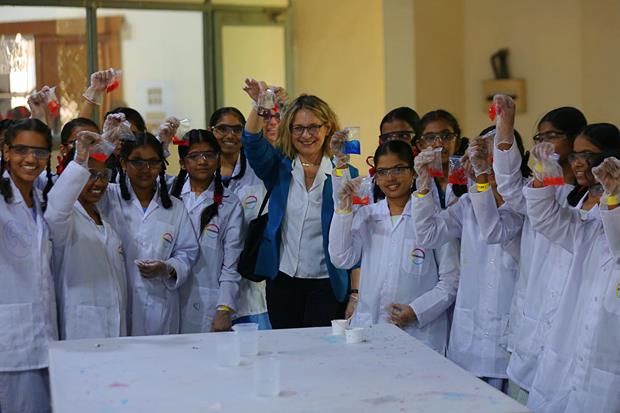 #STEM4Girls is a CSR initiative undertaken by Covestro to promote STEM (Science, Technology, Engineering and Mathematics) education among girl students between the age of 11-14 years to increase their scientific curiosity and temperament.
Eminent women achievers from across India participated in the initiative to inspire children in every city and explore fruitful careers in the field of STEM. With interactive sessions, workshops and hands-on experiments every student was inducted to the world of possibilities in Science, Technology, Engineering and Mathematics.
Impact
The company started with the #STEM4Girls project in India in 2016 by reaching out to 100 girls from Delhi. In 2017, the project reached to 1327 girls from various schools in Mumbai. In 2018, #STEM4GirlsFestival2018 covered 3115 girls across 6 different cities of India – Mumbai, Calicut, Noida, Dharampur, Goa and Nagpur. Taking this initiative forward, the company successfully concluded the 4th edition of #STEM4Girls 2019, with over 4176 girl students across 5 different cities from 105 schools along with 216 teachers.
A multi-lingual animated storybook explaining the impact of marine litter was also launched as a part of this initiative. Covestro along with Greenlight for Girls, Nehru Science Centre and Chandra Mohan Foundation conducted the last leg of STEM workshop from 9th December to 14th December 2019.
4. Intuit RISE
Intuit RISE – 'Educating Girl Child' the flagship CSR project of Intuit India is aimed at sponsoring education for girl children. It recently won the Rotary Karnataka CSR Award – 2020 for 'Best CSR Practices in promoting basic education and literacy'. The CSR project aims at sponsoring education for girl children to help fight societal norms. In this programme, Intuit supports girls who are either from dysfunctional families or single-parent families where support for their education is negligent. The spirit of the programme is to support education for girl children and create opportunities for families who otherwise do not have access to education.
Intuit sponsors education for a girl child for every female employee who joins the company. As a company that promotes equal opportunities and hires top female talent, Intuit is also cognizant of the other end of the spectrum that shows a gloomy picture on female literacy in India.
Impact
Till date, 215 girls have been sponsored under this programme and the first batch students have completed their 10th standard. The aim is to help and educate 1000 girls in the next couple of years. Through this girl child education initiative, Intuit aims to recognize the passion which drives young girls and women to be change-makers in society. The girls being sponsored also get an opportunity to connect with the female engineers at Intuit to learn more about being a woman in tech.