Home
Leaders Speak
CSR Leaders: On National Computer Security Day, Ms. Anupama Katkar from Quick...
CSR Leaders: On National Computer Security Day, Ms. Anupama Katkar from Quick Heal Technologies explains why cyber security is necessary
"Notification. Dear Customer, your electricity power will be disconnect. Tonight at 9.30 pm from electricity office. Because your previous month bill was not update. Please immediately contact with our electricity officer 8250883060 Thank you," I received this WhatsApp message a couple of weeks ago. The grammar of the text raised doubt in my mind and on enquiring I found out that this is a new kind of phishing targeting people from the Kolkata and West Bengal telephony circles.
Talking about cyber crime, particularly phishing, this was beautifully highlighted in the popular Netflix web series 'Jamtara: Sabka Number Ayega' which released a couple of years ago. The show highlighted how youngsters from Jharkhand's Jamtara town who are desperately in need of money get into the phishing business and dupe people by posing as bank employees or customer care executives, transfering lakhs of rupees from their accounts by asking for their ATM pin, debit card number, bank account number, debit card CVV number and OTP or one time password.
The extreme popularity of the show starring Amit Sial, Monika Panwar, Sparsh Srivastav, Aasif Khan and Dibyendu Bhattacharya in key roles led the makers to release a second season earlier this year.
We keep reading about various kinds of cyber crime and cyber frauds like phishing, bullying, stalking, piracy, social media frauds, online drug trafficking, cyber extortion and money laundering almost every single day but not many of us really bother to enquire or take action unless we are targeted.
Cyber security affects everything from our bank account to how and where we spend our money to our passwords and citizenship documents. With cyber crimes on a rise, we have to be a little more alert about our cyber security, which is an integral part of our lives in the present day.
On 30th November National Computer Security Day, Ms. Anupama Katkar, Chairperson Quick Heal Foundation and Chief of Operational Excellence, Quick Heal Technologies Limited opens up to The CSR Journal about the same. Following are excerpts from the conversation.
Why is cyber security increasingly becoming more important in the present time?
We are witnessing a tremendous expansion of smartphone user base and rise in internet connectivity in our country. Rapid digitization and work from home, post pandemic, have further widened the security perimeter, making cloud, network, and devices vulnerable. Therefore, cybercrimes are on a rise, like never before. Lack of awareness on cyber security is the root cause of India fast becoming a hotbed for these crimes. Hence, awareness on safe internet practices and using the right cyber security solutions are the need of the hour.
Why should companies educate their employees on cyber security?
Any organization that is serious about shielding its sensitive data from cybercriminals needs to educate its employees with cyber security protocols. Data security is not the responsibility of just the IT staff in an organization; each and every individual plays an important role in ensuring that the security measures placed to protect the company's data are not overridden.
Just having security solutions might not help. Companies must show diligence by offering cyber security training to their employees so that they can carry out their work in a secure manner. In event of a breach, timely intervention can reduce the damage by a great extent, thus reducing the liability and potentially saving the company a large sum in regulatory fines and any collateral damage. Through regular training and adopting the right security solutions that must be configured and updated properly, even the weakest links in an organization's security framework can be made stronger.
At Quick Heal, our CSR programs focus on spreading cyber security awareness by including all our employees, partners, schools & universities, local police, industry bodies like DSCI and corporates across the country to join us for the same cause. Our Quick Heal academy works with enterprises on capability development programs for their employees.
Children are susceptible to frauds. Do you think Indian schools should more actively give cyber security education?
At Quick Heal, it is our goal to make 'Cyber safety a fundamental right for all' and I sincerely believe that learning about cyber security should be made essential for everyone, irrespective of their age. The growing impetus for digitization during the pandemic has led to a sharp increase in the internet exposure of young kids. School children often use internet for academic and fun activities while being unaware of the virtual risks that make them more susceptible to frauds. Thus, cyber security education in schools can help students stay safe and perhaps make a career out of it later.
What is the best way to keep my website safe from cyber frauds/hacking etc.?
The easiest way to safeguard your website from malicious attacks is to install a good anti-virus solution, and to activate your firewall. This helps in monitoring all the incoming and outgoing traffic toward your computer, while protecting you from viruses, malware and rootkits. Keep the security software always updated by applying latest patches sent to your system to block and prevent new emerging threats. We have designed an e-booklet available on our website in multiple languages educating community at large on how to identify, report and mitigate threats online.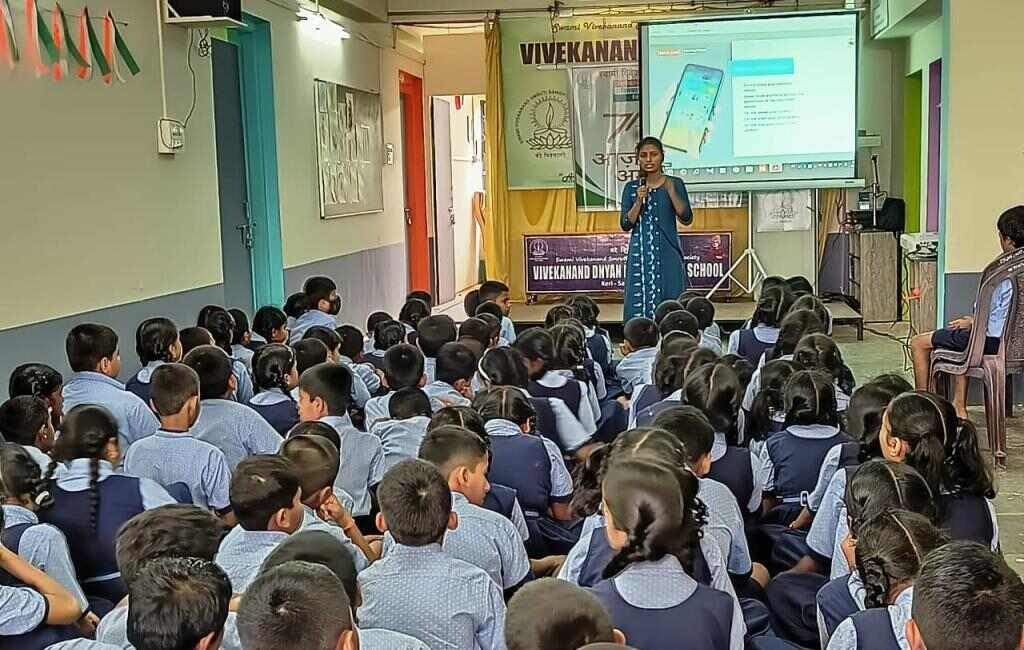 Please tell us about the 'Cyber Shiksha for Cyber Suraksha' project by Quick Heal Foundation
Due to Covid-19 pandemic, many things have changed drastically. Education system globally has gone through a paradigm shift with schools going online as the new normal. With students now way more online for their learning needs, came cyber risks knocking.
It has been our goal at Quick Heal to make 'Cyber security a fundamental right for all'.
Given the need to educate students on safe digital practices, we designed and rolled out 'Cyber Shiksha for Cyber Suraksha' program. This program aims to guide students, teachers & parents by conducting online webinars in multiple languages. We collaborate with local NGOs in various states who work towards spreading awareness on secure practices in multiple schools. In addition to this, we conduct a 2-hours long online course, 'Cyber Shield', for students to gain insights into cyber world, prevalent threats and how to prevent those.
Under this unique, train the trainer-based program (Earn and Learn) we further train and incentivise computer science students to spread awareness on the subject. We also conduct street plays and workshops across India including Maharashtra, Goa and Kerala in collaboration with local administration, authorities, police, and industry bodies like DSCI, universities, corporates, NGOs, and partners. I am happy to share that through this program alone, we have endeavored to touch over 26+ Lakhs lives to date. In FY 23, we aim to touch 7 lakhs plus lives alone.