Home
Leaders Speak
CSR Leaders: Dr Ganesh Raja, CEO, Kotak Education Foundation talks about their...
CSR Leaders: Dr Ganesh Raja, CEO, Kotak Education Foundation talks about their top education and skill development programmes
Kotak Education Foundation is working tirelessly since the last 16 years to ensure children and youth from underprivileged families in India get access to quality education and necessary skills through their different education-based interventions and skill-training programmes.
Dr Ganesh Raja, CEO, Kotak Education Foundation opens up to The CSR Journal about their scholarship project for students titled Excel Intervention, skill development and livelihood programme Unnati and their recently launched Model School Project. Following are excerpts from the conversation.
1. Please tell us about Kotak Education Foundation's Excel programme.
Kotak Education Foundation has a long legacy and expertise in offering a scholarship program for students from underserved communities. The Excel Intervention began in 2007 with the start of scholarship project for supporting meritorious students from financially challenged background from M-East Ward- the poorest ward of Mumbai.
The Excel Intervention has been working on the vision of the organisation with the goal to empower meritorious students from underserved communities to complete education and rise above the poverty line, by not only supporting with financial aid but also opportunities for holistic development from two scholarship projects. In 2021 KEF has expanded its wings to include two pan-India projects: Kotak Kanya Scholarship and Kotak Shiksha Nidhi – taking KEF's work to far flung corners of India.
The first scholarship project of KEF is 10 plus scholarship program which focuses on selecting highly meritorious students from low income families and supporting them with scholarship and other allied programs to ensure they complete Class 12 and take admission into professional courses. After the students complete their HSC, they are supported till they complete their graduation through 12 plus scholarship.
The 12 plus scholarship project began in 2016 and has supported 680 students till date to complete their Graduation. Excel Students from the two scholarship projects are making their mark in their respective professional fields. Amongst the alumni are more than 140 Engineers, 20 doctors, more than 80 para-medical professionals, 40 finance professionals, and students in Indian Army and Air Force who are serving the society.
In 2021, KEF launched Kotak Kanya Scholarship, an exclusive scholarship for meritorious girl students from low income families who have taken admission in STEM and professional courses in high – ranking premium institutes of the India. The project aims to support the career aspirations of these students from across India through financial support for completion of graduation in professional courses from premium institutes and provide opportunities for their holistic development.
2020-21 was also the year of pandemic which led to loss of lives across India due to Covid-19. Continuity of education of millions of students was threatened due to untimely death of the parent. Taking cognizance of this, KEF launched Kotak Shiksha Nidhi, a financial assistance project to ensure continuity in education for students aged 6 to 22 years who have lost a parent or primary earning family member due to Covid-19 by providing financial assistance and support. The project supported over 1500 students with financial assistance and will continue to support them till they complete their education.
2. How did Excel Intervention perform in 2022?
Excel Intervention through its four projects has supported dreams and aspirations of more than 2800 students across India in the year 2022. Last year, 79% of our students secured gainful employments after completion of graduation with an average CTC of 6.25 lakhs and 21% students continued their educational journey by opting for higher education.
In 2021-22, Kotak Kanya Scholarship attracted 75 highly meritorious students from all across India 25 of which were from top ranking IITs and AIIMS. The Kotak Shiksha Nidhi Project supported more than 1500 students through financial assistance ensuring that they continue their education.
3. The Excel Intervention is operational in which parts of India? Where else do you plan to take this to?
At present, the legacy scholarship programs: 10 plus scholarship and 12 plus scholarship are operational in Mumbai for the students from KEF partner schools. A future plan for the scholarships is to take the proven model of scholarships and student engagement across Mumbai.
In terms of the coveted pan-India scholarship 'Kotak Kanya Scholarship' launched in the year 2021; KEF's Kotak Kanyas are currently studying in the most prestigious and high ranking institutes in India in technical, medical, law and other professional fields. Based on the overwhelming response from students in the very first year of its launch, we plan to scale up the project to provide opportunities to more girls from farther corners of India.
Kotak Shiksha Nidhi project of KEF is currently active for more than 1300 students across India.
4. Please tell us about Kotak Education Foundation's Unnati programme? This is operational in which parts of India?
Unnati is a skill development and livelihood programme for unemployed urban youth from underprivileged families, dropped out of formal education. From its inception in 2007, more than 18,000 young aspirants have been trained.  This has supported over 12,000 families to move out of poverty. The Project offers training support to youth, aged between 18 to 30 years (Graduates & Non-Graduates), completely free and also the placement support and beyond to stay in the jobs and grow in their respective fields.
Following are the domains:
For Graduates:
Banking Financial Services & Insurance (BFSI)
For Non-Graduates:
Customer Relation & Sales (CRS)
Hospitality (HSPT)
Advance Beauty
Multi Skill Technician (MST)
The KEF Unnati Program runs across 6 centres in Mumbai– Deonar, Sion, Mahim, Mulund, Andheri, Goregoan and Virar. KEF Unnati also runs a livelihood program at Pune in collaboration with Yashaswi Academy for Skills.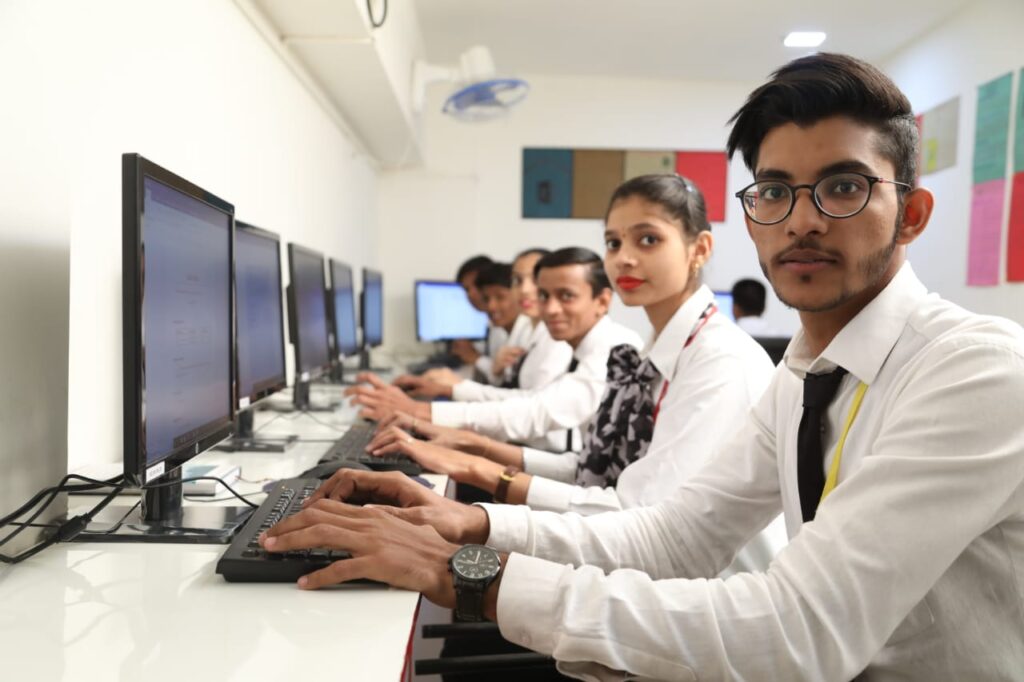 5. How did Unnati programme perform in 2022?
Following is Unnati's performance for the FY 22-23
CDB (Aspirants Enrolled) – 2610
Aspirants Trained – 2259
Aspirants Placed – 1545
6. How many schools did Kotak Education Foundation adopt under the Model School Project and where?
The Model School Project kickstarted its pilot this year across Maharashtra in collaboration with the Maharashtra State Council of Educational Research and Training (MSCERT) at 21 schools across Palghar, Pune, Nasik, Thane and Raigarh as an initiative to improve the quality of learning in schools and provide a great learning environment for students. The schools will have infrastructure and quality education which will be at par with the 21st Century Skills such as Creative Thinking, Critical Thinking, Embracing Constitutional Values and Collaboration skills.
7. When was the Model School Project launched? What exactly is done under this programme?
The Model School Project was launched on 22 July, 2022. Recognizing the importance of early learning, our highest priority is to achieve universal foundational literacy and numeracy (FLN) in primary school grade 1 to grade 4 in Marathi and Math in sync with the NIPUN Bharat Vision that provides enabling environment to ensure universal acquisition of foundational literacy and numeracy, so that every child achieves the desired learning competencies in reading, writing and numeracy at the end of Grade 3 and not later than Grade 5.
The focus from Grade 5 up to grade 8 is on Communicative English following our Umang project model. This model equips middle school students with communicative English skills. The project offers international and national level exposure to students to participate in events like Design For Change (DFC) , Mock United Nations ( MUNs) and Sustainable Development Goals ( SDGs) related events to build their self-confidence and spoken English skills.
We are working with School leaders and teachers following our LEAD project model. The school development program – LEAD works towards strengthening leadership and managerial practices of Kotak Education Foundation partner school leaders.
Kotak Education foundation has also introduced Digital Classrooms which aims to build a sustainable digital learning ecosystem in the schools to make them future ready. We are looking at innovative solutions for schools to enable digital equity and strengthen technology integration amongst teachers, students and parents.
8. How is Kotak Education Foundation working to bridge the gender gap in education and digital literacy in India?
Kotak Education Foundation works towards creating a safe and inclusive learning environment at partner schools in Mumbai through its School Leadership project. Apart from this, KEF, through its infrastructure project works towards providing a suitable learning space, making sure sanitation facilities are adequate with improved associated facilities designed for safety and comfort of girls and boys in partner schools.
KEF works extensively with school leaders, teachers and students, in ensuring that schools are free of discrimination and provides gender-sensitive, good-quality education. To achieve this, KEF through its Digital Learning Solution project has developed workshops on educating students on cyber security and accountability while using digital tabs to create a safe inclusive digital ecosystem.
Women in higher education, more specifically STEM (Science, Technology, Engineering, Math continue to be under-represented. Girls need to be encouraged by challenging gender stereotypes. KEF has launched, Kotak Kanya Scholarship – A PAN India Stem Scholarship for meritorious female students pursuing higher education.
KEF through its Livelihood program – Unnati has taken a huge step to encourage women and girls who have dropped out of formal education to take up vocational training courses and are given placements to live a self-sustained life and move above the poverty line.
KEF through its Communicative English project facilitates gender-responsive instruction, free from gender bias and promotes equality in gender relations.
Ahana Bhattacharya can be reached at ahana@thecsrjournal.in