Top CSR Initiatives Aimed at Improving Farmers' Incomes in India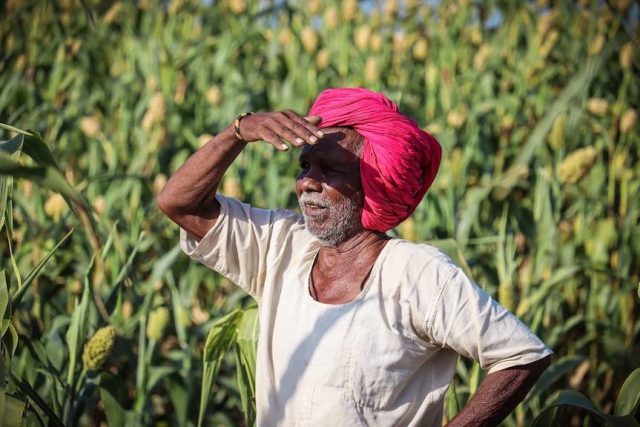 In 2016, PM Narendra Modi announced the goal of 'doubling the farmers' income' in the country by 2022 as compared to the base year 2015-16. The idea was to improve the lives of the farmers by the 75th year anniversary celebrations of India's Independence fondly called as 'Azadi ka Amrit Mahotsav'. However, owing to the COVID-19 pandemic and the economic backlash caused because of it, India has not been able to meet the target.
While the incomes of the farmers have not doubled as yet, there have been efforts made across the countries by various entities to ensure that they are faring better. In this effort, India Incorporated has also played a significant role.
CSR Initiatives Improving Farmers' Incomes in India
Apple Unnati Project by Coca-Cola India Private Limited (CCIPL)
The state of Uttarakhand has appropriate climatic conditions for cultivation of apples. Despite this, the productivity in the state was abysmal. CCIPL teamed with Indo Dutch Horticulture Technologies Pvt. Ltd. (IDHT) as its Implementation Partner of Project Apple- Unnati in Uttarakhand to promote the well-being of farmer communities, boost yields, and propagate sensible use of natural resources.
The Project Apple Unnati aimed to increase apple productivity in India, particularly in Uttarakhand, by introducing global best practices, primarily focusing on ultra-high-density plantation (UHDP), resulting in a significant increase in quality, productivity, and profitability per unit of land, and thus significantly increasing farmers' income. This in turn was also expected to serve as a stimulus for India's apple production to become self-sufficient.
In the traditional method, apple trees are planted at a distance of 5-7 metres, whereas in the HDP method it is done at every one metre. In traditional methods, it is difficult to get a crop for harvesting even after six years but in UHDP method it was possible to get the crop from second year onwards with yields expected to go up to 50 kg per tree from fifth year, which is unimaginable, he added. Due to early maturity and better returns, many farmers in Uttarakhand are taking up this new method of apple cultivation.
About 700-odd acres of apple orchards have already been developed since the launch of the Unnati apple project in 2018 in the state, Coca-Cola INSWA, CSR and Sustainability Senior Manager Aditya Panda said.
Thanks to this project, the income among the farming community has increased to 8-10 lakh per year. After almost ten years of extensive research, by implementing the learnings from visiting countries like France, Italy and the Netherlands the project has catapulted the farming community's future into an aspirational one, far away from despair, as perceived by many.
Project Utthan by Coal India Limited
Poverty and the vicious cycle of debt had wreaked havoc on 27,000 farmer families in the coal mining districts of Angul, Jharsuguda, Sambalpur and Sundargarh. But things began to change in 2019 with 'Utthan', a community development programme initiated by Mahanadi Coalfields, a subsidiary of Coal India Limited (CIL).
In 40 villages, the Rs 20.3 crore CSR project has assisted in the conversion of barren lands into high-yielding assets and the creation of sustainable farm livelihoods, benefiting roughly 25,000 people. The project has not only improved the economic situation of 6,200 disadvantaged SC/ ST/ OBC families, but it has also established a model for agriculture sector development that is being copied by the state's larger population. "The interventions made by Utthan are bearing positive results in terms of livelihood," says B. Sairam, executive director (CSR), CIL.
Wadi cultivation, a new farming strategy that involves intercropping with seasonal vegetables and horticulture, has been embraced under this project (mango, lemon and custard apple, etc). Utthan has benefited 6,500 farmer households. The goal of the CSR programme, according to CIL, was to improve the socioeconomic status of 27,000 SC/ ST/ OBC people living in the project region. Utthan, which is being phased in by the Pune-based non-profit BAIF (formerly Bharatiya Agro Industries Foundation), aims to create sustainable livelihoods through a variety of innovative farm-sector interventions in agriculture, dairy, goatery, mushroom cultivation, backyard poultry, fodder development, and other areas.
By boosting sanitation, education, and menstrual hygiene, Utthan also hopes to build capacity and improve overall quality of life. In the long run, the project hopes to demonstrate a self-sufficient and inclusive development model that can be replicated by the rest of the world.
Apart from farming, Utthan is also assisting in the development of water storage facilities. To contain runoff water and prevent seepage, ponds are dug and the base coated with polythene sheets. Utthan has installed solar pumps in villages to assist lower the cost of farming. A self-help group of farmers who benefited from the project runs these.
Farmers pay 10% of the cost of components (fertiliser, plants, fencing material, etc.) and 40% of the cost of labour for Wadi development. Farmers contribute a bigger percentage of labour costs to encourage households to provide free labour and reduce man-day losses.
Utthan had already established 244 wadis, transforming 122 acres of barren ground into thriving crops. A total of 935 paddy farmers saw a 15-20% increase in production. Over the following five years, Utthan hopes to expand coverage to 2,500 paddy growers.
Because vegetable growing is such an important part of Utthan's economy, farmers are being trained to use innovative techniques, such as trellis cultivation, to increase productivity. This effort alone has benefited more than 500 families. Water collection, surface storage (50 new ponds storing 4 million litres), and the installation of eight solar pumps have boosted irrigation potential on at least 50 acres. Additionally, nearly 800 families are benefiting from animals through dairy, goatery, and poultry operations, while 600 families have established kitchen gardens to raise nutritious vegetables.
Project UANAT by UAIL
Aditya Birla Group's Utkal Alumina International Limited (UAIL) project "UANAT (Utkal's Action for Agricultural Transformation)" launched in collaboration with Bharat Rural Livelihood Foundation (BRLF), is making a transformative change to the lives of more than 15,000 rural households of Kashipur Block in Rayagada district and Thuamul Rampur Block of Kalahandi district in Odisha through farm-based livelihood interventions.
Launched in 2021, UANAT has so far impacted 5000 households of small and marginal farmers through farm intensive interventions. In Kashipur and Thuamul Rampur blocks, 44 Producer Groups (PGs) have been formed with 5,257 farmers as members. This helps forge community ownership.
UANAT programme converges with potential Government programmes like MGNREGA (Mahatma Gandhi National Rural Employment Guarantee Act), Odisha Livelihood Mission, ITDA (Integrated Tribal Development Agency), National Horticulture Mission, Watershed Development Programs, OLIC (Odisha Lift Irrigation Corporation) and OAIC(Odisha Agro-Industry Corporation).These are in sync with the UNSDGs (UN Sustainable Development Goals). No poverty, zero hunger and self-reliance are the final goals.
Briefing on its economic benefits, Mazhar Beig, the Unit Head of Utkal Alumina shares that, "Since its implementation, UANAT has enabled generate an average additional annual income of Rs.31,700 per farmer. The earnings from potato cultivation is recorded at Rs.16000 for every farmer for every season while that of mushroom is Rs.3000 every month. In the last year itself Rs.324.50 lakh have been garnered from various Government schemes and programs at both these blocks. These encouraging results have instilled confidence among the stakeholders.
"As many as 33 Agri-entrepreneurs have been identified from the operational villages and their grooming and capacity building is under progress. These agri-entrepreneurs will become the catalyst of change and serve the community in various fields like Custom Hiring Centres, one-stop solution for Livestock (vaccine, feed, and equipment), aggregation of agri-produce and its marketing", avers Mr Beig.
Adds Kuldeep Singh, COO, BRLF, "To execute the program at ground level, Centre for Youth and Social Development CYSD is working in Kashipur and Janasahajya in Thuamul Rampur as partners to BRLF. Under this project till date, 15 CRLP (Cluster River Lift Point), 7 DBIs (Diversion based irrigations), 7 Canals, 14 Farm Ponds are being converged from Government departments to provide access to irrigation to the farmers to take up multi-crop farming. Poultry, Potato and Mushroom have been promoted as Agri-cluster at Kashipur whereas Onion, Vegetables, Sunflower are emerging as potential agri-production clusters at Thuamul Rampur area. 314 households have been covered under NTFP (Non-Timber Forest Produce) interventions. Siali Leaf cluster development, marketing and value addition of Tamarind are taken as the potential crop for interventions under NTFP. Backyard poultry farming, vaccination of goats are taken as potential interventions under Livestock initiative of project UANAT and as on date 731 families are covered under this initiative".