India recognizes its growing leadership in tackling global climate change. On the World Environment Day 2018, India committed to eliminate single-use plastic by 2022 and Prime Minister Narendra Modi appealed to the citizens to shun low-grade polythenes and plastics. These initiatives would certainly help curb the negative impact of plastic pollution on the environment.
It is important to note that plastic is not the real villain, the pollution and waste caused by it are, with single-use plastics being the biggest culprit of environmental degradation. Plastic has taken the place of steel, paper, glass and wood amongst several other materials, thanks to its inexpensive, safe and sanitary perception. Global production of plastics has grown 20 fold from 15 million metric tons in 1964 to 311 million metric tons in 2014. This incessant production of plastics without due consideration of its high environmental costs and impact on the planet, is a major cause for concern.
Today, 6.3 billion metric tonnes of plastic waste exists, and this waste would require 400-1,000 years to degrade, making its existence perennial. Given this nature of plastic, it is critical to take concrete, systematic and disruptive measures to develop scalable solutions, focused on limiting the plastic menace.
Consider, three possible scenarios by 2050:
Zero plastic waste

: A utopian scenario, where mankind incinerates, discards or recycles all plastic waste with immediate effect.
Business as usual

: World continues to consume and generate plastic waste at the current rates, taking the total global plastic waste to over 25 billion metric tonnes.
Optimistic but possible

: The plastics industry continues to grow with conscious, recycling of all waste generated.
While the world continues to attempt a great leap towards a much desired 'Zero Plastic Scenario', such a scenario is improbable given the current dependence and lack of alternatives. The most realistic way forward would be the 'Optimistic but possible' scenario, which would require the right mix of developing enabling frameworks, adopting 'Future-Now' technologies, and support from financial institutions.
Developing an enabling framework
While banning plastics has been attempted by several states in India, lack of cheap viable alternatives and loss to plastic manufacturing companies has limited the success of these bans. An integrated approach towards policy making could prove more effective wherein companies are incentivized, for example through tax-breaks for installing plastic recycling plants. Fostering buy-back schemes or sustainable/ green procurement policies may further strengthen reduction of plastic consumption and waste generation.
'Future-now' focus on technological advancements
A policy mechanism will certainly create a market for new eco-friendly alternatives, disruptive innovation and R&D will fuel the demand for these alternatives. A study done by Trucost estimates that alternatives to plastic would cost up to USD 533 billion as compared to the current usage cost of plastics estimated at USD 139 billion, whereas sustainable plastic would cost only USD 98 billion. Therefore, it is imperative for a company to increase its research & development budget to manufacture only recyclable plastic, or develop bio-plastics which would be biodegradable and degrade in just 3-6 months. Adaptation of such futuristic technologies could not only safeguard a company from risks such as bans, changing industrial environment but could also prove to be a unique selling point, thereby boosting its bottom line.
The challenge of beating plastic pollution seems daunting but certainly not impossible. The Government of India is leading the way with several policy level interventions like banning single-use plastics and awareness campaigns like the Swachh Bharat Abhiyan. The private sector too has taken commitments to curb the use of plastics and are in the process of modifying their value chains to reduce plastic usage and eliminate plastic waste. However, by deciding to use non-waste generating products and services, consumer action holds the key to really make India, plastic-free.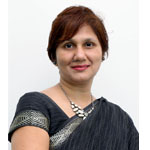 Namita Vikas is Group President & Global Head, Climate Strategy & Responsible Banking at YES BANK. As the Chief Sustainability Officer of the Bank, she spearheads Sustainable Development and CSR, thus driving sustainability principles within its core operations and its value chain towards creating stakeholder value. Namita has an Advanced Management Degree in CSR and Leadership from the Swenska Institute, Sweden.
Views of the author are personal and do not necessarily represent the website's views.
Thank you for reading the column until the very end. We appreciate the time you have given us. In addition, your thoughts and inputs will genuinely make a difference to us. Please do drop in a line and help us do better.

Regards,
The CSR Journal Team