Home
Header News
CSR: Badshah, Sanjay Dutt campaign for a #DrugFreeIndia with Sri Sri
CSR: Badshah, Sanjay Dutt campaign for a #DrugFreeIndia with Sri Sri
Actor Sanjay Dutt is in the news again, for all the right reasons this time. The actor got emotional when he opened up about his own battle with drug addiction at launch of Drug Free India in Chandigarh.
"This one time I was in such a bad state. I was bleeding from my mouth, my nose. I hadn't eaten in two days. I got scared looking at myself in the mirror. I told my father, I needed help. I was fortunate enough I could go to a rehab in America. I was there for 2 years," he said on-stage.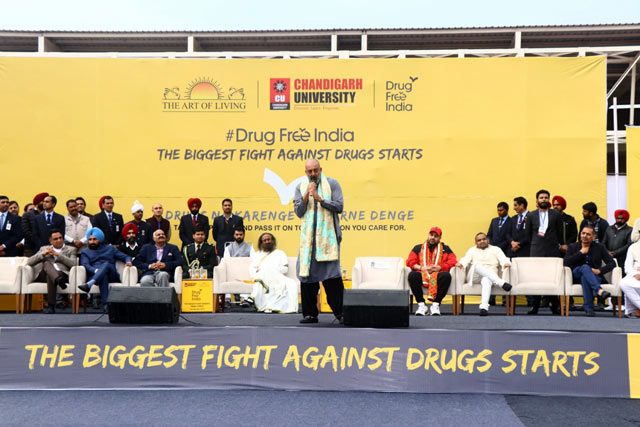 On this return, Dutt shared, the same drug peddler came to him with new drugs which he wanted to give Dutt for free. Dutt recalled how he had one second to decide. "All it took was one second to decide that I will never do drugs for the rest of my life," said the actor.
Meanwhile, the grounds of Chandigarh University reverberated with the chants of 'Na Karunga Na Karne Dunga' (Will Not [Do Drugs] And Will Not Let Anyone Do It) where 25000 students turned up to be the part of the campaign by Art of Living.
Over 12,000 colleges joined the campaign against drugs through live webcast from across the country. Rapper Badshah also encouraged the youth to find their life's calling as a way to keep out of addiction.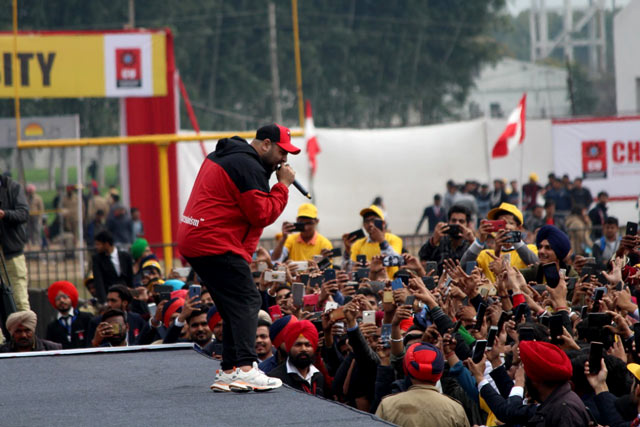 "I found my high in music," Badshah said, "Find your high, because you are the future, the nerve of this country."
"The youth of Punjab are powerful. Today almost 70% of them are into drugs. People like you and I are going to fight. I've never done them. I had a friend in college. He was 10 times better as a rapper than me. He said it helps him write better. But now he's no more," said the rapper.
Said Sri Sri Ravi Shankar, "We have raised an issue here that is very important to address, for the country today. We need to strengthen the youth of this country and whatever is weakening this (strength) needs to be blocked. People get into drugs because they are looking for happiness, fun and love. Just, come join us. We'll give you a high that will never go down."
Taking the awareness campaign forward, Sri Sri also announced Walkathons across Indian cities and villages on March 10, raising awareness and mobilizing communities in the fight against drugs.
Part of the initiative includes formation of SWAT (Social Wellness and Awareness Training) clubs across college campuses that comprise of students, teachers, doctors and social workers who will raise awareness against drug abuse throughout the year, and organize preventive interventions so youngsters do not get into drugs in the first place.
V.P Singh Badnore, Governor of Punjab, beseeched the students present to look out for each other, to look out for friends and loved ones who may be behaving unusually, who may have caught on to drugs and may need help.
In the past, The Art of Living has also collaborated with leading drug de-addiction and treatment centers like PGIMER, and Government multi-specialty Hospital in Chandigarh, and medical colleges in Ludhiana, Faridkot and Amritsar, where Art of Living de-addiction and intervention programmes have been organised for the inmates, who have reported encouraging results in dealing with addiction.
The Drug Free India movement has already taken social media by storm with more than 90 eminent personalities from the field of films, sports, politics and business having poured their support for the campaign.
Kapil Sharma, Katrina Kaif, Aamir Khan, Tiger Shroff, Varun Dhawan, Vicky Kaushal, Ayushmann Khurrana, Arjun Kapoor, Sonakshi Sinha, Parineeti Chopra, Shilpa Shetty, Karan Johar, Kriti Sanon, Ekta Kapoor

, and

Ritesh Sidhwani

have come forward to support the cause. Reportedly, film producer

Mahaveer Jain

was instrumental to bring all these people together. Moreover,

Prime Minister Narendra Modi

also has lent his full support to the campaign.