Home
Press Release
CSR: Two MoUs signed with Government of Gujarat for student empowerment...
CSR: Two MoUs signed with Government of Gujarat for student empowerment and community engagement initiatives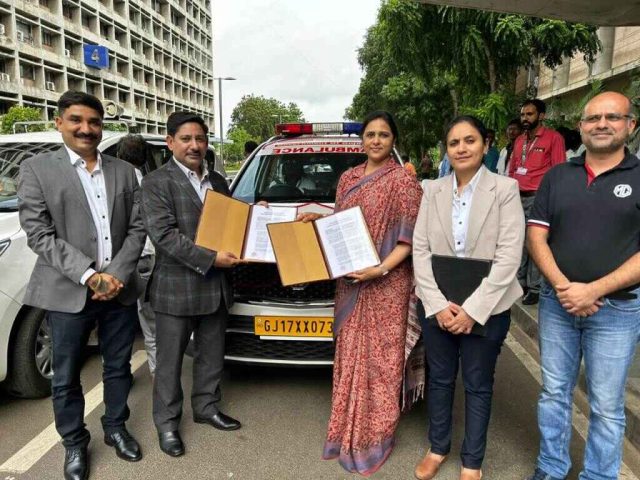 Gandhinagar, India: MG Motor India today announced that it had signed two MoUs with the Government of Gujarat as part of its community-focused initiatives for students and the general public. The first MoU was entered into with 'Kaushalya, The Skill University', a state government institution which aims at making youth 'Skill Smart', under the company's MG Nurture program. The other MoU was inked with Gujarat Labour Welfare Board as part of the MG SEWA initiative. An Ambulance (Mobile Medicare Unit: MMU) was provided to the Board to help in its outreach of welfare services.
The MoUs were signed in the presence of Shri Balvantsinh Chandansinh Rajput – Hon'ble Cabinet Minister of Industries, Civil Aviation, Labour and Employment, Govt. of Gujarat, Dr Anju Sharma, IAS – Additional Chief Secretary, Labour, Skill Development and Employment, Director General of Kaushalya – The Skill University, Govt. of Gujarat, Shri Anupam Anand, IAS – Labour Commissioner and Director of Skill Development, Govt. of Gujarat, Smt. Gargi Jain, IAS – Mission Director Gujarat State Biotechnology Mission, Shri P M Shah – Director Industrial Safety and Health, Govt. Of Gujarat, Shri H R Suthar, IAS (Retd.) – Registrar of Kaushalya – The Skill University, Govt. of Gujarat and Smt. R D Singh, GAS – Welfare Commissioner, Gujarat Labour Welfare Board, Govt. of Gujarat.
MG Nurture program is a student empowerment initiative that aims to bridge the gap between academia and industry. The program collaborates with 25 colleges and targets upskilling 20,000 students. It focuses on imparting future-ready skills through hands-on training on Electric Vehicles (EV) and Connected Vehicles in engineering colleges and ITIs across India. The initiative aims to not only enhance technical skills but also emphasize soft skills and mentorship, making students ready for future challenges. The program includes internships and real-world experiences, allowing students to gain practical knowledge in a professional environment.
MG Sewa, a community engagement initiative, has been a driving force for societal transformation, promoting diversity, inclusion, and overall development for equitable and collaborative growth. The program has now completed four years and continues to contribute to the holistic and constructive development of the community it operates in. MG Sewa's initiatives encompass the education of children, skill development, and sustainable employment generation of economically marginalized women, and medical care for the underserved. Its social initiatives also include sanitization of elderly people's cars during a global pandemic, employment generation for women for enabling sustainable livelihood, support to local healthcare institutions, and so forth. The initiative has supported the education of more than 60,000 girl students so far.
Disclaimer: This media release is auto-generated. The CSR Journal is not responsible for the content.