Home
Press Release
International Tiger Day: Rs 20 million donated through CSR for tiger conservation...
International Tiger Day: Rs 20 million donated through CSR for tiger conservation initiatives across Tamil Nadu and Karnataka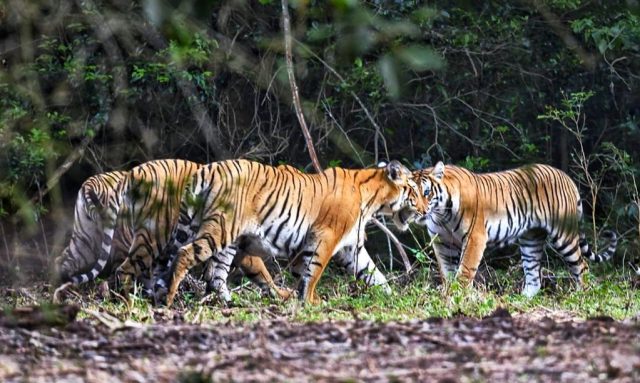 Bengaluru, India: Srinivasan Services Trust (SST), the social arm of TVS Motor Company and Sundaram-Clayton Limited, has invested INR 20 million in various conservation initiatives, including water conservation, forest equipment, transportation, and anti-poaching camps across six tiger reserves in Tamil Nadu and Karnataka. SST is dedicated to improving living conditions for staff members of the forest department and to construct anti-poaching camps equipped with solar power and drinking water facilities. SST's tiger conservation program aligns with their broader mission of developing tribal villages, for which SST has invested over INR 250 million over the past 16 years.
Sharing his views, Mr. Swaran Singh IAS (R), Chairman, Srinivasan Services Trust, "Our commitment to tiger conservation exemplifies our determination that goes beyond just corporate social responsibility. At Srinivasan Services Trust, we embrace the responsibility to lead, inspiring other corporates to take the mantle of environmental stewardship. By each corporation taking a step forward, we collectively amplify the impact of conservation efforts, ensuring a brighter future for our wildlife. It is not just about us; it is about fostering collaboration between governments, non-governmental organizations, and all stakeholders, united under a common cause towards a sustainable and thriving world."
In 2022, SST donated a minibus to the Sathyamangalam Tiger Reserve. Additionally, SST contributed to the Bandipur Tiger Reserve by donating two forest-road-friendly motorcycles and provided tractors for water transportation in Mudumalai and Bandhavgarh. To boost conservation efforts, the trust also supplied high luminescent search lights and GPS devices to Mudumalai, Sathyamangalam, and Kalakkad-Mundanthurai tiger reserves.
Apart from this, Srinivasan Services Trust, in collaboration with Nagarahole Tiger Reserve, is executing a pilot project of electronic surveillance to gather information and data on human-animal conflicts and to use the data for better management of the reserve. SST's commitment to wildlife conservation and tribal development showcases how businesses can make a significant impact in preserving our natural heritage and empowering marginalized communities.
Disclaimer: This media release is auto-generated. The CSR Journal is not responsible for the content.