Coca-Cola India's CSR Report Highlights Peaceful Coexistence of Business, Community and Environment
Coca-Cola India Private Limited is a subsidiary of The Coca-Cola Company which manufactures and sells concentrates and beverage bases and powdered beverage mixes. With an aim to 'Refresh the world and make a difference', the company works to preserve the synergistic interconnectedness of its communities and activities.
Through its Corporate Social responsibility (CSR) initiatives, Coca-Cola India has been setting clear and measurable targets against the United Nations' Sustainable Development Goals and is measuring its progress against the targets. It focuses its CSR initiatives on waste management and recycling, sustainable supply chain, water conservation and optimisation, and community welfare.
The below video highlights the CSR initiatives of Coca-Cola India:
1. CSR at Coca-Cola India
Coca-Cola India Private Limited recognizes the impact it has on communities in which it operates. The company believes that it has a tremendous opportunity to change the lives of these communities and it aims to contribute to the social, economic and environmental progress of India. As part of its dedicated approach to create economic opportunity in the communities in which it operates, the Company has been contributing its time, expertise and resources to help communities and undertaking a series of initiatives that are locally relevant.
As a responsible corporate citizen, the Company is committed to sustainable development and inclusive growth. It has been focusing on issues relating to water, environment, healthy living, music, grassroots education, social advancement and promoting gender equality and empowerment of women over the past several years. However, its key areas of focus include waste management and recycling, sustainable supply chain, water conservation and optimisation, sustainable product categories and community welfare. These areas are mapped with the activities as prescribed in Schedule VII to the Companies Act, 2013.
2. CSR Policy
At the beginning of each financial year, the CSR Committee of the Board of the Company prepares a list of CSR Projects/Activities/Programmes which the Company proposes to undertake during the financial year, specifying the modalities of execution in the areas/sectors chosen with implementation schedules for approval of the Board. In order to monitor these programmes, the board has devised a "transparent monitoring mechanism" for various which includes the conduct of impact studies on a periodic basis, through independent third party agencies as and when necessary. In addition to this, the company also strives to obtain feedback from various beneficiaries of its CSR projects to measure its impact.
The Board of Directors of the Company have the powers to revise/modify/amend the CSR Policy of the company from time to time, as they may think fit, based on the recommendations made by the CSR Committee or to conform to the amendments made to the CSR rules by the Ministry of Corporate Affairs under the Companies Act.
3. Coca-Cola India's World Without Waste Initiative
Packaging waste is a major challenge in the current times for the environment as well as the economy. Coca-Cola India is actively involved in ensuring that it provides safe and hygienic packaging to its consumers while maintaining the quality and affordability of its products. The company is also engaged in dealing with the waste generated by its products across its lifecycle and reducing plastic waste in the environment and oceans.
In lieu of this vision, the company launched 'World Without Waste', a global initiative, in 2018. Through this initiative the company is radically rethinking the design of its bottles, its recycling and sustainable means of distribution.
The company has set a target of making its packaging 100 per cent recyclable globally by 2025. In addition to this, it aims to collect and help recycle the plastic waste that is 100 per cent equivalent to its production of packaging material. In short, it aims to create a plastic circular economy.
3.1 Creating a Plastic Circular Economy
The company is looking to convert plastic waste into wealth. The Coca-Cola System in India, along with partners is working to develop sustainable, community-led programmes for integrated plastic waste management and promote efficient recycling in India. The company has launched various projects and campaigns across the country to create awareness about segregation of waste at source, streamline collection mechanisms and help build infrastructure to recycle post-consumer packaging into value-added products. These initiatives will also create better livelihoods and provide better social security for the marginalized waste workers in the existing largely informal economy.
Through these projects the company intends to:
– Develop, support and implement an economically sustainable model for plastic waste management
– Design and implement Material Recovery Facilities(MRFs)/Swachhta Kendras for improved plastic waste management
– Improve socio-economic conditions of waste workers and enhance their access to institutionalized benefits
– Knowledge management, traceability, monitoring and communication mechanisms
The projects aimed at creating a plastic circular economy in India include:
Project Prithvi:

Project Prithvi was implemented by Hindustan Coca-Cola Beverages Private Limited (HCCBPL) in partnership with United Nations Development Programme (UNDP), Indian Centre for Plastics in the Environment (ICPE), Stree Mukti Sangathana and Mindtree. The project has been able to collect over 42000 metric tonne (MT) of waste across 28 cities. It has also resulted in the formation of about 100 Self Help Groups (SHGs) to mainstream men and women waste workers. More than 4200 waste workers have been benefited through this project.
Integrated plastic waste management project:

Integrated plastic waste management project is implemented in partnership with Prayas Juvenile Aid Centre to work towards social and economic upliftment of more than 1,000 ragpickers in and around Jahangirpuri area.
Women waste recycler upliftment programme:

Women waste recycler upliftment programme is implemented by Coca-Cola India Foundation in partnership with Mahila Sewa Trust (SEWA) to improve the standard of living of 200 vulnerable women waste recyclers by providing sustainable livelihood, enhanced income, nutritious food and safety gears.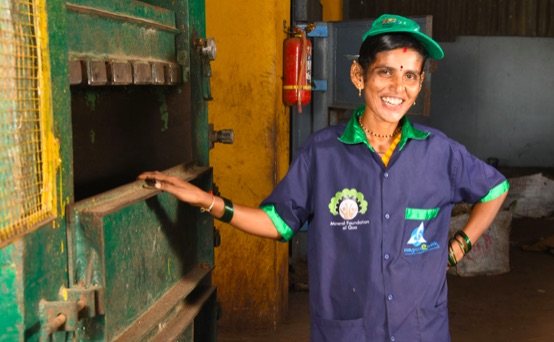 4. Fruit Circular Economy
Consumers throughout the world are increasingly becoming conscious of the social and environmental impact of foods and beverages they consume. Over the past years, Coca-Cola India has built significant inroads into the farming community with its focus on good agricultural practices that provide forward linkages to the Indian farmers. Fruit Circular Economy (FCE) is a step towards addressing the issues of low farm productivity, poor technology adoption and fruit wastage by harnessing the higher productivity potential of fruits – both at the farm as well as processing level.
The company's efforts are focused on improving the overall fruit availability, increasing farming efficiency as well as building food processing capacity in the country, thereby helping farmers increase their income.
4.1 Project Unnati
Under Project Unnati, the company and its partners train the farmers to become better entrepreneurs by deploying techniques such as ultra-high-density plantation, drip irrigation, good agricultural practices and high-yielding cultivars to increase their fruit productivity and then take a decision whether to sell the produce to processors or in the market for the best return on their investments. It also creates a positive impact across many other sustainability focus areas, including women's empowerment, community wellbeing and water stewardship.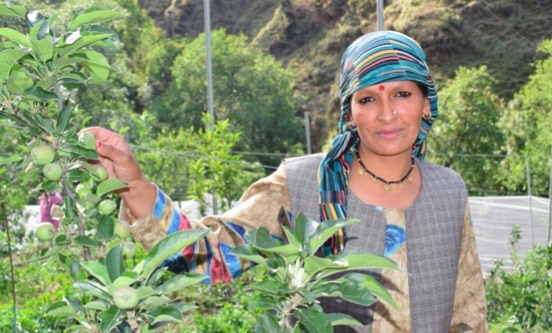 The first phase of Project Unnati was launched in 2011 with 'Project Unnati Mango' in Andhra Pradesh. The success of Unnati Mango and ever encouraging response from farmer partners motivated us to not only scale up the project to build capabilities of more and more farmers but also diversify into other fruits with the launch of Unnati Orange and Apple in 2018 and most recently with Unnati Litchi and Grapes in 2019. The project aims to benefit more than 2,00,000 fruit farmers by 2022.
5. Water Stewardship
Water is an indispensable resource for Coca-Cola India. Considering the alarming decline in water availability and impact to the community as a result of it, the company began its water stewardship journey as a forward-looking endeavour to build a successful, resilient business that adds value to the communities and restores the ecosystems where it operates. It has been working since more than a decade to ensure sustainable availability of water, not only for its own business operations but also for the communities around it through its water strategy which focuses on Reduce, Reuse, Recycle and Replenish.
5.1 Anandana – The Coca-Cola India Foundation
In 2007, The Coca-Cola Company made a pioneering commitment to replenish 100% of the water it uses. To meet this target, Anandana—The Coca-Cola India Foundation and the company's bottling partners work along with regional NGO partners and community members to restore neglected and deteriorated watershed areas and other water conservation projects in remote and water-stressed areas across the country. The projects pay special attention to community participation with a focus on women, who often reach supervisory roles in the village "Pani Samitis" (water committees) to ensure maintenance and sustainability of community water projects.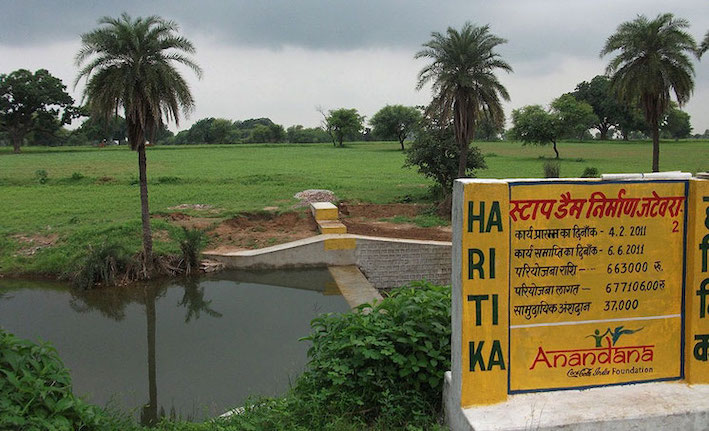 Maharashtra has battled drought for many years and as a result of which the rivers have ebbed, water in dams and reservoirs has depleted and over-exploitation of groundwater has resulted in limited availability of water. Anandana has partnered with Haritika to improve water availability through run-off water harvesting measures. This helps in increasing groundwater recharge in the watershed area and improves access to water for agricultural and domestic use. This results in higher agricultural productivity and creating better employment opportunities for the local communities.
6. Community Welfare Initiatives
6.1 Women Empowerment
In 2010, The Coca-Cola Company made a commitment to enable the economic empowerment of 5 million women entrepreneurs across its global value chain by 2020. Through this initiative, the company enables women entrepreneurs to overcome social and economic barriers to succeed by providing them business skills training, access to financial services and assets, and access to mentoring networks. The initiative has been able to benefit over 120,000 women in India since its inception in 2010. More than 20,000 women benefited from it in 2019 alone. Globally it has been beneficial to over 4.6 million women in 96 countries.
6.2 Developing sustainable entrepreneurial spirit among youth
Coca-Cola India partnered with Jagriti Sewa Sansthan to launch 'Sustainable Enterprise Award' in 2017 to intensify the dialogue on critical sustainability issues and motivate youth towards purpose-driven entrepreneurship. The annual programme recognizes and supports entrepreneurs especially in the fields of water, agriculture and recycling. Through this programme, the company aims to inspire youth to become job-creators while making a positive impact on society and environment.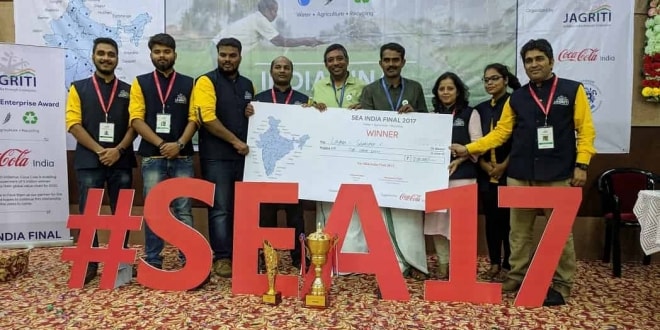 6.3 Nutrition Support through Enhancement of Midday Meals
With a view to enhance enrollment, retention, attendance and simultaneously improve the nutritional status of children, Government of India launched the National Programme of Nutritional Support to Primary Education (NP-NSPE) in 1995, popularly known as the Midday Meal Programme. Coca-Cola supports this program in India by partnering with NGOs to provide nutritious meals to children in Government and Government-aided schools.
In partnership with The Akshaya Patra Foundation, the company has supported the midday meals of 12,000 school-going children in Bhubaneshwar and Rourkela districts of Odisha for an academic year. Earlier, similar programmes were implemented to support nutritional needs of 25,000 children across Karnataka, Telangana and Andhra Pradesh.
In addition to this, the company in association with Manthan Sansthan, aims to address undernourishment in children among the ages 5–13 years that enrolled in government schools of rural Rajasthan by supplementing midday meals through daily distribution of SUPER5—a mix of five ingredients (wheat grains, peanuts, sesame seeds, Bengal grams and jaggery). In its pilot phase in 2019, the project nourished 1,000 students in 20 schools.
7. COVID-19 Support CSR Initiatives
In response to the COVID-19 pandemic, the company has pledged INR 100 crores towards relief measures to support vulnerable and most impacted communities across India.
7.1 Healthcare infrastructure
The company contributed in augmenting the healthcare infrastructure in the country in order to enable it in dealing with the pandemic more effectively. In association with United Way Mumbai the company supported about 60 public hospitals across 7 states and a union territory by the provisioning of Personal Protective Equipment (PPE) comprising N95 masks, 3-ply disposable masks, surgical caps, surgical goggles, waterproof gowns, shoe covers, gloves for the safety of healthcare workers, sanitizer dispensers, additional ICU beds, and non-contact thermometers for medical preparedness. It has estimated that over 10 lakh patients will be benefitted through the company's interventions.
7.2 Contributing to Food Security
The company in association with CARE India provided dry-ration kits to meet specific nutritional needs of various underprivileged groups such as migrant workers, daily wage earners and people living with HIV/AIDS across the country, benefiting over 1.8 lakh people through a three-month-long programme.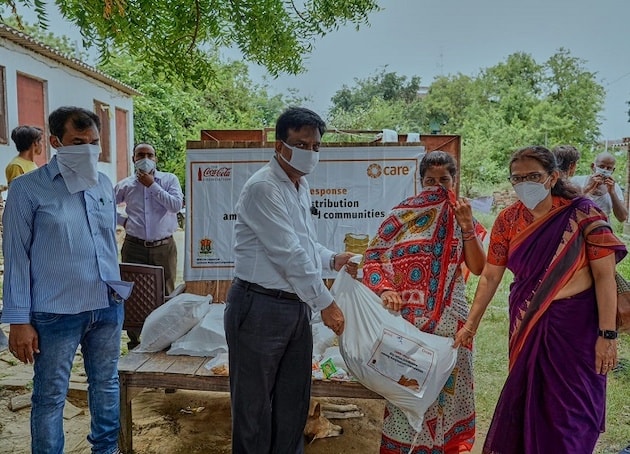 7.3 Hydration to Corona Warriors
The company distributed hydrating beverages to the communities living on the margins and frontline warriors serving the nation during the hot weather conditions.
In addition to these initiatives, the company is working with several Civil Society Organizations (CSOs) and NGOs such as Akshaya Patra Foundation, Vanarai, Chintan, Hasiru Dala, Manthan Sansthan and American India Foundation among others towards providing free meals to the distressed communities and relief to waste workers through provisioning of dry rations, PPEs and emergency medical funds.
Through its employee fundraiser campaign in partnership with GiveIndia, the company has also secured donations to support waste workers with food and hygiene essentials. Coca-Cola India matched the amount contributed by the employees.
Conclusion
Coca-Cola India's CSR initiatives not only focuses on making a difference for the communities but also alters its own operations to conduct sustainable business practices. The company is an example of peaceful co-existence of business, communities and their environment.