Home
Header News
Bidhannagar City Police starts tele-medicine facility for senior citizens
Bidhannagar City Police starts tele-medicine facility for senior citizens
In a first of its kind initiative, Bidhannagar City Police (West Bengal) has started a Tele Medicine Project for senior citizens and police personnel. This has been done in association with AMRI Hospital Salt Lake and East Kolkata Nagrik Foundation, a non-governmental organization.
Face to face or virtual consultation
The project has been initiated under the able leadership of IPS Gaurav Sharma, Commissioner of Police, Bidhannagar to address the basic needs of medical consultancy for Sanjhbati Members. Police personnel can also avail this facility. Sanjbati is a welfare programme for senior citizens run by the commissionerate. Under this, beneficiaries can consult doctors face to face or through video or phone calls at select police stations.
Inauguration
The project was inaugurated on Saturday in the presence of Sujit Bose, Honourable Minister, Fire and Emergency Services, GoWB, Gaurav Sharma IPS, CP Bidhannagar, Biswajit Ghosh IPS, DC DD, Indira Mukerjee IPS, DC Traffic, Bishop Sarkar IPS, DC Bidhannagar, Charu Sharma IPS, ADCP DD, Rupak Barua, CEO AMRI, Members of East Kolkata Nagrik Foundation and other senior officers and police personnel. A few Sanjhbati Members present at the inauguration and some police personnel received the consultation on the first day.
Patient's Consoles at three Police Stations
In the project, a Doctor's Console has been set up in Laketown and Patient's Consoles have been set up at three Police Stations— Baguihati, New Town and Bidhannagar North. The facility will be expanded further in the near future, as per an announcement by the commissionerate. Each console is equipped with a Tab and equipments for measuring BP, Sugar, SPO2 and other basic medical requirements by trained personnel.
Pre-determined schedule
Doctors will be available for consultancy as per a pre-determined schedule. The beneficiaries can also avail remote consultancy as per the schedule from these three locations, whichever is nearest to them.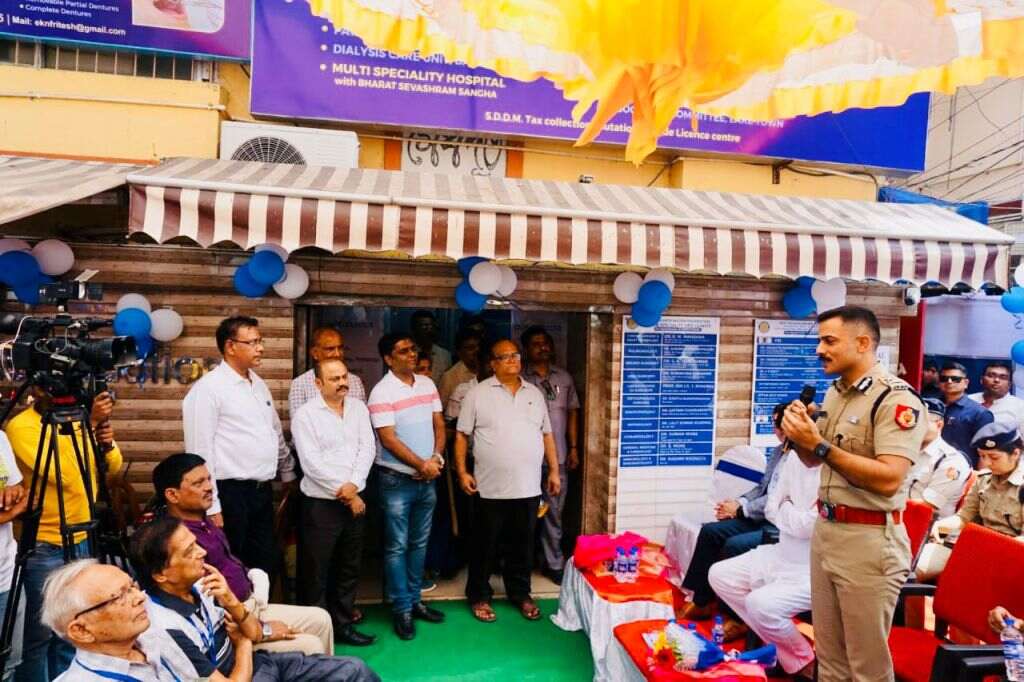 Senior citizens staying alone
This is a much-needed move keeping in mind the fact that the area under this commissionerate has a considerable number of residents who are senior citizens. Many of these senior citizens stay alone with their children and family members staying in other parts of India or abroad. It often becomes difficult for them to arrange for doctors' visits and regular check-ups on their own. Hence, the initiative has been taken by the police to help them keep a track of their health at regular intervals.
Ahana Bhattacharya can be reached at ahana@thecsrjournal.in