The Complete Bajaj Auto CSR Report
Easily in the top tier family-run Indian businesses, the Bajaj Group has a diverse footprint. The group has made its mark in the steel, finance, insurance, white goods and automobile sectors.
1. About the company
The popular "Hamara Bajaj" slogan has given way to "World's Favourite Indian" for the group's flagship company Bajaj Auto but Indian consumers will always have a special place for the former. Not only is Bajaj Auto is the world's 4
th
largest maker of 2 & 3 wheelers, it has democratised motorcycle racing in India and introduced the first Quadricycle to the Indian market.
1.1 Legacy
The Bajaj Group has pre-independence roots, having been founded in the year 1926 by entrepreneur- philanthropist Jamnalal Bajaj when the struggle for freedom from the British Raj was at its height. Although Jamnalal Bajaj was a businessman, he had a strong moral compass and was devoted to the freedom struggle. He participated in various activities in step with the great leaders of our nation. In fact, he was so close to Gandhiji that the Mahatma took him under his wing and adopted him as his own. Bajaj's close involvement with Mahatma Gandhi trickled down to the company's values and penchant for corporate social responsibility. Long before CSR became mandatory, Bajaj Auto and the other companies in the group have been engaged in social welfare and Nation Building.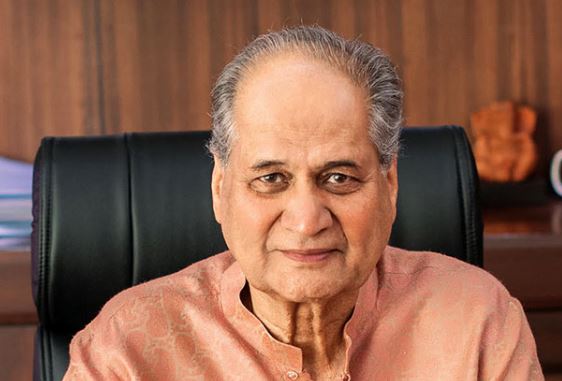 Kamalnayan Bajaj's elder son, Rahul Bajaj currently heads the Bajaj Group. After Ramkrishna Bajaj's (younger son of Jamnalal Bajaj) passing away in 1994, Rahul has guided the CSR initiatives of the Bajaj Group and its Trusts; and increased the scope of their activities. Under his leadership, the group has gained its leadership position in industry and remained true to the social vision of its founders. The industrialist was conferred the Padma Bhushan by the Government in 2001.
2. Bajaj Auto CSR
Bajaj Auto CSR takes into account all the stakeholders in its programmes. Care of human and environmental rights while being ethical is of prime importance for Bajaj Auto corporate social responsibility. Growth with Mother Nature's blessings is a motto that runs through the welfare activities. NGOs and charitable agencies act as implementing partners for the initiatives. Apart from the non-profit sector, the local authorities and civil society groups are roped in where required. Activities are concentrated in the areas where the BAL (Bajaj Auto Limited) has a presence either through offices or factories. The company made it to our list of the

top 100 in India

for corporate social responsibility.    
2.1 CSR spend
Bajaj Auto CSR activities contribute to nation building through empowering and upskilling. "Investment in resource creation" is another catchphrase for corporate citizenship here. This implies benefitting future generations through long-term projects. As you can see in the graph below, the actual spend has been increasing year-on-year, but it matches the prescribed amount almost exactly, never going much higher.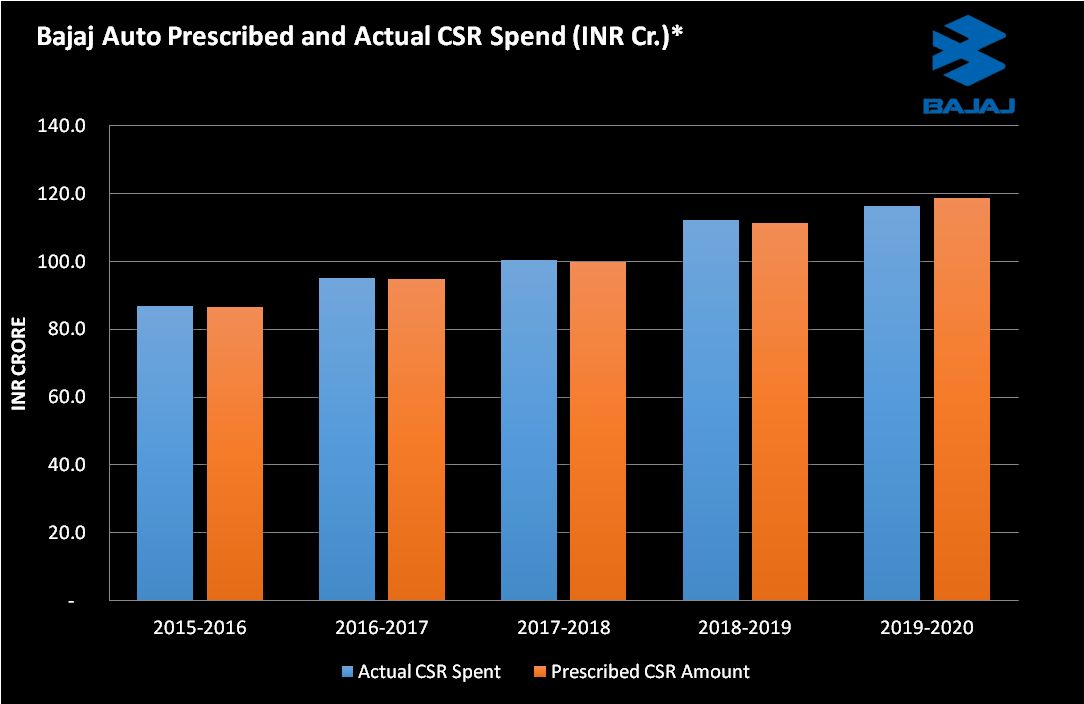 For example, while the prescribed amount for 2015-16 was Rs. 86.46 crores, the actual spend was a close Rs. 86.72 crores. In fact, the company failed to meet the target of Rs. 118.8 crores last year. Bajaj Auto corporate social responsibility spend for 2019-20 was nearly 2 crores less at Rs. 116.23 crores.
3. Education
CSR of Bajaj Auto has two flagship education projects – BEI or Bajaj Education Initiative and the e-Learning Project. Both the programmes are run by their own NGO Jankidevi Bajaj Gram Vikas Sanstha. Since November 2015, these CSR projects are being largely implemented (BEI) for schools in the Pimpri-Chinchwad area of Maharashtra. The keywords here are 'quality education' and 'infrastructure support'. BEI and the e-Learning Project align with government programmes like Sarva Shiksha Abhiyan and the Right to Education Act.
3.1 Room to Read
Room to Read is a literacy programme supported by CSR of Bajaj Auto in Udham Singh Nagar (Uttarakhand) and Maharashtra. The aim is to improve literacy and set up school libraries in a way that improves the reading habits of school children. Room to Read wants to provide children with a rich environment to develop a love for reading books. While Phase 1 sets up the library and a project coordinator, Phase 2 includes teaching mechanisms such as reading out aloud, shared reading and paired reading.
3.2. Education of street children
Bajaj Auto corporate social responsibility has been working with the nonprofit Aasra Trust as implementing partner for a programme to educate children on the streets. It has 21 programme activities in Dehradun ranging from identification of out-of-school children, enrolling them in school and supporting them with facilities to retain them in schools till graduation.
3.3 School intervention
This is an urban welfare programme which Bajaj Auto CSR runs in partnership with Swadhar in Pune. The intervention reaches out to 12,000 children in Class 1-4 from 58 schools in Pune. 'Book Fairies' distribute books to the kids so that they develop a love for reading. In the process, their vocabulary and ability to absorb languages improves.
4. Livelihood & Skilling
Bajaj Auto corporate social responsibility has a host of livelihood and skill development programmes for underserved youth.
4.1 BISLD
Animals are important to the livelihood scenario in hilly Uttarakhand. Without cattle, the locals would not be able to thrive. The region suffers from fodder insecurity. There isn't enough knowledge about how to manage livestock. BISLD (short for BAIF Institute for Sustainable Livelihood Development) has 50 Cattle Development Centres in five Districts of the State. These centres reach out to 27,500 families. It looks after livestock research and helps the people of the region feed their cattle in the right manner.
4.2 BYST Youth Entrepreneurship Development Programme
The Bajaj Auto – BYST Youth Entrepreneurship Development Programme got financial support of Rs. 507.5 lakhs from Bajaj Auto corporate social responsibility. The CSR initiative nurtured 719 entrepreneurs from Aurangabad and 347 from Wardha district. These newly minted businessmen and businesswomen in the fields of catering, lifestyle, marketing and branding have been generating incomes worth Rs. 575 lakhs in the last financial year. The immensely successful BYST Youth Entrepreneurship Development Programme has set its sights higher, with a target of handholding 1,500 aspiring entrepreneurs and a project cost of Rs. 10 crores.
5. Rural Development
Bajaj Auto corporate social responsibility works with
CORD (Chinmaya Organization for Rural Development)
on integrated rural development projects. These holistic programmes cover a gamut of causes including women empowerment, micro-credit and PwD (persons with disabilities). The project with CORD reaches out to 5,000 beneficiaries in Uttarakhand.
Himal Prakriti is another organisation that Bajaj Auto CSR is engaged with. The focus is on nature conservation and generating livelihood in remote Himalayan villages. With support from CSR of Bajaj Auto, the organisation has set up Smokeless Chulhas, Poly Houses and conserving traditional breeds of yaks in the region. They have an ongoing pond rejuvenation intervention in the Himalayas.
6. Healthcare
Bajaj Auto corporate social responsibility disbursed Rs. 12.05 crore on healthcare initiatives last year.
Kamalnayan Bajaj Hospital in Aurangabad gives free treatment to patients living below the poverty line. Those from Economically Weaker Sections (EWS) of society get subsidized treatment. The company has spent Rs. 17.48 crore on the hospital till date. Sri Chaitanya Mission (Bhakti Vedanta Hospital) and Research Institute provides free and affordable healthcare to the bottom of the pyramid. The hospital specialises in preventive and holistic medicine. Bajaj Auto Ltd. spent Rs. 600 lakhs on facilities for treatment of those with eye disorders and cancer.
The Bajaj Saksham Project offers primary medical care to communities living near three national parks – Corbett, Kanha and Bandhavgarh – so that human beings can coexist in harmony with wildlife. Mobile medical units and the outpatient department in Garhwal have treated 17,278 patients last year. They conduct health camps every week.
7. Women empowerment
Project Hamaara Sapna empowers women living in the slums of Mumbai. It was started by Minal Bajaj back in 2012 and has gone on to become a successful CSR intervention.
Hamaara Sapna is a four-tier intervention designed to help women realize their true potential. Not only are the beneficiaries trained in tailoring and design, the project also promotes the use of khadi. This aspect borrows from Gandhiji's insistence on khadi as a tool for swadeshi liberation. The women get hands-on practical experience in the industry and are coached in how to run their own micro enterprise so they can become fully functioning entrepreneurs in their own right.
8. Sports
Bajaj Auto corporate social responsibility division spent Rs. 15 lakh on sports activities in 2019-20. Part of the funds went to setting up Abhinav Bindra Foundation, named after India's only individual gold medallist. Abhinav Bindra Targeting Performance (ABTP) in Pune helps to prepare top athletes for world events.
9. Disaster relief
In the year 2019-20, Bajaj Auto spent Rs. 7.5 crore on disaster relief operations. Cyclone Fani in Odisha caused loss of life and property in more than 20,000 villages. The Bajaj Group donated Rs. 10 crore to the Chief Minister's Relief Fund, Odisha. Various districts in Maharashtra saw unprecedented flooding. Lakhs of people from the flood-hit districts (Sangli and Kolhapur) had to relocate. The Bajaj Group reached out to the Maharashtra government with a donation of Rs. 5 crore under the Chief Minister's Relief Fund. The group also pledged Rs. 100 crore to fight COVID-19 pandemic in India. It has been working with 200 NGOs and government divisions to improve healthcare infrastructure in hospitals, procuring equipment and PPE kits for staffers.
11. Culture
The two and three-wheeler manufacturer extended CSR support to Sahapedia's documentation and education project in Rajasthan and Maharashtra that seeks to explore Bhakti and Sufi traditions in the two states. It brings into focus the wealth of poetry, music and artistic creativity these movements inspired across India.
The project titled 'Support for creating online Encyclopaedia of Indian History and Knowledge Traditions', explores Bhakti and Sufi traditions in all their aspects: everyday worship, community celebration, literature, mystic philosophy and performance. The end result was a body of original audio-visual documentation, supplemented by reflections of scholars and practitioners.
Conclusion
Corporate social responsibility at Bajaj Auto runs through the fabric of this automobile company. The leadership at the top, from Chairman Rahul Bajaj today to Bajaj Group's Founder Jamnalal Bajaj and his son Kamalnayan Bajaj, has always been passionate about doing business for the greater good. This is reflected in their dedication to uplifting the poor and preserving the arts.