Akshay Kumar in Laxmii might hurt rather than help trans community
The year 2020 has been unkind to people across classes and countries, but the minority that has probably suffered the most in India is the

transgender community

. From the loss of livelihoods to blatant misrepresentation in the Transgender Persons Act, 2019, trans people suffered one setback after another. One more is threatening to rear its ugly head in the form of the film Laxmii (earlier titled Laxmmi Bomb). The "horror comedy" stars 'woke' superstar Akshay Kumar and is all set to release this weekend on an OTT platform and theatres worldwide.
Laxmii is transphobic not trans-friendly
Laxmii features Akshay as a cisgender man who is haunted by a "kinnar" (Hindi for transgender) ghost. While the film's stars including Kiara Advani have been going around town tooting their own horn about a mainstream male actor playing a transgender character, Laxmii is actually quite transphobic.
The source material is a Tamil film by the same director (Lawrence). Kanchana was made in 2011, and largely elicited laughs at the physical gaffes of a straight man wearing a saree as a transgender woman. The original Kanchana played off transphobia; the only trans character there was an evil supernatural entity out for revenge. The Hindi remake has the same premise. This is the same stereotypical portrayal of the transgender community we have been seeing in Bollywood all these decades.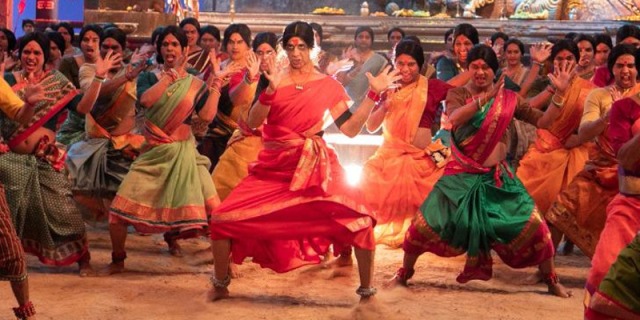 Sadashiv Amrapurkar played the evil trans pimp-villain Maharani in the original Sadak back in 1991. Ashutosh Rana was devil worshipping trans person Lajja Shankar Pandey – and the villain again – in Sangharsh eight years later. Murder 2 released the same year as Kanchana (2011) and had cis actor Prashant Narayanan playing a trans person who's a psychopathic serial killer. Seems like trans persons can't be anything but out-and-out villains in Bollywood movies.
The only realistic depiction of the transgender community in Bollywood was perhaps in Tamanna. Released in 1997, Tamanna was the true story of the transgender child of a famous actress who grows up in turmoil and goes on to adopt an orphaned girl and giving her a better life. Paresh Rawal was a revelation in the role.
However, Mahesh Bhatt-directed Tamanna is a drop in the ocean of Bollywood films that dehumanise trans-identity. Last year's Dream Girl starring Ayushmann Khurana which poked fun at the community and cross-dressing also belongs to the same set. Tamil films 'Super Deluxe' and 'Aruvi' have succeeded in trans representation where Bollywood has failed.
Granted, Kanchana released almost a decade ago, when the third gender was not recognized by the Supreme Court, and before the Trans Act.  But what excuse does Laxmii have? Treating trans persons as outsiders or "others" leaves them open for discrimination. Bollywood cinema is guilty of directing the ignorant male gaze on trans people for too long. This is 2020. Get with it, Akshay Kumar and 'woke' stars!