YES BANK Launches 'YES Digi Villages', India's Largest Bank-led Village Adoption Programme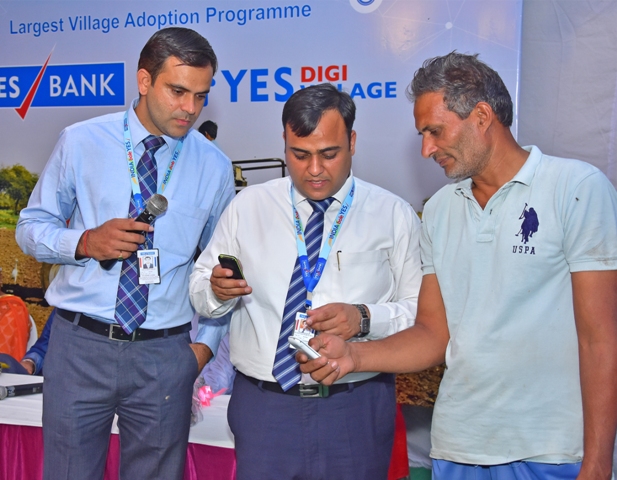 The 1st YES DIGI Village was launched in Abhimayupur (erstwhile Amin) in Haryana, empowering over 100 farmers through digital and financial literacy sessions and introduction of Sim Se Pay, India's first mobile banking solution for feature phone users and villagers with no internet connectivity.
'YES Digi Village' programme is envisioned to empower village communities and 30,000 farmers with knowledge about Good Agricultural Practices (GAP) accelerated by creating a robust digital and financial literacy programme, making it the largest bank-led village adoption programme in India. Villages across India will be identified for the YES DIGI Village programme on the basis of available cultivable land, irrigation facilities, cropping pattern, credit culture among other key productivity criteria.
Sumit Gupta, Group President and Group Head: Rural  Banking and Small Medium Enterprises Banking, YES BANK said, "YES BANK is committed to furthering the Government of India's vision to 'Double Farmers' Income by 2022' through 'YES Digi Village' programme. In continuation with YES BANK's efforts towards developing a digital ecosystem and furthering financial inclusion, in rural as well as urban areas, we plan to leverage our extensive branch network and harness the potential of our agritech partnerships through YES SCALE Agritech accelerator, thereby also maximize the number of lives impacted." 
'YES DIGI Village' is targeted towards enabling farmers with knowledge and skills to improve existing processes and explore newer revenue generation opportunities with the help of Agritech and Fintech solutions. To this effect, YES BANK also plans to integrate its existing capacity building programme for farmers in over 350 villages across states including Uttarakhand, Haryana, Punjab, Rajasthan, Gujarat, Madhya Pradesh and Maharashtra.
Literacy Initiatives:
YES BANK will further financial inclusion by providing financial literacy as well as promoting utilization of digital banking tools, which will be imparted through workshops, specially designed for village communities.
Training focus areas will include technologies like Mobile Banking, Internet Banking/M Wallet, Sim se Pay, ATM, online Savings, loans, account opening etc. as a part of digital and financial literacy. Additionally, GAP training imparted to farming communities would include sessions about crop rotation, drip/sprinkler irrigation, integrated nutrient management etc.
Technology Support:
The Bank is partnering with technology companies to assess customers' alternate agronomic data related to crop risk management using satellite images and advanced machine learning. The solution will also aid in credit decisioning by providing alternate data points related to historic cropping pattern.
The Bank has also identified startups to explore development of a Land Record Management solution to assist in credit decision by providing detailed report on land revenue documents and assisting in prevention of frauds. This would eliminate need for physical field visit during credit appraisal.
Easing Banking Services: 
Additionally, solutions are already being customized for village communities and implemented to enhance the overall digital banking experience with assisted digital services like loan application, handheld devices for E-kyc/ E-doc/ E-sign making it a completely paperless experience for rural customers, leveraging India Stack and mobility platforms for instant, paperless, error free customer on-boarding.