If you live in an Indian town or city you must be used to seeing large mounds of garbage lying along streets and in many street corners. If you are in Mumbai you have heard of the designated garbage dumps going up in flames from time to time. And then there is sewage from buildings ending up in lakes, rivers and even oceans, often converting rivers to dirty bodies of sewage and refuse.
Have you ever given a thought to how much waste your household generates in a day? According to a report by Chintan Environmental Research and Action Group, one middle class resident in a big city generates nearly 0.8 kg of waste per day. That means a family of four generates more than 3 kilos of waste in a day. 60% or more of this daily waste is organic matter which is rich in energy and manure.
You probably know that your food waste can be converted to fertilizer and used in pots and gardens in your apartment, home or society premises. It is entirely possible that you will have too much manure generated from composting and would need to find a way to dispose it or use it.
Consider this. India is the second largest consumer of urea in the world. Urea is a rich source of nitrogen and is a key reason why India produces more than 260 million tonnes of food grain in a year. The Indian government subsidises the cost of urea so that farmers can afford to buy it. Recent fertilizer policies have led to increased use of urea at the expense of other fertilizer types. Unfortunately extra urea use does not help. It just gets washed away to pollute water bodies.
According to Department of Fertilizers, India consumed more than 32 million tonnes of urea in a year. Out of this 8 million tonnes will be imported and the government has set aside Rs. 14,000 crore in precious foreign exchange for it in 2017-18. When selling to farmers, the government will spend almost Rs. 50,000 crore in subsidies for fertilizers in the year 2017-18.
Now a million people produce more than 480 tonnes of organic waste in a day. One tonne of organic waste can produce about 70 kg of compost. So a million people can help produce 33 tonnes of compost in a day. In one year that would become 12000 tonnes. So 250 million middle class individuals in India can enable the production of 3 million tonnes of compost.
Imagine, just your food waste can help reduce 3 million tonnes out of the 8 million tonnes of imported urea. The saving in foreign exchange could be in excess of Rs. 5000 crore and the subsidy burden of the government could come down by another Rs. 5000 crore.
The Indian government wants to help. In February 2016 they have approved a policy on promotion of city compost. The policy makes provision to provide market development assistance of Rs.1, 500 per million tonne for scaling up production and consumption of compost from households. In order to properly market city compost, cities have been tagged on to fertiliser marketing companies. The fertiliser companies have adopted 190 villages to promote the use of city compost. 63,994 metric tonnes of city compost was co-marketed from April to November 2016.
You can make a huge difference. You can help make our habitats cleaner, improve the quality of our soil, increase the productivity of our agricultural lands, save crores in foreign exchange and help reduce the fiscal deficit. All this by composting your garbage and changing the paradigm from garbage collection to fertilizer collection from your doorstep.
We haven't even talked about the wealth that lies in the sewage that we produce. But more about that later.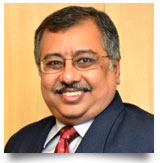 Anirban Ghosh is the Chief Sustainability Officer at the Mahindra Group. He has been working with Group in Sales, Marketing, and Strategy since 1999 and has been recognized as a distinguished CSO in his current role. A gold medal winning engineer from Jadavpur University, Calcutta, Ghosh has pursued doctoral studies in Marketing Management at IIM Ahmedabad. He enjoys music, reading, traveling, driving, cricket and tennis. He is an active public speaker and has represented the nation at the Festival of India across multiple nations.
Views of the author are personal and do not necessarily represent the website's views.
Thank you for reading the story until the very end. We appreciate the time you have given us. In addition, your thoughts and inputs will genuinely make a difference to us. Please do drop in a line and help us do better.

Regards,
The CSR Journal Team
Subscribe