Vidyadhan: An Initiative Breaking the Poverty Cycle in India
Poverty is one of the biggest hurdles that keeps India from reaching its fullest potential. It has been said by many thinkers, that education is a way to defeat poverty. Armed with that belief, Vidyadhan was launched to break the vicious cycle of poverty and enable India to benefit from the demographic dividend.
What is Vidyadhan?
Vidyadhan is a flagship higher education scholarship program by the Shibulal Family Philanthropic Initiatives. Meritorious students from economically disadvantaged backgrounds are provided financial support starting from standard XI till they complete graduation in a degree of their choice. Founded in 1999, Shibulal Family Philanthropic Initiatives' flagship programme Vidyadhan has enabled more than 17,000 students to uplift their family members from poverty. Vidyadhan focuses on the holistic development of the youth. The program focuses on equipping them with the life skills and employability skills which will help them to leverage the opportunities as well as tackle the challenges that will come their way in their professional journey.
According to the Impact Report released by IIM Kozhikode with regards to the performance of the program, Vidyadhan model has proved to be effective in breaking the poverty cycle. The studies showed that Vidyadhan scholars are able to earn up to 3 times the scholarship amount as their first salary. For every scholarship recipient, three other members of the family are positively impacted.
Vidyadhan Impact: Growth of Females in STEM
The research has shown that about 60% of girls are pursuing STEM education with the help of the Vidyadhan SDF scholarship program. Through Vidyadhan 2200 girl students are pursuing science courses currently and this year they are expecting around 730 girls students to join. About 3000 girls have benefitted in the STEM scholarship program till date.
Role of Mrs Kumari Shibulal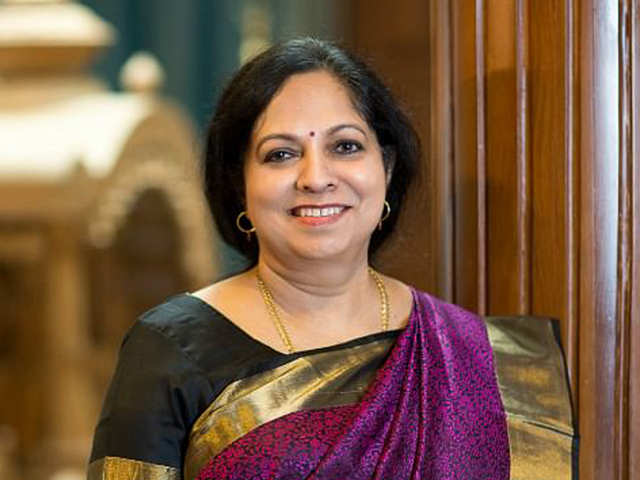 Mrs Kumari Shibulal heads the Vidyadhan SDF Scholarship Program. She believes that the comprehensive and holistic development of children should not be focused only on academics. Physical and emotional well-being, mental health, independent thinking, academic growth, social skills, employable skills, and other traits are given importance and attention. The emphasis is a lot more on children using their education and what they have learned to help others.
Mrs. Kumari Shibulal believes that 'Education' serves as the catalyst for opportunities to learn and develop skills that would help children from underprivileged backgrounds uplift themselves and the people around them. The Vidyadhan team identifies the problems, the cause of the problem, and accordingly works towards the solution and execution.
In the words of the beneficiaries of the program
Vigila, an alumnus of the programs says, "The journey of a girl child from an economically disadvantaged family to an empowered woman was moulded by Vidyadhan. And, being a part of the program I also learnt to help others. It was a life-changing moment for me when I applied for the Vidyadhan scholarship after completing my high school in Ollur,  Kerala. For a girl who wanted to fly, Vidyadhan became unshakable support. After completing my Higher secondary from Thrissur, I pursued Integrated MSc in Chemistry from the Central University of Tamil Nadu. All along, Vidyadhan helped me financially and encouraged me to give my best. In a hectic world where people rush to accumulate wealth, the program by its work taught us to share from what one has. I clearly remember the very first-time Vidyadhan paid for my travel expenses, I could not believe there were people who understood the difficulties of a common person.
Vidyadhan for me has been home – full of dreams and positivity. Even if one stumbles, there will be helping hands; there will be mentors and seniors to guide. Moreover, it is a learning platform – from how to draft a letter to be sent through post to using new electronic gadgets, the skills required for effective communication to how to manage personal finances, you learn a lot. It's like how a farmer takes care of a plant and helps it grow. Vidyadhan supports a student to be a responsible citizen. I am grateful to each and every trustee and team member, especially Meera ma'am, who has been inspiring. I learned a lot of things from her. As they say, "Actions speak more than words." Also, Ramanand sir, Radhakrishnan sir, Karim ikka and many others. They are the real heroes of this family. Proud to be a Vidyadhan student."
Another beneficiary Ishamol Shahji says, "I am a person who finds happiness in learning new things and that motivates me to look into the unexplored yarns in Science. During my school days, I used to participate in science fairs and that enhanced my interest in science. I strongly feel that pursuing research in Chemistry provides me with a platform to explore and step into my dream of becoming a passionate researcher and a dedicated teacher. To achieve my dreams, I joined the Indian Institute of Science Education and Research, Thiruvananthapuram (IISER-TVM), where I completed the 5-year Integrated BS-MS programme. It improved my skills in the basic sciences and to have a major in Chemistry, which would give me an arm grip on one-half of my ultimate objectives. I have been working as a doctoral researcher at IEK-12, Helmholtz Institute Münster (HI MS), Forschungszentrum Jülich and a PhD student at the University of Münster, Germany since Feb 2018. My research topic is Solid polymer electrolytes for lithium metal batteries. I expect to finish it by December 2021. I have gained experience in the development of solid polymer electrolytes, different polymerization techniques, electrochemical characterization methods, and battery testing. The interdisciplinary background at HI MS provides a working environment for both industry and academia.
The contribution from Vidyadhan has been remarkable. The interactive sessions at Vidyadhan made me feel proud of myself and realize there are many opportunities ahead if you want to follow your dreams. From the interactive sessions with different students, I came to realize that the students were selected based not only on their grades but also their passion for Arts, Science, etc. and they have built a support system for each student to follow their own dreams. I still remember my first interview, where the advisors pointed out that it is equally important to follow your dreams and get a job that you love, not just based on your credit scores. That really boosted my confidence to choose IISER for pursuing science over a B. Tech degree from CET. The scholarship provided by Vidyadhan taught me the importance of being financially independent, which helped me complete my studies without hindrance."
Adding as a message to the student community, Shahji remarks, "I would like to advise students, especially female students, that it is important to be financially independent. For students, who are interested in being a researcher, communication and networking are also important aspects to make fruitful progress in science. If you are determined to be in the research field, start applying for fellowships like KVPY, INSPIRE, etc. and gain experience through internships and summer school programs. These exposures will help you have an overview of the area of research. I would also like to add that, unlike most other professional jobs, more patience and passion are required to build an academic career in science."
Aishwarya Shrikrishna Pawar, from Satara, Maharashtra said, "While going through the newspaper one day, my mother came across an advertisement for Vidyadhan Scholarship. I decided to apply and since then Vidyadhan has played an important role in my education, career and life. The most critical aspect was the financial support to fund my graduation. Financial problems hinder the growth of thousands of persons in society and I am wholeheartedly thankful to Vidyadhan for removing this barrier from my path. Foundations like Vidyadhan have proven to have a big role in the educational and moral development of society by uniting people and maintaining harmony.
I completed my graduation from the School of Nanoscience and Nanotechnology, Shivaji University, Kolhapur in Nanoscience and Technology with good marks. My first encounter with research was in my first year during a mini project where I compiled information on "Nanotechnology in various science subjects". It helped develop planning and presentation skills as I analyzed available literature gleaned from previous studies. During my second year, I worked on polymer-based bioplastics – developing a method of preparing antibacterial bioplastic with green synthesis of silver nanoparticles and bioplastic films both from the same raw material (starch) in a single step. This project reinforced my passion for research as the article received the best paper award at the National Research Writing Competition. I worked on photo-catalytic dye degradation the same year and successfully degraded the insecticide "Imidacloprid" – a pollutant by Fe3O4-silver nanocomposites. At present, I am working on "Reversibility of ZnO-Fe3O4 nanocomposites on degrading methylene blue". In addition, I am working as a part-time teacher taking home tuitions for secondary students.
In September 2021, I submitted my online application for MSc in Chemical and Materials Engineering at the University of Alberta (Canada). After preliminary evaluation and an interview with my professor, I got selected and received my official admission letter on Nov 1st 2021. At the University of Alberta, I will be seeking to leverage my knowledge and experience in research fields like polymers, energy and biochemical engineering, nanofabrication and material science. I believe that I can gain further knowledge and expertise in these fields and the knowledge and skills gained from this program will give me research insight and lead to a productive career.
I feel that there are some simple but powerful activities that we can integrate into our lives and make a difference in society. I would definitely like to encourage students to dream big, work hard and focus. I am willing to help Vidyadhan and other social foundations in raising funds to support bright minds from economically weak families. For me, helping our community is an opportunity for me to grow as a person and to better understand the world around me."