When I was growing up in Varanasi in the '80s, a vacation typically meant visiting relatives in other towns or a must-see tourist destination – the Taj Mahal, Golconda Fort, the Pink City and so on.
Times are changing. I see today's leisure travellers looking for personal experiences like engaging with locals to eat their foods, understand their local lifestyles, soak in their culture rather than a fly-in, fly-out tourist holiday.
The other big change is the desire of travellers to get as close as possible to all that nature offers – by opting for nature tourism, homestays or holidays on farms. This trend has created new opportunities for boosting tourism in places that are off the beaten path, bringing a positive impact on local economies.
However, the fragile and natural ecosystems that primarily make these places attractive are also forced to bear the brunt of unintended human impact. The influx of travellers results in an increased use of vehicles, production of solid waste, inadequate garbage disposal — a tremendous burden on local ecosystems. Today, when I revisit places that I explored years ago, I am saddened at the sight of pollution all around.
I frequently read of many hill stations like Shimla suffering from an acute water shortage during the tourist season. This is because modern tourist facilities that emulate western standards end up consuming scarce water resources that are far beyond what the community usually has access to. Since community water sources have been tapped for the benefit of hotels and tourists, local residents are often forced to rely on water brought in by tankers.
Recently I read an article by an eminent conservationist, which made a telling point – that we have been pushing the limits of nature's resilience for far too long, and nature cannot absorb it much longer. It's clearly time to step-up the conservation measures.
So, what can we do about it?
As I sat down to write this article, it struck me that many of us are concerned about our environment. We are also aware of the conservation efforts already being made, but unfortunately these are outpaced by the rapid rate of degradation taking place.
Here are some thoughts on how to step up efforts in local ecosystems even as we experience them.
Spreading the word: We need more conversations around conservation. India's Chipko movement had villagers hugging trees to prevent them from being cut down. In the Pench tiger reserve, visitor impact is minimized by asking visitors to not step down from their jeeps. In Australia, visitors are asked not to remove a single shell from the beach as each tiny piece has a role to play in the ecosystem. There is an urgent need to make conservation a collective effort by all stakeholders — tourists, the travel trade, civic agencies and local communities.
Understanding nature: Tourism activities that help preserve and restore nature are becoming more popular. For instance, there is a Swedish fitness trend called 'plogging' — that blends jogging and picking up trash or litter on the way – which is fast catching on. 'Voluntourism' is another powerful tool that mobilises locals and tourists alike to clean up local landscapes.
Being a responsible tourist: Responsible tourists are those who minimise visitor impact – using less water, travelling in larger groups to reduce carbon footprint, eating local foods, supporting eco-friendly hotels, and disposing waste – plastic bottles, for instance — more responsibly.
Living local: Whether Israel's kibbutz communities or Canada's Lasqueti island, there are plenty of examples of communities that live harmoniously with nature. The idea of experiencing such cultures firsthand has found a growing follower base. Such travel options offer an additional source of income for the locals and help visitors appreciate local practices well enough to want to keep them intact.
Tourism in India has seen exponential growth and ecotourism can give it the much-needed sustainable thrust. Introducing experiences that are more inclusive and sustainable can encourage ecotourism as a viable tourist option and thus help us to preserve and sustain the biodiversity of our natural environs.
We all need to be responsible tourists – that's the only way to sustain our planet, so that our future generations will have a chance to experience the natural wonders our planet possesses.
Views of the author are personal and do not necessarily represent the website's views.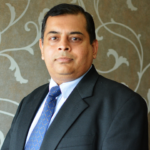 The author is an active member of many professional societies and is a thought leader on marketing, loyalty programme design and development, strategic planning, airline revenue management and CRM. He has extensive practical, hands-on experience working in the USA, Canada and India.
Thank you for reading the column until the very end. We appreciate the time you have given us. In addition, your thoughts and inputs will genuinely make a difference to us. Please do drop in a line and help us do better.
Regards,
The CSR Journal Team