Top CSR Projects in Telangana
Telangana is the youngest state in India, formed in the year 2014. It's a hotspot for tourists since its hospitality and multicultural society are world-famous. Hyderabad, the capital city of this state is the fifth largest city in India and home to some of India's best educational institutions, public sector and software companies, defence companies, and the delicious Hyderabadi Biryani, of course! The Government of Telangana has launched the 'T-Social Impact Group' to bring more convergence between the corporates doing CSR and various departments in the State Government. The programme is reaping rewards since investment on CSR in Telangana is on the rise. We present the best practices in corporate social responsibility in the state.
Gland Pharma's 'Free Breakfast Programme' for children and mothers
Gland Pharma Limited, a leading manufacturer of high-quality injectables, performs Corporate Social Responsibility through its public charitable trust, Gland-Fosun Foundation. The company's 'Free Breakfast Programme' is providing free breakfast-cum-health support to underprivileged children studying in Government schools and lactating and expecting mothers in Anganwadi centres of Andhra Pradesh and Telangana.
This programme was started on 14th November 2019 (Chidlren's Day) and currently serving free breakfast to more than 16,000 children from 83 government schools along with 350 beneficiaries of 10 Anganwadi centres in Hyderabad. Of these, 43 schools are in Hyderabad, 40 are in Vishakhapatnam.
Gland Pharma provides funding support to Akshaya Patra Foundation, their implementing partners. They have specialised vehicles to convey these meals in hot and hygienic condition to all the beneficiaries. The foundation provides meals in the morning, which enables these children to have a good and filling breakfast at the beginning of their school routine.
Synchrony's upport to MNJ Cancer hospital, Hyderabad
Consumer financial services company Synchrony announced last week that it has helped build a 23-bed ICU ward, donated an X-ray unit to relieve congestion on the radiology department, and provided 14 patient trollies to facilitate patient transportation at MNJ Cancer hospital, Hyderabad. With this, the Hospital will be able to accommodate at least 100 more patients.
MNJ Cancer hospital, founded in 1950, is one of the oldest cancer care centres in the twin states catering to the health care needs of thousands of rural including neighbouring states. This Regional Care Centre functioning under Government of Telangana caters to people who are underprivileged and have no access to health care due to financial deprivation.
Cigniti Technologies supports MNJ Institute of Oncology, Regional Cancer
As part of its CSR initiative, Project Cignificance, Cigniti Technologies, AI and IP-led Digital Assurance and Digital Engineering services company, extended its support to the Government MNJ Institute of Oncology, Regional Cancer in Hyderabad, India. Cigniti recently announced that it has provided crucial healthcare and essential medical equipment for a gynecology unit supporting women cancer patients from marginalized communities. These include ICU beds, Ventilators, Multi-Channel Monitors, Infusion Pumps, Ultrasound Portable, Colposcope, air conditioners etc.
By collaborating with Nirmaan Organization, Cigniti aims to reduce the stress on the existing public healthcare system caused by the increase in gynecology-related cases, such as delivery cases in Mother and Child hospitals and tertiary hospitals. This assistance is expected to deliver better healthcare, minimize gynecology referrals to private/tertiary hospitals, and offer a green channel for women on a walk-in basis to decrease the waiting period. With this support, the facility will be able to provide medical attention to at least 1,000 marginalized patients annually.

Tide and WE Hub together launch 'Sarthika' for women entrepreneurs
Tide, UK's SME-focused business financial platform that recently launched in India, and WE Hub, Telangana's state-led incubator for women entrepreneurs recently announced that they have launched the 'Sarthika' programme, to bridge the information and last mile delivery gaps in state and central government schemes for women-led micro, small and medium-sized enterprises (MSMEs). Through this initiative, Tide aims to reach women entrepreneurs across India and enhance the ease of doing business by improving access to information and uptake of public schemes and initiatives.
The Sarthika web portal will work with the cohort at the grassroots level to help them navigate through the application process, eligibility criteria, and other important aspects of the schemes. After the completion of full KYC process, Tide India and WE Hub will work with relevant government departments to quicken operationalisation of the schemes.
The Government of India has rolled out a series of measures to boost growth and opportunities for women in business. However, lack of information about eligibility and availability of schemes, poor allocation of resources, and complex processes have led to weak demand from the people these schemes could best serve.
The Sarthika programme comes at a time when W20, under India's G20 presidency, is focused on realising the vision of women-led development, with women as active change agents of India's growth story rather than passive recipients of development. The W20 is an official G20 engagement group focused on gender equity.
Aurobindo Pharma Foundation to set up Bharosa Centre at Sangareddy
Aurobindo Pharma Foundation (APF), the philanthropic arm of Aurobindo Pharma Ltd announced in August, last year that it is constructing a Bharosa Centre in Sangareddy district of Telangana. Aurobindo Pharma Foundation has pledged to take up this project to promote safety of women and children, as part of its CSR initiative under the theme 'Gender equity and women empowerment'.
The centre will have a built-up area of 5,600 square feet with various features to accommodate the multiple services provided at Bharosa centres. The dedicated land is provided by the Police Department.
Bharosa is a society for the protection of women and children. It was established in May 2016 in the state of Telangana. The main purpose of this society is to provide integrated assistance and support to women and children affected by violence. Through Bharosa centres established in multiple locations across the state, women and children will be able to access a range of emergency and non-emergency services, such as medical, legal, psychological and counselling support under one roof to fight against the various types of violence inflicted upon women and children.
The Society is under the administrative control and supervision of the Women Safety Wing of Telangana Police. So far, Bharosa Centres have been established in 6 places in the state. To meet all the medical and essential needs of supporting women and children, the centres have various features to accommodate the multiple services. These centres will have conference rooms, counselling rooms for women and children, and medical counselling room. Also, the centres are deployed with well-trained counsellors, who conduct outreach programs among the communities. Furthermore, it will also consist of a Police Officer room, Legal Support office, Statement Record Room, etc.
Habitat for Humanity India and IKEA improve homes of 70 low-income families in Hyderabad
Housing non-profit organization Habitat for Humanity India and global home furnishings company IKEA in India announced last year that they are working to repair homes of 70 marginalized families living in Jagathgiri Gutta located in Medchal district, Hyderabad, Telangana.
The community living in Jagathgiri Gutta is inhabited by daily wage earners, domestic helpers, vegetable vendors, and people working in the informal sector, most living in dilapidated or damaged houses which fail to protect them from extreme climatic conditions and make them susceptible to diseases. Most houses are more than 20 years old and need repairs. Loss of livelihood caused by the COVID-19 pandemic has prevented the families from making house repairs.
Through this collaboration, Habitat for Humanity India has repaired the damaged homes and improved the housing conditions for more than 350 individuals in the community who had suffered from the dual health and economic crises posed by the COVID-19 pandemic. The repair works include fixing cracks, plastering, painting, door and roof adjustments, and overhauling of toilets.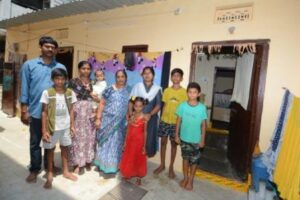 TCS Adult Literacy Programme
TCS launched a revolutionary, cost-effective learning programme for adults in the year 2000, enabling functional literacy. Over 46,221 adults in Telangana and Andhra Pradesh have been positively impacted.
The Adult Literacy Programme (ALP) is one of the most successful initiatives for CSR in Telangana. It runs on TCS' proprietary Computer-based Functional Literacy (CBFL) solution, which enables adult learners to read, write, and perform basic arithmetic within 50-55 learning hours. It is intended for native speakers of a language and works with phonetic languages. Its prime focus is on words rather than alphabets, thus enabling students to acquire a 700-word vocabulary within a short while. This programme is available in 9 Indian languages (Telugu, Tamil, Hindi, Marathi, Bengali, Gujarati, Kannada, Oriya and Urdu). It uses a combination of teaching methods such as software, multimedia presentations and printed materials.
TCS collaborates with agencies such as the National Literacy Mission Authority (NLMA), NGOs, and Corporate Connects to implement this programme. It is currently being deployed in coordination with the State Literacy Mission Authorities and NGOs aiming to help NLMA's Saakshar Bharat literacy target of educating 7 crore citizens.

Tata Consultancy Services

has won several awards for this CSR solution including the Project of the Year award in the Contribution to Community category at the prestigious Project Management National Conference 2018.
ADP MIDAS (Making an Impactful Difference at Schools)
ADP Private Limited is a fully-owned subsidiary of ADP LLC (ADP). The company is engaged in providing Information Technology and Information Technology Enabled Services to ADP's business divisions worldwide. They commenced the MIDAS CSR project in 2008-09 in Telangana by initially adopting 5 Government Primary Schools in Hyderabad. Since then, the project has continuously evolved and now impacts 20,000 children including 150 visually impaired children and over 200 autistic children annually, making it a top programme for CSR in Telangana.
MIDAS focuses on improving learning levels and employable skills in children from early childhood till post-graduation. This programme also focuses on inclusive development through the setting up of local community libraries, science labs, and learning centres. They also have healthcare support in school. In terms of infrastructure development, the project sets up smart and digital classrooms, computer lab, digital tabs based learning and assessments, thematic paintings and complete whitewash of school, separate toilets for girls and boys, and RO water purification units. The whole infrastructural transformation built a strong, vibrant and positive atmosphere in the school, resulting in much more enrollments, attendance, performance and retention.
The MIDAS programme was featured among the 'Best CSR Trends of the Year' in NASSCOM's 2016 Annual Report. ADP has been recognized twice by the HYSEA as the 'Best Company' for 'Educational Initiatives' in 2015 and 2018 for its MIDAS project and its significant impact on the community. The children studying at MIDAS schools frequently visit the ADP office and participate in the company's Annual Day and Family Day programmes, thus gaining more exposure and self-confidence. The programme has been consistently scaling up and is completely replicable and sustainable.
Capgemini LEAP and LEAP Inclusion
In partnership with various stakeholders who have the expertise and local presence in the communities, the CSR wing of multinational corporation Capgemini facilitates the creation of sustainable livelihoods for youth through their project LEAP (Livelihood Education through Action against Poverty). With a wide array of short duration courses of 16 weeks, the project works with school and college dropouts equipping them with employable skills and providing job opportunities.
The 4-week On-The-Job-Training gives exposure of industrial functions to candidates. The CSR team is closely working with employing entities for greater connection on job requirement through E-content and curriculum development. This enables them to enhance the current suite of training offerings to match the growing trend and future of skill requirements by recruiters.
Extensive engagement with sector experts and a strong alumni network create great support for upcoming batches. To encourage the participation of Youth with Disabilities, LEAP Inclusion focuses on the inclusivity aspect and provides training equipped to handle disabilities. Skillsets are provided which equip them to compete in the marketplace with greater opportunities of earning higher incomes. This has positively impacted more than 6500 youths who are bringing their families out of poverty and leading towards greater societal transformation.
NMDC Prayas
'Prayas – A Pursuit to Education' from government-owned NMDC is aimed at the emancipation of the backward communities residing around the company's plants through education. Prayas is nearly two decades old, from modest beginnings it has acquired the shape of a gamechanger for local communities.
NMDC is working with NGO partners like Shamayita Math along with other specialized agencies like M/s DAV institutions for implementing different initiatives under PRAYAS. The roles of the partners vary from segment to segment. At the grassroots level, the NGO supplements the effort of the State government staff, whereas in the middle segment NMDC takes on the role of financier as well as that of an implementer. At the higher educational level, service providers and the State Authorities play the role of implementing partners and NMDC dons the role of the funding agency.
Since education is the touchstone for eventual emancipation, a significant portion of

NMDC CSR efforts and funds

are invested in this focus area. Another reason for choosing this thematic area is that the local region is inhabited primarily by tribal communities who have historically had minimal access to educational facilities and NMDC's efforts have acted as a catalyst for bringing socio-economic change. In the process, education has triggered aspirations for a better life and a peaceful and prosperous future amongst the local youth. Prayas is a model for CSR in Telangana. In fact, some aspects of the initiative have been replicated across project locations in other States.