Complete CSR Report of Tata Consultancy Services (TCS) in India FY 2022-23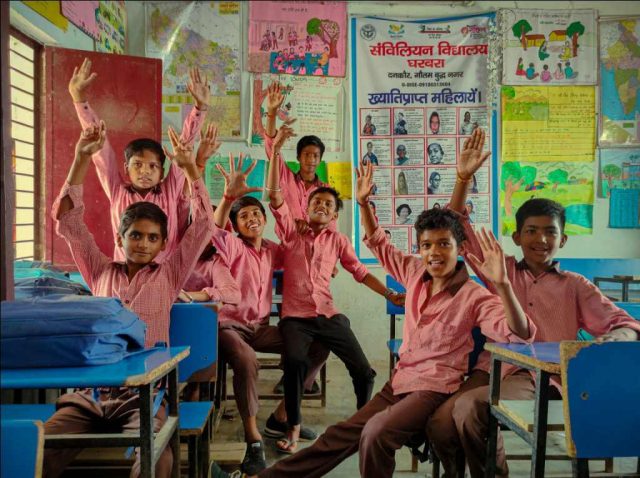 Tata Consultancy Services, globally referred to as TCS is India's largest software and IT services company. A part of India's largest multinational business Tata group, TCS has over 420,000 of the world's best trained consultants in 50 countries across major continents.
Talking about their corporate social responsibility, TCS gives special attention to STEM (Science, Technology Engineering, and Mathematics) and rural education. In keeping with the philosophy of Tata Group, the company channelizes its best resources to improve literacy level and train the innovators and tech geniuses of tomorrow. Other areas of focus for social change include marine conservation, health and sanitation.
TCS invests in addressing the most pressing needs of the community through various CSR initiatives and programs focused on education, skilling, employment, and entrepreneurship, aligned with the UN Sustainable Development Goals (UN SDGs). With a focus on bridging gaps in access to opportunities, TCS also invests in social innovation and community projects targeted the poorest sections of society, and supports programs addressing basic health and wellness, water sanitation and hygiene, conservation, and disaster relief efforts.
In the FY 2021-22, Tata Consultancy Services had spent Rs 727 crores on corporate social responsibility which has gone up to Rs 783 crore in FY 2022-23.
CSR Policy of TCS in India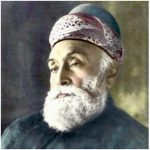 Tata Group Founder Jamsetji Tata's words sum up the basic tenet of corporate social responsibility at the Tata companies: "In a free enterprise, the community is not just another stakeholder in our business, but it is in fact, the very purpose of its existence." In line with this thought, TCS CSR programs are all about sustainable well-being.
Coming from the Tata Group legacy, which gives utmost respect to the community, environment and employees, TCS in India has a strong commitment to corporate social responsibility. A recent example of its concern for employees is how, when most other companies were either laying off their workforce or imposing salary cuts during the COVID-19 pandemic, this tech company announced a salary hike for its employees across all levels, making TCS the first IT firm in India to declare an increase in pay during the pandemic.
TCS' community development programmes across the world include health and wellness, biodiversity, education, STEM, digital literacy and skill development. CSR of TCS also includes other activities like disaster management.
Talking about Corporate Social Responsibility, TCS mentions in its CSR policy that their 'vision' is to "Empower communities by connecting people to opportunities in the digital economy" and their 'mission' is to "Build equitable, sustainable, and inclusive pathways to opportunities for all – especially youth, women, and marginalized groups."
The company also mentions that their major objectives to engage with communities include "Creation of employment, entrepreneurship and livelihood opportunities for youth and marginalized members of the community and development of 21st century skills through education and skilling." They also aim to "Support basic health and wellness; water, sanitation, and hygiene need of communities- especially those that are marginalized."

CSR Committee
The CSR committee comprises N Chandrasekaran (Chairman, Non-independent Non-Executive Director), O P Bhatt (Member, Independent, Non-Executive Director) and N G Subramaniam (Member, Non-Independent, Executive Director).
Key highlights of TCS' CSR initiatives in the FY 2022-23
1. Working towards closing the literacy gap including a pioneering public-private partnership reaching all 52 districts of Madhya Pradesh with the State Literacy Mission Authority.
2. goIT continues to empower the next generation of innovators in school; 41,971 students across 28 countries are now digital innovators, solving real-world problems. Nearly half the goIT and IMF beneficiaries are girls and over 70% from minorities and underserved groups.
3. Ignite my Future helped 293,697 students across India, US, Canada and ANZ learn computational thinking.
4. Youth Employment Program (YEP) empowered 10,869 rural youth, creating new pathways to 21st century jobs, and now reaches students across every state and union territory in India.
5. BridgeIT program is helping marginalized youth turn into digital entrepreneurs and earn well, providing essential last mile services for 1,736 villages in rural India.
6. Supported institutions such as, Tata Memorial Center and Cancer Institute in India.
Top CSR projects of TCS in FY 2022-23
Health and Wellness
TCS has provided an integrated Hospital Management System and IT infrastructure, which includes a comprehensive and fully integrated web-based solution to The Cancer Institute, Chennai. TCS has also provided support to integrate the Health Insurance Scheme with the National Medical Commission (NMC) dashboard to facilitate daily syncing of patient data and statistics to aid monitoring and auditing. It has also been building new features including compliance with statutory requirements.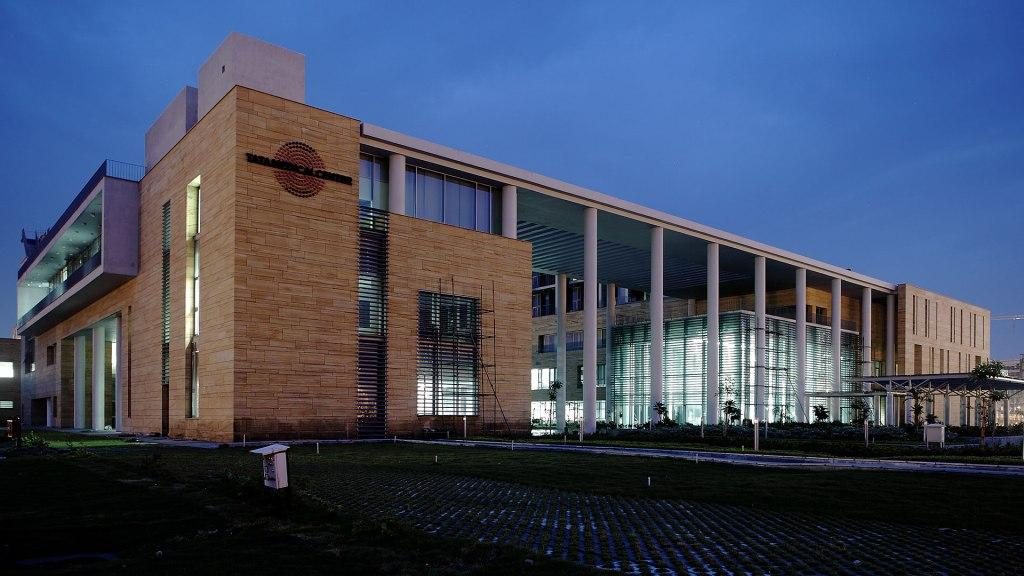 The Tata Medical Center in Kolkata, India, is a state-of-the-art centre for cancer research, diagnosis and treatment. TCS continues to support the Hospital Management System (HMS) at Tata Medical Center (TMC), Kolkata. TCS has provided IT support to TMC for their Pharmacy migration to 'TATA 1mg.' TCS' transformations at Tata Medical Center, Kolkata and Cancer Institute, Chennai facilitated more than 117,600 new patient consultations in FY 2023, as per their latest annual report.
TCS partnered with TMC, Kolkata to establish Tata Translational Cancer Research Centre (TTCRC). The partnership aims to create an interactive environment for clinicians, scientists, and industry to collaborate and translate data driven and discovery-based science for improvements in patient care. It focuses on personalizing therapies, decreasing the cost of treatment, and developing innovative care delivery models for cancer patients in India.
TCS contributes to initiatives at TTCRC through multi-omics and bioinformatics analysis, scientific data management, management of multi-centric clinical studies – such as the large one on Acute Lymphoblastic Leukemia (ALL), clinical decisions automation and the development of innovative digital solutions.
Education
Literacy as a Service (LaaS)
Adult non-literacy continues to be a problem holding back India from reaching its full economic potential. Women account for 65% of the illiterate population, and the rest is from marginalized communities. To address the causes of non-literacy, TCS devised the Literacy as a Service Programme (LaaS) which augments the Government of India's efforts to improve literacy.
LaaS provides an innovative teaching method by combining the power of IT with the theory of cognition and laws of perception. LaaS adopts creative means of delivery to enable functional literacy, such as animated graphic patterns for easy visual and auditory learning.
Modules on the platform include functional literacy (8-10hours), digital literacy (5-7 hours), and awareness on key citizen entitlements (3-4 hours), available in 12 languages – nine Indian, and three foreign.

Ignite My Future (IMF)
Ignite My Future is a teacher professional development programme which introduces the concept of computational thinking into all core subjects. This is a transdisciplinary education programme that transforms the way students learn.
This year, IMF India launched Learning Leaders' regional chapters, catering to regional learning requirements of the teachers from the partner districts across India. One of the IMF's pioneering STEM initiative interventions, Global Innovations Project (GIP) aims to connect students and teachers from around the world as they explore and solve real-world problems using computational thinking.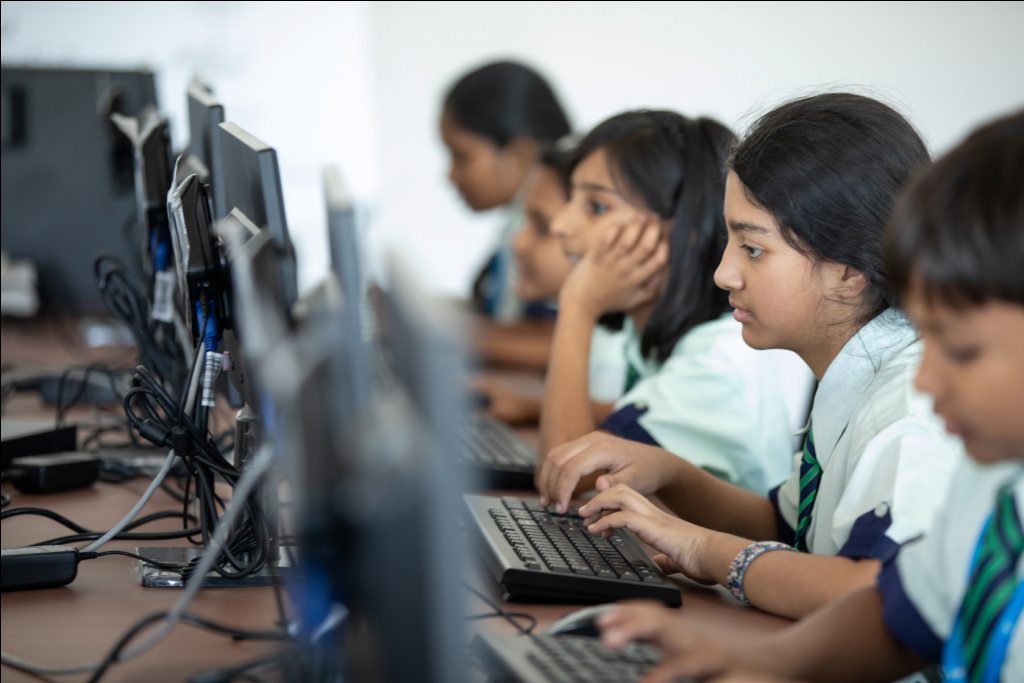 Teachers and students from schools like School of Scholars (Maharashtra), BGS Schools (Karnataka), Podar International School (Maharashtra), Rajya Ashram Paddhati Vidyalaya (Samaj Kalyan Department, Uttar Pradesh), APSWREIS (Andhra Pradesh) in India have collaborated with schools from North America under this programme.
Overall, the participants from India worked on 109 innovation projects, clocking over 560 collaborative learning hours and 268 videos over Microsoft Flip tool. Teachers were very appreciative of the opportunity to learn and collaborate with educators around the world.
In FY 2023, IMF benefited more than 293,000 students and educators across North America, India, UK and Ireland, APAC and ANZ.
goIT
TCS' flagship program goIT (go Innovate Together) is a Digital Innovation program which prepares students with culturally relevant and context-appropriate learning experiences, coupled with modern technologies. goIT prepares students with engaging design workshops and custom mentorship to pursue the careers of tomorrow of which involve STEM and computer sciences. The programme has benefitted  students in several Indian states.
Employment, Entrepreneurship and Self-Employment
BridgeIT
BridgeIT is a unique initiative created to bridge the digital divide that places socially and economically underprivileged communities at a disadvantage. The programme creates digital entrepreneurs who use IT to help local citizens avail essential digital services in education, adult literacy, unemployment and social discrimination. It attempts to address prevailing social inequities in India by proactively reaching out to women, Scheduled Caste and Scheduled Tribes (SC/ST) communities.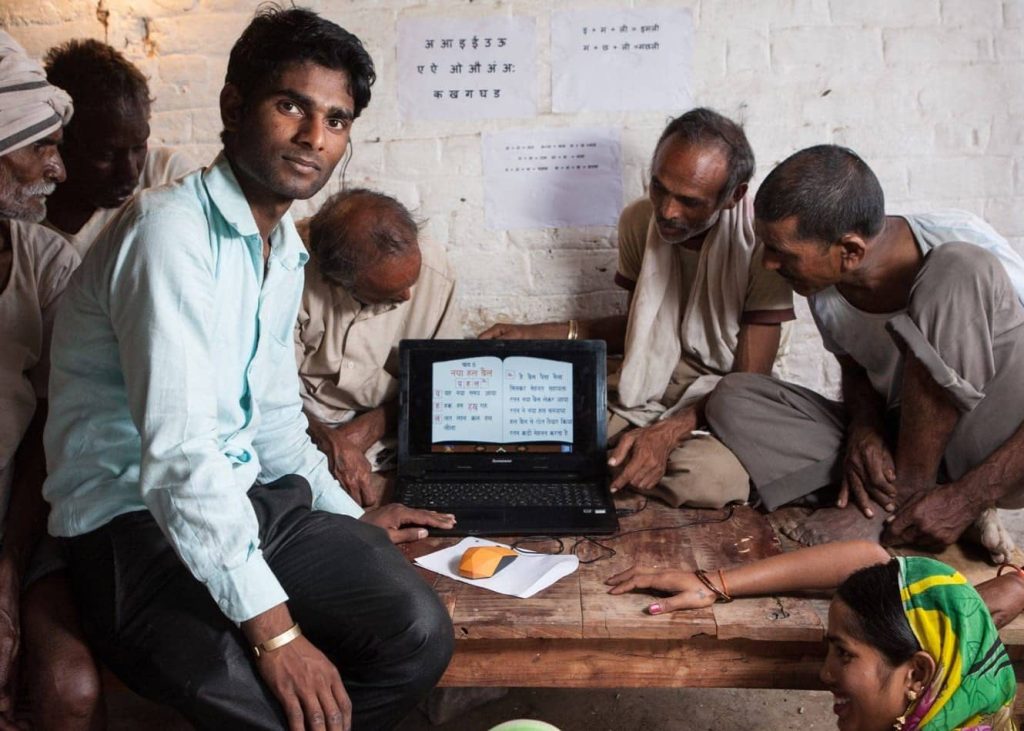 Launched in 2014, BridgeIT has a footprint across 30 districts in 10 states. The programme offers budding entrepreneurs the skills, mentoring, technology, tools and resources required to set up a Digital Service Centre from where they can provide services such as generating and updating documents (such as Aadhar cards, Pan cards, and voters ID), enrolling for different government schemes, filling in online forms and cash withdrawals/deposits from the bank to fellow villagers.
In FY 2023, the programme had 347 active digital entrepreneurs (146 of these being women).
Youth Employment Programme (YEP)
YEP tackles one of the biggest challenges in India – unemployment among youth, especially those from marginalized sections of society, due to lack of 21st century skills. YEP provides employability training, imparting skills such as business communication, aptitude, computer programming and domain skills with the help of subject matter experts, domain leaders, and certified trainers from TCS.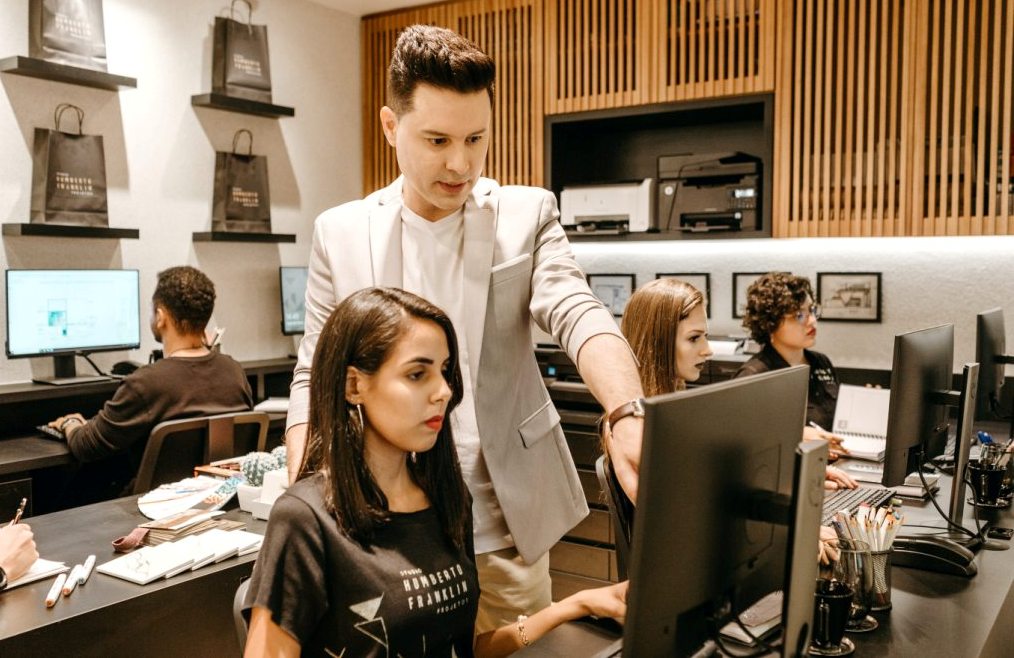 The programme offers participants a smooth transition from college to careers, building their confidence and enhancing their social and economic status through its unique teach, coach, mentor, and place model. It helps them navigate opportunities available in the Indian job market with career guidance and mentoring, training on interview skills and access to market-facing certifications and hands-on real-time project experience.
Since its inception, the programme has improved the economic and social status of the beneficiaries and their families, encouraged diversity and gender parity within the workforce while creating inclusion and access for marginalized groups across the country.
In FY 2023, more than 31,000 students were trained across India, of which 57% were women and 17% from the groups qualifying for affirmative action programmes. Over 10,000 students have gained employment in the IT/ITES, banking, retail fields.
Social Innovation
Digital Impact Square (DISQ) is a social innovation platform established in 2015 in Nashik, Maharashtra. The platform encourages innovation among young employees who harness the power of digital technology and engage with the digital ecosystem, to develop solutions for a lasting change in society.
Since its founding, DISQ has worked with 7 cohorts with more than 600 innovators, 35% of who are female. These innovators hail from 22 states and from over 180 colleges across India.
In FY 2023, DISQ encouraged innovation using digital technologies to address the social challenges drawn from the voice of citizens, domain experts, local administration and the government.
Employee Engagement
Through its unique engagement model, TCS leverages its intellectual capability, technology expertise, large employee base volunteering their time and skills and of course financial capacity to invest in programs that deliver longer term social impact across the globe.
'Each one Empowers one' portal
In August 2022, TCS launched the 'Each one Empowers one' portal which allows employees of TCS and Tata Group, along with their families, to empower non-literates in their local community, such as security guards, domestic workers and gardeners. The programme aims at promoting social inclusion, financial stability and economic growth. It has helped beneficiaries to receive better access to government benefit programmes, financial systems and empowered them to have a more significant say in family and community decision-making.
#millionhoursofpurpose
In the FY 2023, TCS launched the civic movement #millionhoursofpurpose. The initiative encourages employees to support different causes. Through this, TCS employees have created positive impact in several ways like addressing the 17 UN SDGs, ranging from planting saplings and trees, making and distributing newspaper bags, raising mental health awareness and educating children in schools among others. TCSers also contribute to the Tata group's volunteering initiatives twice a year, such as Tata Volunteering Week and Pro-Engage (long-term pro bono volunteering).
Conclusion
As per TCS' Integrated Annual Report for the FY 2022-23, the company has spent a total amount o Rs 783 crore towards CSR which is more than the two percent of average net profit of the Company as per sub-section (5) of section 135: Rs 773 crore.
TCS in India has a massive STEM education and skilling legacy. The IT major plays on its strengths while designing CSR programmes. This has led to a high success rate and life-changing benefits for the participants.