Complete CSR Report of TCS in India, a STEM pioneer
Tata Consultancy Services, most often referred to as TCS in India and around the globe, is our nation's largest software and IT services company. It has been a consistent top ranker not only in the subcontinent but globally, with its location-independent software that is proving to be all the more relevant in COVID-19 times.
It has a large workforce of 4.2 lakh consultants spread across 50 A part of the Tata group, India's largest multinational business group, TCS has over 420,000 of the world's best trained consultants in 50 countries across all the major continents except Antarctica. As for corporate social responsibility, STEM and rural education is where it devotes most attention.
STEM is an obvious choice for stewardship in a firm that prides itself on technological and engineering advancement. In keeping with the ethos of the exemplary Tata Group to which it belongs, the company channelises its best resources to improve literacy levels and groom tomorrow's innovators and tech wizards.
Other areas of focus for social change are marine conservation, health and sanitation. It's a deep dive strategy approach to corporate citizenship rather than spreading itself too thin over various social goals. The gaps in society the firm does target, it brings immense improvements and pours sufficient resources into. In FY 2019-20 alone, Tata Consultancy Services spent a whopping Rs. 600 crore on corporate social responsibility.
The tech giant ranked Overall Best Managed Technology Company in FinanceAsia 2020 Asia's Best Companies survey. It also walked away with top honours for 'Best Environmental Stewardship' and 'Most Committed to Social Causes'
,
the second spot in Asia for Corporate Governance and the third for Best Managed Company in India. 
TCS has a solid revenue of $20 billion in 2019, and is listed on both NSE and BSE stock exchanges in India. Its stance on climate change and ESG has given it a place of pride on the Dow Jones Sustainability Index (DJSI), MSCI Global Sustainability Index and the FTSE4Good Emerging Index. When it comes to LGBT-friendly companies, TCS in India leads the way with its progressive policies for LGBT employees. The company is proactive about working towards a sustainable economy and a sustainable planet.
As a member of the GRI (Global Reporting Initiative) community, it adheres to GRI Sustainability Reporting Standards every year. The GRI is an renowned independent standards organisation that helps responsible businesses – big and small – create a common language to report on issues related to human rights, corruption, climate change and the like.
1. CSR at TCS in India
Coming from the Tata Group legacy, which gives utmost respect to the community, environment and employees, TCS in India has a strong commitment to corporate social responsibility. A recent example of its concern for employees is how, when most other companies are either laying off their workforce or meting out salary cuts in the face of COVID-19, this tech company has instead rolled out a salary hike for its employees across all levels, making TCS in India the first IT firm to declare an increase in pay during the pandemic.
To increase employment in the United States of America in the post-COVID era, the company has also pledged to hire 10,000 staffers there by the year 2022. This is after having hired 21,500 individuals in the US offices over the span of the last five years.
By helping employees, customers and external stakeholders like the communities it thrives in, and using its technological assets to drive the support, this company embodies stakeholder capitalism in the truest sense.
1.1. CSR Policy of TCS in India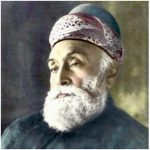 Tata Group Founder Jamsetji Tata's words sum up the basic tenet of corporate social responsibility at the Tata companies:
"In a free enterprise, the community is not just another stakeholder in our business, but it is in fact, the very purpose of its existence."
In line with this thought, TCS CSR programmes are all about sustainable well-being. The underlying principle for all projects is "Impact through Empowerment". This impact is delivered through carefully coordinated, long term and sustained efforts on the part of the corporate social responsibility division and the implementing agency concerned. The outcomes are then measured by a third party according to industry standards.
Tata Consultancy Services CSR leverages its IT facilities to increase the agility of its social projects and its huge employee base and presence in various countries for better delivery. Globally, community development programmes include health and wellness, biodiversity and skill development apart from STEM education, CSR of TCS in India also includes other activities like disaster management that are mentioned under Schedule VII of the Companies Act, 2013.
1.2 CSR spend of TCS in India

Tata Consultancy Services is a top spender on corporate social responsibility in India.
Responsible businesses like Infosys
, Accenture, and Cognizant have dedicated such large corpuses to Nation Building sets the precedent for other IT firms to follow. This company has consistently been increasing its CSR spend year on year for the past few years.
The kingsize spend has reached the culmination this year, with an equal amount spent as prescribed, touching the Rs. 600 crore mark. Of course, this sum also includes the projects being implemented in other centres outside India. However, we are keeping the focus of this corporate social responsibility report on CSR in India alone.
1.3. CSR Committee
The CSR committee includes Board members and directors. The members are N Chandrasekaran (Chairman of the Committee), O P Bhatt and N Ganapathy Subramaniam.
2. Leaderspeak
Of course, none of these achievements would be possible without strong leadership. As with the CSR committee, the Board members of Tata Consultancy Services have their feet firmly planted on the ground with an eye on the sky. Goals are set with caution and met with precision. Here's what the company's head honchos have to say about the firm's contribution to Nation Building.
2.1. N Chandrasekaran, Chairman

"Our Financial Inclusion Network supports over 210 million no-frills accounts set up under the Pradhan Mantri Jan Dhan Yojana. The government scheme has created jobs for over 100,000 banking correspondents who go out to remote villages with handheld devices to provide banking services to the unbanked."
"There are several other examples: the Passport Seva project which completely reimagined the issuance of passports, the digital transformation of India Post, the platform that supports Ayushman Bharat and so on. Each of these initiatives showcases the innovative use of technology to transform citizen services, enhance inclusivity and reduce inequity in society."
2.2. Rajesh Gopinathan, CEO and Managing Director

"In India, we are partnering non-profits and governmental agencies to impart functional literacy to adult learners, running employability programmes for disadvantaged students from rural areas, and empowering individuals from underprivileged backgrounds to become digital entrepreneurs. We have built the enabling platforms to realize policy initiatives to extend banking to millions of unbanked Indians."
"We pick corporate social responsibility programmes that are scalable and which can make a big, measurable impact on the local community. These programmes are estimated to have benefited over 840,000 people across the world. Our employees have also been doing their bit for worthy social and environmental causes in their respective communities, collectively contributing over 780,000 volunteering hours in FY 2020."
3. Response to COVID-19
The COVID-19 pandemic took everyone by surprise, and TCS in India was no exception. However, the Tata Consultancy Services CSR team and management acted with presence of mind in the midst of the worldwide affliction. They put the safety and wellbeing of employees and associates first. As soon as news of the outbreak spread, the company started switching its global and India operations to Work From Home (WFH) mode. They began following a large-scale programme for WFH using the SBWS model (Secure Borderless WorkSpaces). 
Location independence came easy for this organisation since they have been pioneering technology in this field for half a century. Data security, cloud computing and digital collaborations have ensured that internal and external stakeholders are able to work seamlessly during and after the lockdown in all the branches.
3.1. TCS iON Digital Glass Room
Education took a severe beating in the lockdown. However, web-based education platform TCS iON Digital Glass Room softened the blow for many students. Since students could not attend in-person classes in schools and colleges, the firm opened up free access to the platform. This meant that educational institutes all over India could continue classes without interruption without any worry of data or security breach. It turned out to be a blessing in disguise since the software is interactive enough to include quizzes and debates and has versatility for real time engagement on worksheets. Students and teachers didn't feel like they missed out on the live experience.
3.2. Business Continuity
Their technology keeps operations in more than 1,000 organizations up and running. This includes healthcare and pharma companies, governments and telecommunications firms. Needless to say, the uninterrupted functioning of all these organisation was critical during the pandemic and the concurrent lockdowns in various countries. The company was quick to respond to the crisis with a programme using the SBWS model, which allowed for smooth work-from-home facilities for associates uninterrupted support for customers.
4. Agriculture
Digital farming is catching on and the corporate responsibility has responded with the mKRISHI initiative.
4.1. mKRISHI
mKRISHI® is a registered technology which has developed the cutting edge agro-analytics engine agEYE and a web-based app. The application is something out of a sci-fi movie. Not only does it give past and present data on crops, it predicts the future of how the crops will grow, their health and weather at the time. Identifying diseases in crops through mKRISHI has proven to be a boon to farmers. mKRISHI uses real-time remote sensing data and weather data to make its analysis. The digital farming technology is being used in fishing; mKRISHI® fisheries alerts fishermen of impending rough weather.
5. Health and Wellness
The IT giant's activities in the medical field range from technical support to hospitals and health institutes and cutting-edge medical research to behavioural change.
5.1. Cancer Care
India has an abysmal doctor-to-patient ratio of 0.7; that means less than 1 doctor per 1000 patients. In response to this gap in cancer treatment, the company launched the Digital Nerve Centre (or DiNC) in 2017. The healthcare platform is an industry first for delivering patient centric cancer care. DiNC has impacted the oncological ecosystem in positive ways – from awareness and screening to follow-up has become a convenient affair. DiNC has partnered with top cancer hospitals for dispensing the right treatment in time. In as little as two years, DiNC has brought cancer care to the homes of over 1 million patients.
5.2. VHAB
Virtual Habilitation (or VHAB in short) is a health CSR programme for PwD children. Differently-abled children and kids with special needs get access to thorough physiotherapy. VHAB is being implemented in three schools for special kids. Over 500 differently-abled children have shown improvements in concentration and learning skills after physiotherapy.
5.3. Govt. Partnership for PM-JAY
Pradhan Mantri Jan Arogya Yojana (PM-JAY) under Ayushman Bharat is the world's largest fully funded health insurance scheme. Having a history of successful government partnerships, TCS in India was chosen to partner up with the NHA (National Health Authority) for technical implementation. The company designed a cloud-based solution with high scalability and strong security to detect fraud. The organisation's successful implementation helped NHA achieve a glitch-free rollout of the PM-JAY scheme within six months. The cloud-based solution has facilitated the processing of claims pertaining to 7.3 million hospital admissions.
6. Sanitation
Another campaign by the Government of India that it has given momentum to is Swachh Bharat Abhiyaan. One of the main initiatives of the pan India cleanliness drive is Swachh Bharat: Swachh Vidyalaya. When PM Modi urged corporates doing CSR in India to join the drive by constructing toilets in schools, Tata Consultancy Services CSR did more than expected.
6.1. Swachh Bharat: Swachh Vidyalaya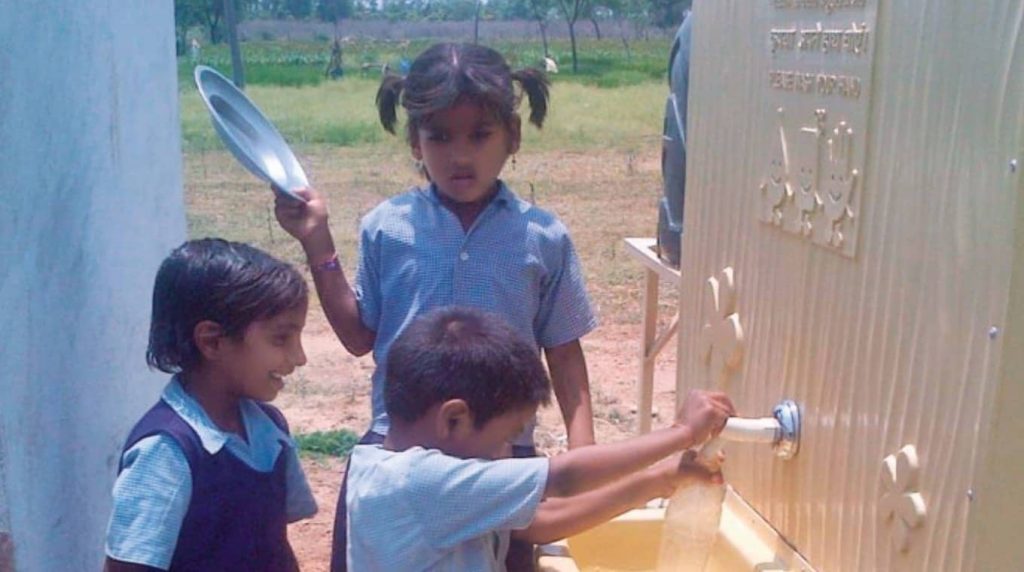 The Indian government allocated the company with schools in Andhra Pradesh, Telangana, Bihar and Tamil Nadu for Swachh Bharat: Swachh Vidyalaya (Clean India: Clean Schools). The IT major formed a taskforce to effectively partner up with Central and State governments and government agencies for a sanitation programme that went beyond toilet construction.
TCS CSR dug bore-wells to address water shortage, installed hand wash basins for each toilet, engaged multiple maintenance partners in each of the four states to ensure that they are cleaned every day and there is enough soup for the kids to wash hands with. The
corporate social responsibility
arm conducted pilot study to decide on the most suitable models for the toilet. The study was followed by small-scale modeling to finalise the design, timing and cost before construction could begin.
It wasn't enough to provide toilets for ending Open Defecation. Behaviour change was a major component of Swachh Bharat: Swachh Vidyalaya. The company held training workshops for the government school students, teachers and locals. They put up cleanliness posters in and around the classrooms. Students wore "I am the Change" badges.
This programme by TCS in India has led to 1,475 toilets in government schools, which have witnessed higher attendance and better hygiene.
7. Education
TCS corporate social responsibility makes good use of its pioneering stand in information technology to run literacy programmes that have proven to be Best in Class. One example is the Adult Literacy Programme (ALP), which has extracted many rural villagers from the scourge of illiteracy.
7.1. Lab on Bike
Lab on Bike is a quality education programme for government school kids, run in partnership with Agastya International Foundation. Lab on Bike goes beyond the usual arithmetic to incite curiosity and hone the soft skills in children. An instructor goes around schools on his bike with a compact kit to conduct science experiments. In the process, children learn new concepts in Physics, Biology and Chemistry. Teachers are also empowered in the process.
Lab on Bike added 1,540 students in 29 government schools in 2019. The CSR programme saw a 54% increase in reach compared to the year 2018.
7.2. Launchpad
Launchpad began in 2016 as a gamified free online course for higher secondary students to understand computer programming. Students get a basic foundation in C++ and Python through an interactive gamified platform. LaunchPad encourages independent learning, and treats students as thinking rational individuals rather than rote learning robots. It has reached out to more than 18,000 students in states like Gujarat, Tamil Nadu, Uttar Pradesh since 2016.
7.3. Project InsighT
InsighT ties in nicely with Launchpad. This CSR education programme was launched way back in 2006 for young college students hoping for a career in Information Technology to get a peek into that world. The higher purpose of the STEM CSR project is to improve the quality of IT professionals entering the field. InsighT has helped more than 24,000 students across India and Muscat get a glimpse into the IT world.
7.4. Adult Literacy Programme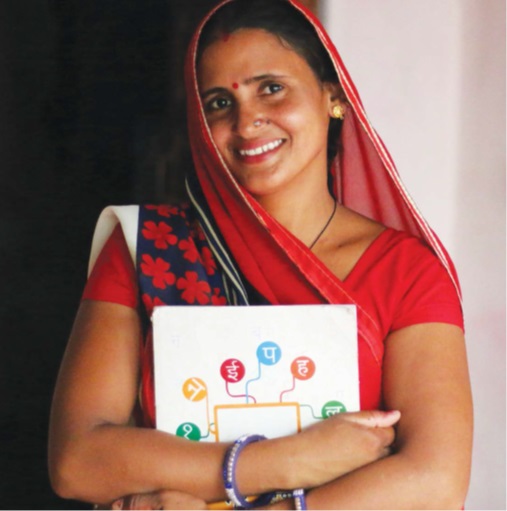 ALP or Adult Literacy Programme is a flagship CSR programme to support the Indian Government in its bid to improve literacy levels specially in the rural areas. We might take schooling for granted in the cities. However, in many villages, going to school is not standard practice. Children are sent to work in the field and girls as young as 6 years are additionally given charge of household chores and child raising. They grow up without learning how to read and write, crippling their economic and social progress. Of course, they are left out of the digital revolution as a natural consequence. 
ALP is changing that, one villager at a time. It was started at the beginning of the new millennium, in the year 2000, with the intention of making the grown-up masses functionally literate in their local language.
The CSR programme uses Computer Based Functional Literacy (CBFL) software developed in nine Indian and three foreign languages. CBFL is effective at imparting a non-literate adult with literacy in an astounding 50 hours!
7.4.1. Impact of ALP
The CSR team partners with local panchayats, NGOs, companies in the TATA Group to implement ALP. Jail inmates are also included as part of their rehabilitation into society. In the last four years, over 70,000 prisoners became literate because of ALP. Last year, ALP was implemented in 18 states. It won the PMI India Award for Contribution to Community, SABERA Award, and India Digital Award (from the Internet & Mobile Association of India) for Best use of technology to drive CSR in India.
Watch this video to get a gist of how ALP is changing literacy levels:
7.5. TCS Research Scholarship Programme
This programme is dedicated to higher education in STEM. The idea is to enrich the tech landscape of our nation through more research in the fields of computing and innovation. Selected PhD candidates from 66 top-ranking educational institutes are invited for a scholarship. The Research Scholarship Programme opens up their world through stipends and funds for more travel to present their research. It is currently working with 261 PhD scholars in India.
7.6. CSpathshala
CSpathshala is the brainchild of the Association for Computing Machinery (ACM) India. The STEM education initiative began in 2016 to teach computers in schools. TCS Gandhinagar partnered with Google and Ahmedabad University for training 93 government school teachers in Gujarat on how to use CSpathshala.
8. Skill Development
Skilling and upskilling in STEM and IT dominates the skill development projects. BridgeIT and IT Employability programmes work with industry aspirants. A special skilling programme for the visually impaired is an intersection CSR project of PwD Divyangjan and skill development.
8.1. Digital skills for visually impaired
Advanced Computer Training improves the employability of visually challenged persons. National Association for the Blind (Mumbai) and Mitra Jyothi (Bengaluru) are the primary institutes for this CSR programme. It also instills a sense of confidence in the divyang for handling complex technology and working in a suitable environment. The 45-day residential course is no child's play. It takes the participants through rather advanced subjects like website designing, big data and accessibility tech. Their soft skills aren't ignored either. On a larger scale, programmes like this shift the perspectives of prospective employers as to the aptitude of PwD.
Watch how it is transforming lives 
8.2. BridgeIT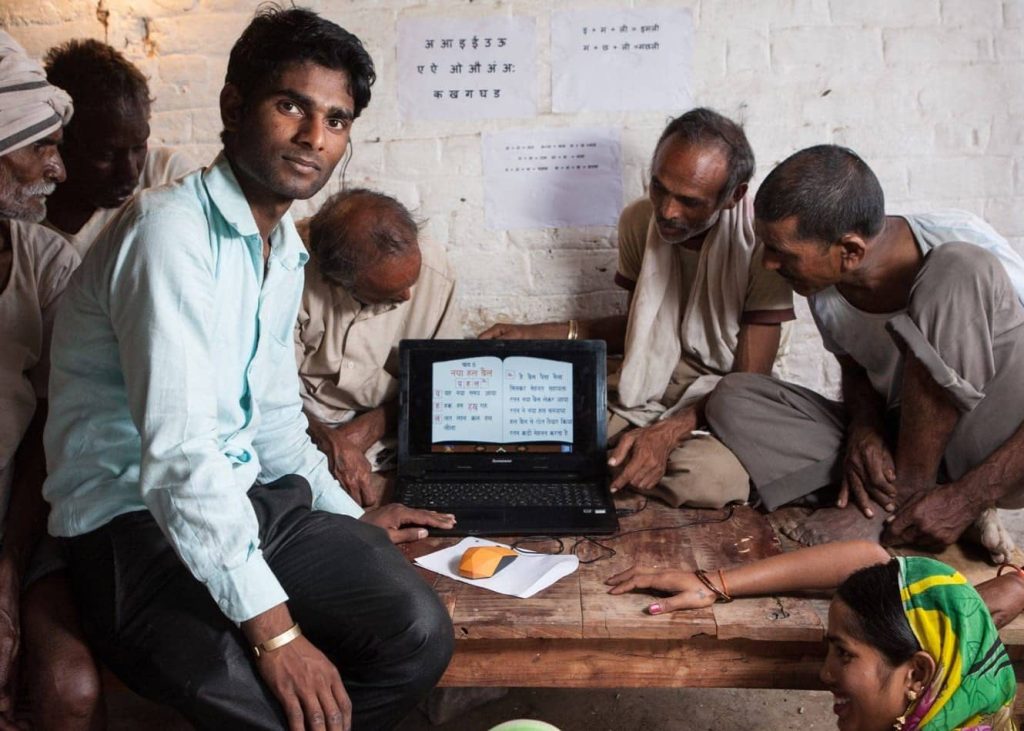 Young men and women in rural India don't have easy access to the internet, mobile technology and computer education. This drastically reduces their chances of having a career in IT and software. Try as they might, they simply don't have the tools to pursue a passion for ICT. BridgeIT was designed to literally bridge this gap in employment. While middle school children learn the basics of computer software, youth from marginalized communities become tech-savvy.
Those who show potential and interest in being entrepreneurs are interviewed. They get their own laptop and related paraphernalia. TCS corporate volunteers train these digital rural entrepreneurs in technology and soft skills. BridgeIT gives them a stipend for two years. A total of five years are spent with industry experts honing their business and soft skills.
Watch how it's opening doors in rural India 
8.2.1. Impact of BridgeIT
BridgeIT is another success model being replicated by various responsible businesses. Last year alone, the programme reached 14,028 beneficiaries, of which 100 were entrepreneurs. BridgeIT won Best Practices Award 2018 on Sustainable Development Goals at United Nations Global Compact Network India – National Convention 2018. The project won DIAN Decade Awards 2018 for Promotion of Social Inclusion in Asia.
8.3. IT Employability 
IT Employability dips into the corporate volunteer pool as well as the leadership team for maximum results. This STEM programme was launched in 2014. Undergraduate engineering and science students from low-income families in rural areas are priority. They get a quality degree education and become job-ready. Employees who are passionate about volunteering travel to remote locations to conduct IT Employability sessions covering business skills, aptitude and logic. Technical skills include programming languages like C, C++ and Java.
Students who graduate from IT Employability can participate in the company's placement drives. There's a noticeable difference in the participants before and after the programme. Last year, 200 students were placed in Tata Consultancy Services and 525 participants found jobs in other companies.
Watch the impact here:
8.4. Pan IIT Alumni Leadership Series (PALS)
PALS works with engineering students in Tamil Nadu. TCS in India has a number of staffers who are IIT Alumni and work with PALS. Some of them give talks on the industry and emerging tech.
8.5. DISQ
Digital Impact Square (or DISQ in short) is a social innovation centre built in Nashik for addressing various challenges to Nation Building. DISQ has taken on a life of its own, because of the sheer inventiveness of the young minds working there and the positive change their products and models have been able to bring about.
In conclusion
TCS in India has a massive STEM education and skilling legacy. The IT major plays on its strengths while designing CSR programmes. This has led to a high success rate and life-changing benefits for the participants they reach out to. Inclusive, diversity-friendly and cutting-edge, the interventions by this company are poised for the Fourth Industrial Revolution.