Top CSR Initiatives for Encouraging more Women and Girls in STEM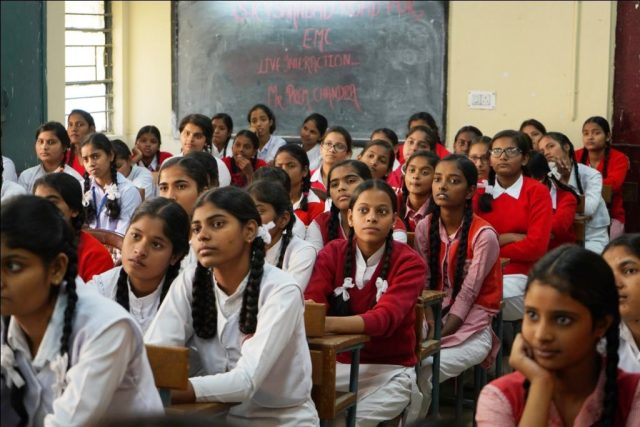 Women's participation in the workforce has been steadily increasing each year because of continuous efforts by the governments, non-profits as well as the global organisations. However, the representation of women and girls in STEM (Science, Technology, Engineering, Mathematics) fields is surprisingly less.
According to UNESCO, less than 30 per cent of researchers across the world are women. Only around 30 per cent of all female students select STEM-related fields in higher education. Globally, female students' enrolment is particularly low in ICT (3 per cent), natural science, mathematics and statistics (5 per cent) and in engineering, manufacturing and construction (8 per cent).
The CSR Journal takes a look at the contribution of CSR for inducting more women and girls in STEM fields in India.
Infosys Foundation's STEM Scholarship Programme for girl students
Infosys Foundation, the philanthropic and CSR arm of Infosys, announced in August this year that that it has launched a scholarship programme called 'STEM Stars' to support education in STEM (Science, Technology, Engineering, Mathematics) fields for underprivileged girl students.
The programme aims to encourage and provide financial assistance, thereby helping them pursue an undergraduate degree in STEM. As part of the first phase of this programme, over 2,000 girl students across the country, who intend to pursue higher education in any of the STEM fields from reputed colleges, will be given financial assistance for four years.
In India, the primary factors preventing students from choosing STEM courses are lack of access, mentorship, and monetary constraints. The STEM Stars scholarship will help cover tuition fees, living expenses, and study materials of up to INR 1 lac annually for the duration of the STEM course. In its inaugural year, this scholarship will cover NIRF (National Institutional Ranking Framework) accredited institutes that include, the IITs, BITS-Pilani, NITs, and renowned medical colleges, the company announced.
Rolls-Royce's Unnati Scholarship Programme for Women Engineering Students
In June this year, on the occasion of International Women in Engineering Day, Rolls-Royce announced the launch of the fourth edition of its Unnati Scholarship Programme for Women Engineering Students, in association with Buddy4Study and Charities Aid Foundation (CAF) India.
With a focus on bridging the gender gap and raising female representation in STEM (Science, Technology, Engineering and Mathematics), this programme aims to provide financial support to meritorious students from economically underprivileged backgrounds. The scholarship is open to all women students enrolled in undergraduate engineering degree programmes at any AICTE-recognised institution in India and fulfilling the criteria of the scholarship.
Rolls-Royce's Unnati initiatives include a range of programmes that reach out to thousands of female students in middle and high school, as well as scholarships for STEM undergraduate studies that benefit hundreds of young women.
Sabre supports installation of STEM labs in six schools of rural Karnataka
Together with not-for-profit organization United Way Bengaluru (UWBe), Sabre Corporation, a leading software and technology provider recently announced that they have supported STEM labs in six Government-run schools in Chikkaballapur, rural Karnataka, close to Bengaluru. Many of the schools are based in underprivileged areas, and Sabre's contribution is expected to improve the education of around 1,600 students from 26 villages every year. Around 1,000 of these are from a girls-only school, supporting the drive to encourage more women to enter technology fields. The labs are aimed at making complex subjects and concepts easier to understand while opening up new learning and career paths.
The new STEM labs will take learning beyond textbooks and into first-hand, practical experiences; fostering critical thinking, problem solving, and analytical mindsets, while encouraging students to improve communication skills through teamwork. This is expected to help to build confidence among students, while reducing the number of those dropping out from school.
All six new STEM labs were inaugurated at a special opening ceremony in October this year, where students from the schools presented models, they had created through learning activities in their new labs to teachers along with special guests from Sabre, UWBe, the Deputy Director Public Instruction, and Block Education Officers.
Iopex technologies supports STEM education of girl students in Chennai
In an effort to enhance the skills of students from rural communities, iOPEX Technologies announced partnership with Bhumi, independent youth volunteer non-profit organization, to provide STEM (Science, Technology, Engineering and Mathematics) education to more than 1,500 students from Grade VII to IX of Perunthalaiva Kamarajar Government Girls Higher Secondary School, Ambattur, Chennai in December, 2022.
The programme is designed to provide relevant education to the underprivileged children and engage them in subjects wherein they discover their true potential with the help of new learning methodologies such as fun-filled, interactive, and do-it-yourself activities.
IBM's Initiative for STEM for Girls in India
In order to empower high school girl students to thrive in the digital economy, IBM has launched an initiative called STEM for Girls India. It is a three-year CSR programme (starting from the eighth standard) for imparting digital literacy and coding skills alongside career development and empowerment. The goal is to inculcate STEM skills and improve career prospects of over 2,00,000 girls and 1,00,000 boys too by making them employment-ready. The project began in 2019 and now spans 10 states, 600 secondary schools 78,000 girls and 45,000 boys.
The program is significant, as the new-collar jobs today demand technical skills in AI, data science, cybersecurity etc. These subjects require a knowledge base to be built in STEM during secondary and higher education.
IBM is also working closely with various state governments to help develop STEM skills among students. For instance, the company signed an agreement with Andhra Pradesh State Skills Development Corporation, Government of Andhra Pradesh to establish a Centre of Excellence (CoE). The CoE will provide high-end training in coding, cloud computing, AI, blockchain, Big Data and data analytics, cybersecurity and full-stack development.
IBM has also joined hands with Telangana Academy for Skill and Knowledge, Government of Telangana to offer 'Open P-TECH', a digital education platform. Under the partnership, IBM is providing P-Tech for learning emerging technologies and building professional development skills like design thinking to 30,000 students from polytechnic and engineering streams.
Mastercard's Girls4Tech Program
Mastercard launched Girls4Tech program in 2014 to create future problem solvers by incorporating the payments technology company's deep expertise in technology and innovation. The program's aim is to enable kids to discover a range of STEM careers, such as fraud detective, data scientist and software engineer. In 2020, the company announced a new goal for the program to reach five million girls globally by 2025.
In India, supported by the Mastercard Impact Fund and in partnership with the American India Foundation (AIF), the program will train 1,200 teachers in 350 villages and five cities including Gurugram, Pune, Vadodara, Mumbai, and Chennai on the Girls4Tech curriculum by 2021. Through the partnership, the program will reach 100,000 girls ages 8-14 across 475 schools over the next 12 months.
Through the website Girls4Tech Connect, teachers and parents can download lessons to help students learn about STEM topics including encryption, fraud detection, data analysis and digital convergence, from the comfort of their homes or anywhere around the world. Lessons are currently available in English, Chinese, Hindi, Malay, Arabic, Spanish, Portuguese, French and Polish.
Mastercard aims to stimulate meaningful partnerships focused on empowering women to succeed in the digital economy. This initiative is a part of Mastercard's recent commitment of Rs 250 crores (US$33 million) to help reboot Indian SMEs to unlock their economic potential.
Cisco's Girls Power Tech Initiative
Cisco's global initiative, Girls Power Tech (GPT), is a special learning opportunity for girls and young women to connect with Cisco mentors at offices around the world. GPT aims to inspire them to consider educational and career paths in Science, Technology, Engineering, and Math (STEM).
Every April and May, the company hosts Girls Power Tech in alignment with the UN Girls in ICT Day, a global event organized by the UN International Telecommunication Union. The initiative connects girls and young women ages 13 to 18 with Cisco mentors for a day. Through this program, it has shared opportunities in the tech sector with thousands of young women worldwide. Cisco offices in Europe, the Middle East, Africa, Asia, and the Americas hold events including office visits, tours, and presentations by female leaders. These employees discuss career opportunities and life in the technology field.
Students also get to use Cisco collaboration technologies to interact with other leading women at Cisco, as well as other girls participating in-office visits around the globe. More than 115 Cisco sites participated in Girls Power Tech in FY19. Each site determines what programs to offer.
Covestro India's Efforts to Inspire Girl Students to take up STEM Education
Covestro, the global manufacturer of high-performance polymer materials, is taking steps beyond manufacturing to promote STEM learning among girls. The company has collaborated with g4g (greenlight for girls), an NGO based in Belgium to conduct a series of STEM workshops across the country. Over 100 girls in the age group of 10 to 15 years participated from different schools wherein they conducted simple science experiments that stimulated their curiosity and interest in science.