Home
Leaders Speak
The CSR Journal exclusive: Navya Naveli Nanda and Samyak Chakrabarty open up...
The CSR Journal exclusive: Navya Naveli Nanda and Samyak Chakrabarty open up on 'Nimaya', a workplace skills programme for young women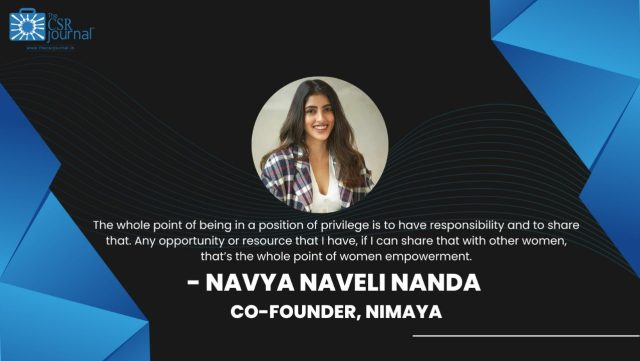 Bollywood megastar Amitabh Bachchan's granddaughter and entrepreneur Navya Naveli Nanda along with entrepreneur Samyak Chakrabarty recently launched the second cohort of Nimaya in Mumbai. In an exclusive interaction with The CSR Journal, Navya and Samyak open up on project Nimaya.
What is Nimaya
Nimaya is a 21st century workplace skills programme for young women co-founded by entrepreneurs Navya Naveli Nanda and Samyak Chakrabarty. The purpose is to enable girls from under-resourced communities to build aspirational careers.
Second cohort of Nimaya launched
Digital FMCG conglomerate, The Good Glamm Group hosted the orientation in Mumbai. Naiyya Saggi, Co-founder, The Good Glamm Group and Founder BabyChakra, along with Nimaya Co-founders Navya Naveli Nanda and Samyak Chakrabarty recently flagged off the second cohort of Nimaya's workverse programme at the Good Glamm Group Headquarters in Mumbai with 30 selected young women pursuing engineering supported by Nimaya. The association is expected to benefit girls from colleges across Mumbai.
Skills valued by employers
Nimaya is built on the philosophy that skills such as critical thinking, problem solving, collaboration and storytelling are as important as technical skills and are highly valued by employers.
Why soft skill training is necessary
Talking about the necessity to develop certain soft skills among female students, Nimaya Co-founder Navya Naveli Nanda told The CSR Journal during an exclusive interaction, "Along with the technical skills that the girls come with from their respective colleges, we like to focus on things that we believe are extremely useful in the 21st century workplace. Things like creative thinking, problem solving, teamwork, which we may not necessarily be taught in schools and colleges— these are the soft skills that we want to focus on because that's what we believe will make the next generation of leaders."
Breaking barriers
The underlying principle behind Nimaya is to democratize access to 21st century skills and breakings barriers like mindset, family background, region, type of college, gender etc. Nimaya co-founders believe proficiency in these skills can enable young women to achieve leadership positions in the corporate world.
"Any girl who has a dream, any girl who wants to build a great career and break barriers, whatever the barriers are, some can be economic while some can be social. For example, Navya and I we have friends from so called privileged families where the girls are told to get married. So, it's not that money is the only barrier. Sometimes the kind of family you come from is a barrier. So, I think Nimaya is about helping you break your barrier, whatever it is," explained Nimaya Co-founder Samyak Chakrabarty.
Women empowerment
Talking about their purpose of women empowerment via project Nimaya, Navya expressed, "I think that I've been given a lot in life, a lot that I even probably don't deserve. The whole point of being in a position of privilege is to have responsibility and to share that. I think that if we want to talk about women empowerment, just me being empowered and running a company is not going to solve the problems. I think that any opportunity or resource that I have, if I can share that with other women, that's the whole point of women empowerment."
Bollywood connection
Navya, daughter of business personality Nikhil Nanda and Shweta Bachchan Nanda has successfully created a space for herself as an entrepreneur in such a young age. Quizzed why she did not ever consider having a career related to acting or filmmaking despite being related to Bollywood icon Amitabh Bachchan, Navya replied…. Watch The CSR Journal exclusive video interview to learn her take!