How does new technology and what kinds of new technology lend additional efficiency to the solar energy landscape in India are the main aspects of solar energy that are addressed in this column.
Why should Solar Energy be employed in India?
India is one of the most densely populated countries in the world. With a population of around 1.3 billion people, fossil fuels continue to be insufficient to satisfy the growing energy needs of a developing country such as India. There are also numerous other factors which make this country a suitable environment for the utilization of solar technologies:
India, lying fairly close to the equator, has high exposure to the sun's rays, therefore, it can be said to have high solar insolation. India receives solar radiation all throughout the year which roughly amounts to 3,000 hours of sunshine which can be used to generate a wattage of up to 5,000 trillion kWh. This amount would be more than enough to satisfy all the energy needs of the country.
Another factor is that solar energy does not add to the already high pollution levels in the nation since it does not release Carbon Dioxide gas (a primary pollutant) when it is transmitted. Projects such as the smart grid in Haryana and solar rooftops in Gujarat reveal that solar power is the way forward for India to progress from a developing country to developed one.
Solar Modules
In India, due to various factors such as a growing energy need, a developing economy and increasing pollution levels, it is very important to first decide what kind of solar photovoltaic cell to use. In India, according to the website of India's electricity conservation initiative – 'Bijli Bachao', the most readily available solar cell in India are of the crystalline variety, more specifically- polycrystalline and multi-crystalline due to their reduced costs. Reduced cost means that solar panels of these types are preferred by both buyer and seller (producer) in a developing economy such as India.
The next big factor which needs to be taken into consideration when addressing the right solar panel for the India is Climate. According to research conducted in Malaysia by Azhar Ghazali M. and Abdul Malek Abdul Rahman regarding which solar cell performs best in Malaysia's climate, it was found that poly-crystalline solar cells have shown better performance ratio and average module efficiency compared to the other tested PV cell under Malaysian climate.
Though Malaysia's climate is more humid as compared to India, the one major similarity between the two is the solar intensity, i.e. the exposure to the sun's rays throughout the year. India, like Malaysia, is a developing economy and has high solar insolation: another reason why polycrystalline solar panels are favoured in India.
Solar Technologies Employed in Prominent Solar Projects in India
Azure Power
As the horrors of using fossil fuels have begun to come to light in the country, government officials have begun to authorize the transition from non-renewable to renewable forms of energy. Companies like Azure Power are at the forefront of this transition. They installed the first solar rooftop in Gujarat and the solar rooftop project in Gujarat has since become that largest solar project in India in residential areas.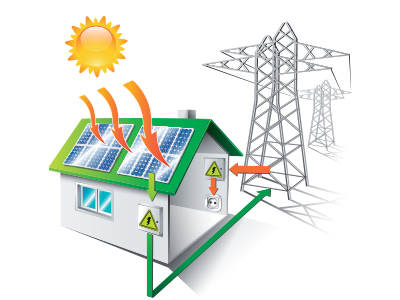 This is a diagram depicting the procedure of harnessing solar energy via crystalline (and maybe thin-film) solar modules mounted on the roof of a house and rerouting it to the mains of the house to supply electricity
Smart Grid Project in Gurgaon
Gurgaon, being one of the most prominent industrial and financial hubs of the country, was in desperate need of an efficient and green manner in which electricity could be generated. The per capita consumption of electricity in Gurgaon is around 4000 kWh per annum which is expected to increase to up to 6400 kWh by 2022. The project was divided into 3 phases with each phase covering multiple of the 57 sectors in Gurgaon. The project made efficient and innovative use of the of existing technology to deal with the major problems of transmission and distribution in Gurgaon.
The essence of the project is that over 7,000 power lines will be shifted underall throughout the city after the installation of solar panels across the city in schools and other municipal areas.
Indira Parayavaran Bhawan
This project's outline involves a plot of 9565 sqm upon which a multi-functional government building will be built. The entire building, including a fully automated robotic parking lot, will be powered by a rooftop solar plant. This is a project that began in 2014 and has since become one of the most innovative solar power projects in India. The rooftop solar plant will span 6000 sqm and will generate a wattage of 930kW. This is India's first multi storeyed building with 100% on site power generation.
The project has also used multiple energy saving schemes to cut down on costs and channel the funds into developing more advanced technology such as the aforementioned automated and robotic parking lot. The energy saving schemes include using specialized LED lights and sensors to ensure that the energy reserves are not depleted unnecessarily.
Conclusion
The usage of renewable sources of energy such as solar marks a shift in the mindset of the government of India and the population from an environmental standpoint. This positive shift signifies that people are now more willing to accept sources of energy which take time to establish, but once established function on the principle of sustainable development wherein not only do they satisfy their own needs in an environmentally responsible manner but they also use resources in order to maintain an environment wherein the youth of India can prosper.
Aayush Dutta is a Grade 12 student of TSRS Aravali
Views of the author are personal and do not necessarily represent the website's views.
Thank you for reading the column. We appreciate the time you have given us. In addition, your thoughts and inputs will genuinely make a difference to us. Please drop a line and help us do better.
Regards,
The CSR Journal Team