Home
Header News
Tamil Nadu Police launches initiative for safety of women travelling alone at...
Tamil Nadu Police launches initiative for safety of women travelling alone at night
Are you a woman residing in Tamil Nadu? Do you have to travel late night for work or any other purpose? Do you feel scared or unsafe while travelling alone at night? If the answer is 'yes', then here is good news for you!
Tamil Nadu Police has launched a new initiative keeping the matter of women's safety in the state a top priority. Under this, women travelling alone in remote locations can seek police assistance anytime if they feel unsafe. The initiative is called 'Pengal Pathukappu Thittam' (Women protection scheme).
Helpline number
The police have launched a helpline for women travelling alone at night between 10 pm and 6 am. The helpline numbers are 1091, 112, 044-23452365 and 044-28447701.
Patrol vehicle
If they feel unsafe travelling alone, any woman can approach the police and seek assistance through the above helpline numbers, following which, she will be provided with a police patrol vehicle for travelling. The vehicle will pick up the woman from her current location and drop her till her destination. This facility is available every day and it is completely free.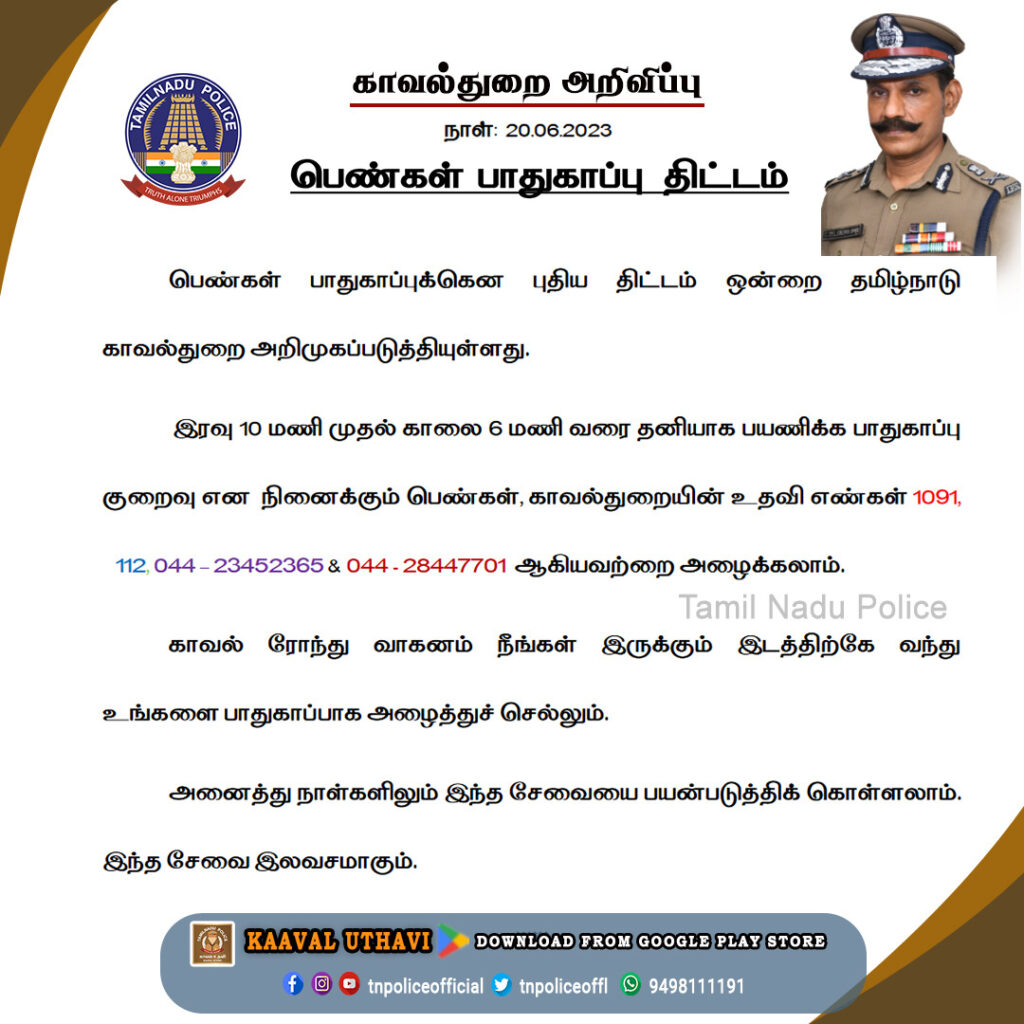 Cybercrime
In October last year, Coimbatore Police launched a project called 'Police Akka' (Police sister) to prevent young girls, especially college students from falling prey to cybercrime. As part of the initiative, female cops will pay a visit to colleges once every week or fortnight and interact with girl students spreading awareness and warning them about different kinds of cyber crimes which they can fall prey to. Contact numbers of these female cops will be shared with the students so that they can reach out in case of any query or seek assistance.
For abandoned citizens
'Kaaval Karangal' is an initiative by Greater Chennai Police where the police rescue people who are abandoned and need protection and care, including the mentally ill. As part of this project, the police also arrange for medical care, shelter, counselling and reunite the lost or abandoned people with their family with the help of NGOs. Also, under this initiative, unclaimed dead bodies are cremated with dignity by the police and volunteers.