Amethi, India: The Hon'ble Minister of Women and Child Development and Minority Affairs of the Government of India, Smriti Zubin Irani, today announced the...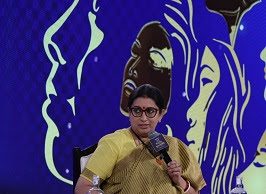 Speaking on India's women-led development phase underlined by PM Modi, Smriti Irani, Minister of Women & Child Development said, "The very phrase 'women-led development' is a tectonic...
केंद्रीय महिला और बाल विकास मंत्री स्मृति ईरानी (Smriti Irani in Wayanad, Kerala) ने मंगलवार को केरल में कांग्रेस सांसद राहुल गांधी (Rahul Gandhi)...
FICCI Ladies Organisation (FLO), the women business wing of the Federation of Indian Chambers of Commerce & Industry (FICCI) conducted a session with Smriti...
Following the Prime Minister's toilets-for-all clarion call, different ministries have already started drawing up blueprints with executable plans, even as government sources admit preparing a collaborative strategy to manage wp funds is proving to be a challenge.