Home
Tags
Fortis Healthcare
Tag: Fortis Healthcare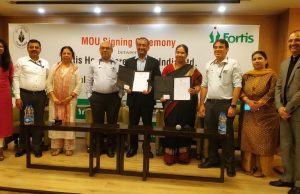 Continuing with the aim of saving and enriching lives, Fortis Healthcare has joined hands with Coal India Limited (CIL) to treat underprivileged children suffering...
तस्वीरों में दिख रहे ये बच्चे महाराष्ट्र के दूरदराज इलाकों से आये है। कोई चंद्रपुर तो कोई नागपुर से है। कोई नक्सल प्रभावित इलाके...
Goodyear India is partnering with Fortis Escorts Hospital, Faridabad as part of its annual CSR initiative. This partnership aims at equipping the pediatric ward...
According to the World Health Organisation (WHO), Antimicrobial resistance happens when microorganisms (such as bacteria, fungi, viruses, and parasites) change when they are exposed...