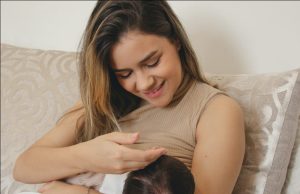 जब भी इस दुनिया में नवजात बच्चा आता है उसके लिए जन्म के आधे घंटे के भीतर मां का गाढ़ा दूध पिलाना बहुत जरूरी...
As a newborn takes the first breath on earth, the first food or drink he/she gets introduced to is nothing else but mother's breast...
There is a well-established connection between breastfeeding and immunity building in babies. This is further corroborated by results of a new survey by Momspresso,...
All women and their children should be free to breastfeed in public, anytime, anywhere. Breastfeeding has amazing health benefits for both mother and child....
Human breast milk has the greatest potential impact on child survival, since it provides unique nutrition and immune support that babies need to strive and thrive. However, the awareness on the importance of breastfeeding and early nutrition is still poor among new mothers in India with many avoiding feeding colostrum (first milk) to the baby.