The focus of sustainability has moved away from just meeting the statutory obligations of CSR spending. Organisations are no longer only interested in meeting the legal regulations regarding contribution to CSR activities. Increasingly, companies have realised the importance of making a socio-environmental impact with their activities. It is evident in the fact that in FY 2017, nearly half of the top 10 spenders spent more on CSR activities than the prescribed limit. The objective of organisations is to make a social impact by undertaking more nuanced and high-impact activities. More and more companies are including sustainability practices by pursuing initiatives that will positively impact the social and environmental landscape. This trend will become more prevalent in the coming year. The concept of sustainability will become more central to the way businesses approach their financial goals.
Focus areas in 2018
Sustainability initiatives in 2018 will primarily focus on the areas of skill development, health, education, sanitation, water conservation, renewables, waste management and drought mitigation. The objective of the initiatives will be threefold: improve the livelihood of communities, protect the environment and conserve scarce natural resources. The emphasis will be on making a difference to the community, society and the environment.
Partnering with the Government
The year 2018 will also see a lot of public-private partnerships to bolster initiatives by the Government such as Skill India and Swachh Bharat Abhiyaan. Tata Trusts has deployed 600 Zila Swacch Bharat Preraks (ZSBPs); one in each district to assist the district administration in making India Open Defecation Free (ODF). These ZSBPs will provide much needed operational, technical and management support. The Godrej group, under its Good and Green sustainability strategy, is running malaria eradication programmes in nine districts in MP. There will be more programmes like these, which will see private sector organisations partnering government entities to further the cause of sustainable development.
The rural community
A lot of attention will be paid to the upliftment of the rural sections of the society. Companies like ITC and HDFC bank are penetrating deep into the rural landscape to empower local communities. ITC, for instance, has focused on two stakeholder communities: the rural communities with which ITC's agri-business has forged partnerships and the communities residing in the vicinity of their production units. HDFC bank has launched a Holistic Rural Development Programme (HRDP) to address the financial inclusion of the rural communities and other developmental issues. This programme now covers 750 villages. Under skill based training programme Godrej has also trained 3 lakh plus beneficiaries in rural sector.
Integration of sustainability into mainstream business
Sustainability will increasingly be integrated into the mainstream business of organisations. Organisations are realising that they have a responsibility towards the society which nurtures their business interests by consuming their products and services. For example, Hindustan Unilever Ltd (HUL) has designed a clear strategy to source 100 percent of its agricultural raw material from sustainable sources. Their tea procurement project carried out as part of their CSR activities is a prime example of this. More companies will emulate these models and make sustainable practices an integral part of their business interests.
Sustainability is no more charity
The trend of moving away from just indulging in charitable activities will continue with organisations strategically institutionalising CSR activities. In 2016, less than four percent of the CSR spends were towards charity. Companies are increasingly looking at mechanisms to enhance their strategic brand value through active involvement in projects that make a social impact. FMCG firms that source raw materials from farmers will make an effort to ensure that their livelihood is secured. Energy companies will invest in environment-friendly projects such as waste management and emission control to mitigate their risks regarding the loss of reputation.
Measurement of effectiveness
Another area which will see an increased emphasis is in the monitoring of SROI (Social Return on Investment). With Indian companies going global, international investors will be interested in knowing the effects of sustainability practices adopted by the companies. Also, with SEBI and the Government taking an interest in declarations about CSR activities, this is an area which will see significant attention.
Adoption of technology
Technology will play a prominent role in the way that sustainable practices and CSR initiatives are undertaken. Technology will not be limited to monitoring the progress of the programmes. It will also play a part in the way activities are carried out. For instance, training on skill-based programmes will be delivered on hand-held devices or through portals. It will increase the universe of the beneficiaries as well as allow them the freedom to learn at their own pace and convenience.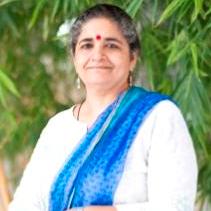 Dr. Vikas Goswami heads the Sustainability function at Godrej Industries Limited and Associated companies.
In her current role, Vikas drives the Group's 'Good & Green' vision of creating a more employable workforce, building a Greener India and innovating for good and green products. Under her leadership, the team is laying down processes to evaluate the impact of the Group's Good & Green initiatives.
Views of the author are personal and do not necessarily represent the website's views.
Thank you for reading the story until the very end. We appreciate the time you have given us. In addition, your thoughts and inputs will genuinely make a difference to us. Please do drop in a line and help us do better.

Regards,
The CSR Journal Team