Himmat Hai Toh Jeet Hai: Feroz Abbas Khan and Poonam Muttreja, PFI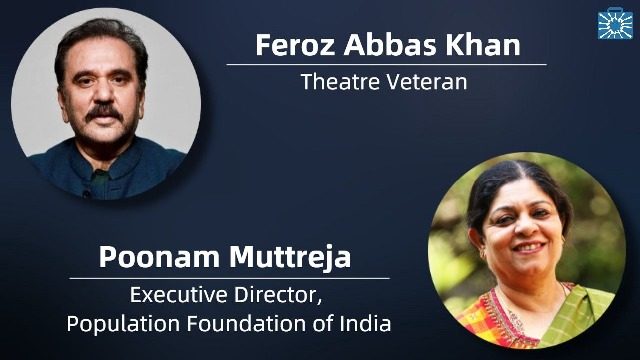 Together, we can surmount any crisis – including a global pandemic. This is the underlying message of nonprofit organization Population Foundation of India's new campaign that is trying to put some cheer back in people's lives.
The CSR Journal spoke to Poonam Muttreja, Executive Director, Population Foundation of India (PFI) and two-time National Award-winning filmmaker and theatre veteran Feroz Abbas Khan who has creatively supervised the campaign with the slogan Himmat Hai Toh Jeet Hai. They talked about family planning, behaviour change, and entertainment education.
What does Population Foundation of India do primarily?
Poonam Muttreja: PFI is a 50-year-old organization set up by JRD Tata. We focus on women's reproductive sexual health and rights. We also focus on public health in general, specially from a rights point of view. Much of our work, especially in collaboration with Feroz Abbas Khan, is on health education and changing behaviours of people for better health outcomes.
What has been keeping PFI busy during the pandemic? We read an interesting report by PFI on family planning during COVID-19.
P.M: It is the frontline health workers like ASHAs and Aanganwadi workers who are responsible for persuading women and helping them access family planning services from the public health system which is primarily at the district hospital or community health centres. The frontline workers were tasked with taking the entire burden of COVID-19 whether it was door-to-door inquiries in households to see if anyone had signs and symptoms. Distributing contraceptives and condoms is part of their usual scope, but they had to stop doing this because they were so busy with the lockdown arrangements.
We knew from the field reports that women weren't getting any access to family planning services. The private sector completely closed down in villages. The public health system was not providing any family planning services. The result is that we are going to have almost 20 million pregnancies this year. There's a huge unmet need for safe abortion and family planning services. A lot of women got pregnant in the lockdown because they didn't have access to family planning services. The number is so big that it's going to be rather difficult for us to make up. Secondly, no child should be an unwanted child.
The statistics you spoke about put the work of PFI at the centre of it all. Going forward, what is the next plan of action for the organization in the pandemic?
P.M: We tried our best to convince state governments to start distributing condoms where the migrants were quarantined. Before they were sent home, we tried to organise various ways of reaching contraception through a gamut of NGOs across the country.
The video for PFI's new campaign Himmat Hai Toh Jeet Hai is getting traction. It is quite a departure in mood and content from the PFI's previous work. How did you zero in on this slogan?
P.M: What we found was Logon ki himmat toot rahi hai (people are losing faith). People are demoralized. Anxiety levels are high. People are fed up of being locked in their houses. They are fed up of living in the fear of getting infected with coronavirus, of getting treated, of losing jobs. Every possible thing that could go wrong has happened. On top of all this, people don't know when this pandemic will end.
We got together and realized that while we continue to talk about wearing masks and washing hands, logon ko himmat chahiye (people want hope). That's how the slogan Himmat Hai Toh Jeet Hai happened. That is why we came up with this positive and cheerful campaign.
Mr. Feroz Abbas Khan, we are familiar with your exemplary work in theatre and cinema. You have had a long association with PFI and other civil organisations. How did you get in on this campaign?
Feroz Khan: There was a television programme 'Main Kuch Bhi Kar Sakti Hoon'. It's one of the most important programmes on entertainment education and behaviour change. We have done more than 183 episodes of this hugely successful show. There was another popular TV programme on gender based violence called 'Bas Ab Bahut Ho Gaya'. I worked with Farhan Akhtar's organization MARD for creating this show.
I have been associated with various PFI initiatives for behaviour change and entertainment education. So, when the idea for Himmat Hai Toh Jeet Hai came, we had a wonderful partnership with the agency STCH communications which created the video. They were brought in to discuss the campaign. We decided on an underlying message of hope because we needed people to cheer up, to say 'This too shall pass'. This collective sense of hope and resilience will see us through the pandemic. There are many video narratives of resilience in the face of COVID-19 that you will see in the campaign.
What else can we expect to see in the campaign?
Feroz Khan: You will have to wait and watch! The first glimpse of the Hasya Kavi Potliwala was just released. He's a wonderful animated character who tells a story in 30 seconds. The animation films talk about everything from hygiene to resilience, but it's done in a fun way.
Whenever art and social development have come together, the results have been spectacular. Do you see art and social change coming together more often in the future?
Feroz Khan: Art naturally aligns itself with social change. For a long time, the art and social communities were working in silos. However, when the two intersect, the results are not only spectacular but also meaningful. Art is more meaningful. Social causes find a good vehicle to communicate what they want to do.
On a larger scale, I think we need to do that. There is a lot of social garbage with the new entertainment format. It has been extremely depressing and distressing to see the new kind of entertainment on television and news channels. It's important for the artistic community to ensure that this social kooda kachhra doesn't spread too much and we manage to clean it up.