National Voters' Day 2023: Who can vote in India and how
Since 2011, 25th of January is observed as National Voters' Day in India to mark the foundation day of the Election Commission of India (ECI), which was formed on this day in 1950. The purpose is to encourage young voters to participate in the polling process. For this, the government of India announces and conducts various exercises to spread awareness about the importance of voting in a democracy and educate people about their voting rights.
Ahead of National Voters' Day 2023, The CSR Journal takes a look into who can cast vote in India, how to apply, where to find the polling booth, what facilities are available for senior citizens and Persons with Disabilities and more.
Who can vote in India
Indian citizens aged 18 or above are eligible to cast their vote during elections. Any Indian citizen who is a resident of the polling area of a constituency where they wish to be enrolled, can apply for voter card. However, a person, who has been disqualified to be enrolled as an elector, cannot cast their vote.
How to register for voting online
The Election Commission of India offers online voter registration for Indian citizens who have attained the age of 18 on the qualifying date (1st of January of the year of revision of electoral roll).
The citizen can enroll himself/herself as General Voter and fill Form 6 online at National Voters' Service Portal. Registered voters should also check their enrollment status, according to Systematic Voters' Education and Electoral Participation programme (SVEEP is the flagship programme of the Election Commission of India for voter education, spreading voter awareness and promoting voter literacy in India.)
General Voters need to fill Form 6, which is also for 'First time voters' and 'voters who have shifted to another constituency'. This form is available on the official website of the Election Commission of India.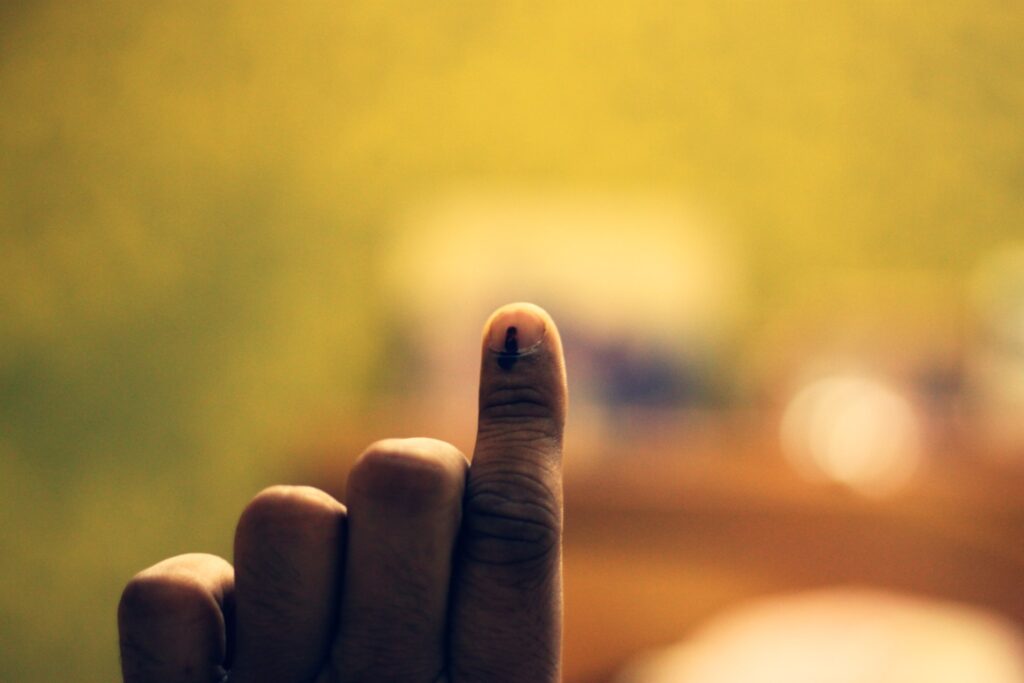 For NRI voters
NRI Voters will have to fill form 6A, which is available on the official website of the Election Commission of India.
How to register for voting offline
Those who are unable to register online can opt for offline registration. For registering offline, a person has to fill two copies of Form 6. (This form is available free of cost in offices of Electoral Registration Officers/ Assistant Electoral Registration Officers and Booth Level Officers.) The application accompanied by copies of the relevant documents can be filed in person before the concerned Electoral Registration Officer/Assistant Electoral Registration Officer or sent by post addressed to him/her or can be handed over to the Booth Level Officer of the concerned voter's polling area. For further information or assistance, one can dial the helpline number 1950.
How to check your registration status
A user has to visit National Voters' Service Portal and click on the 'search in electoral roll' button on the homepage to check if he/she has been registered to vote. If the person's name appears in the list, then he/she is eligible to vote. If not, then the person needs to freshly register to vote, which can be done by visiting Election Commission of India's Voter Portal.
How to find your polling booth
Voters can go to National Voters' Service Portal or use the Voter Helpline App to find their polling booth. Information can also be collected by calling the Voter Helpline, the number is 1950 (add STD code before dialling). For information about Polling station location, SMS space to 1950.
Voter Helpline App
An Indian citizen can also use Voter Helpline App to verify their name in Electoral Roll or register online. What is this Voter Helpline App?
The Voter Helpline App has been designed by the Election Commission of India which is available on android and iphone appstore. This app helps users to register as a voter, check information about any candidate and other election related details, check Election results, file a complaint, learn about the Electronic Voting Machine or EVM etc.
How to notify about changes in your details
If any voter wants to make any change in (Name, Photo, Age, EPIC Number, Address, Date of birth, Age, Name of relative, Type of relation, Gender), then that person must fill Form 8 (Form 8A for Persons with Disabilities) which can be accessed from the official website of the Election Commission of India.
For address change within the same constituency
In case a voter is shifting from one place of residence to another within the same constituency, then that person can notify the Election Comission about the same via Form 8A.
Voters with disabilities and reduced mobility
Voters having one among the 21 disabilities as mentioned by the Rights of Persons with Disabilities Act 2016 are termed as voters with disabilities. These include blindness, low vision, deaf, hard of hearing, physical disabilities, mental illness (psycho social disabilities), leprosy cured, intellectual disabilities, cerebral palsy, dwarfism, muscular dystrophy, acid attack victims, speech and language disability, specific learning disabilities, autism spectrum disorders, chronic neurological disorders including multiple sclerosis and Parkinson's disease, blood disorders including haemophilia, thalassemia, and sickle cell anaemia, and multiple disabilities.
Apart from this, if a person has reduced mobility and/or motor function and/or physical coordination due to age, temporary ailment, pregnancy and other disease, and needs to be facilitated to get registered and to vote, are termed as voters with reduced mobility and physical functions.
A voter with disability or his/her companion can approach the help desk or booth level officer or presiding officer for any specific requirements with regard to voting.
Facilities for voters with disabilities
For Persons with Disabilities at the polling booth, the Assured Minimum Facilities that will be made available for them include signage, help desk, polling booth at ground floor, obstacle-free wide levelled pathway from entrance to voting compartment, Ramp as per GOI standards, accessible toilets, drinking water, separate entry and exit, lighting, accessible furniture, braille ballot guide, adjustable braille embossed EVMs, wheel chairs, booth volunteers and display of accessible posters on information pertaining to voting.
Online /sms booking for wheel chairs and volunteer can be done prior to poll day so that the facilities are assured to voters with disabilities/reduced mobility at polling booths. In some polling booths prior booking of parking facility is also available. Similarly, voters with disabilities can also avail exclusive transport facility in some constituencies.
Apart from this, there are other facilities like free transport facility for Persons with Disabilities in local public transport system and dedicated parking system for vehicles of voters with disabilities.
PwD app
The Election Commission of India has launched an app called the PwD app which enables PwD voters to enrol, verify their names on the electoral roll, and make changes/corrections in details like their name, address, photo etc. The app has mobile accessibility features like a voice-over prompt, a highly contrasting design, and simple navigational features.
Voting through postal ballot
The Election Commission allows casting vote through postal ballot for absentee voters in the category of Senior Citizens, (above 80 years of age), Persons with Disability and Covid-19 suspect or affected persons.
An Absentee Voter wishing to vote by postal ballot has to make application to the Returning Officer (RO) of the constituency concerned, in Form-12D, giving all requisite particulars. Such application seeking postal ballot facility should reach to the RO during the period from date of announcement of election to five days following the date of notification of the election concerned.
The Election Commission also allows journalists, Service voters (armed forces, the armed police force of a state and government servants posted abroad), voters on election duty, and Voters under preventive detention to cast their vote through postal ballots. This is to be noted that any voter opting for postal ballot facility would not be able to cast a vote at the polling station.