National Mathematics Day: Top CSR Projects to boost Mathematics and STEM learning
Every year 22nd December is observed as National Mathematics Day across India to mark the birth anniversary of mathematical genius Srinivasa Ramanujan. Ramanujan, the maths legend was born in the year 1887 on this day and is remembered for his contributions to mathematical analysis, number theory, infinite series, and continued fractions among other things.
Several companies in India have been working, as part of their Corporate Social Responsibility or CSR initiative, to improve mathematics and STEM (Science, Technology Engineering, and Mathematics) learning among children, especially girl children and underprivileged students. On National Mathematics Day, The CSR Journal takes a look into the top CSR projects for mathematics and STEM learning in India this year.
Casio India donates scientific calculators to government school students in Assam
Consumer electronics manufacturers Casio India Company recently announced that they, in partnership with the Government of Assam have commenced the latest edition of their CSR program 'Gyan Ki Roshni' for this financial year. As part of the initiative, they are supporting underprivileged government school children in Assam by providing them with free Casio scientific calculators for better understanding of mathematics and scientific calculations.
Casio announced that 'Gyan Ki Roshni' initiative aims to increase scientific curiosity by providing resources to students who lack access to the requisite technology to study science-based courses and as part of this, 200 schools from across the state will receive 4000 scientific calculators. The focus is on children coming from communities of Assam like Bodo, Kachari, Krabi, Miri and others.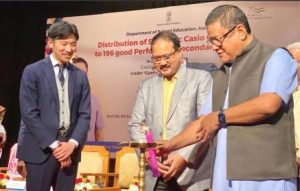 Iopex technologies to provide STEM education to 1,500 girl students in Chennai
IOPEX Technologies recently announced that they have partnered with non-profit organization Bhumi with an aim of providing STEM (Science, Technology, Engineering and Mathematics) education to more than 1,500 students from Grade VII to IX of Perunthalaiva Kamarajar Government Girls Higher Secondary School, Ambattur, Chennai.
The program is designed to provide relevant education to the underprivileged children and engage them in subjects wherein they discover their true potential with the help of fun-filled, interactive, and do-it-yourself learning activities.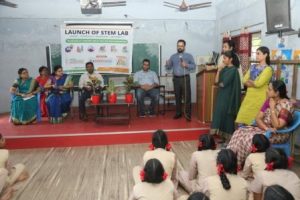 Pratt & Whitney and United Way open STEM Labs in Bengaluru
Pratt & Whitney, through its subsidiary United Technologies Corporation India Pvt Ltd (UTCIPL), and in partnership with United Way Bengaluru (a not-for-profit organization) announced in November that they are opening two STEM labs in Bengaluru. The STEM labs, designed to encourage science and mathematics learning among school children, have been reportedly installed in Karnataka Public School (Krishnandanagar) and Government Model Primary School (Vrushabavathinagar).
'The STEM labs created in partnership with United Way will have specialized learning aids, kits and curriculum focused on experiential science and mathematics learning for school children. UTCIPL employees in Bengaluru will also work with kids on special projects and interactions,' they announced.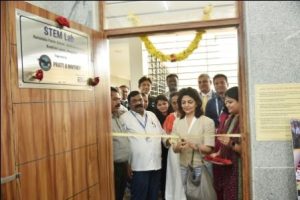 Sona Comstar and Ashoka University to promote women scholars pursuing Computer Science or Mathematics
In September this year, automotive technology company Sona BLW Precision Forgings Ltd or Sona Comstar announced that they have signed a MoU with Ashoka University to provide scholarship to eligible women scholars pursuing Computer Science or Mathematics as their major/minor in the undergraduate program. The program is expected to benefit fourteen meritorious and deserving women students from economically weaker backgrounds for three years.
EY Foundation signs MoU with Navodaya Vidyalaya Samiti; launches the EY STEM app for Vigyan Jyoti Program schools
In July this year, EY Foundation announced that they have signed a MoU for the vacation period with Navodaya Vidyalaya Samiti to launch the EY STEM app in 200 Vigyan Jyoti Program schools across India.
The EY STEM app aims to help young girls in the 13-18 years age group engage in the STEM (Science, Technology, Engineering, and Mathematics) curriculum and pursue high-growth careers in technology. The app aims to reach 10,000 girl students under the Vigyan Jyoti program.
The Vigyan Jyoti Program (VJP), launched by the Department of Science & Technology (DST), Government of India in the year 2019, is the DST's flagship initiative to encourage young meritorious girls, particularly from Class IX to Class XII, to pursue a career in STEM fields which are underrepresented by women. The DST's implementing partner for the VJP is the Navodaya Vidyalaya Samiti, an autonomous body of the Ministry of Education, Government of India.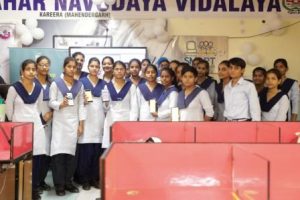 SKF India's 'Lab-on-a-Bike' program in Bihar
Technology and solutions provider of bearings and services SKF India has launched 'Lab-on-a-Bike' programme in Bihar under its WeGyaan STEM learning initiative. To be implemented by Agastya International Foundation, the 'Lab-on-a-Bike' program is expected to reach out to more than 2000 students across 18 government schools in Muzaffarpur and Sitamarhi districts with an aim to make STEM education accessible, as per an announcement made in October this year.
The 'Lab-on-a-Bike' program aims to spark interest in STEM subjects and inspire students to pursue related careers. It is also expected to help develop skills like critical thinking, decision-making, and problem-solving capabilities among students.