Brands Making The Beauty Industry More Sustainable
For ages, new beauty brands with 'stronger' ingredients and 'better results' have been cropping up in the market, making it hyper-competitive. As more and more brands fought to outshine each other, the industry became a space that plays on their end-users ' insecurities to sell more products.
However, having won their attention, the products that these brands ended up supplying to unknowing consumers were less than ideal. Laden with toxins, chemicals, and additives that are not just bad for humans but also the environment, such brands dominated the beauty space for a long time.
However, now, times are changing, consumers are changing and yes, brands are also changing. Today's consumers, especially those who fall into the GenZ bracket, are more aware than ever before. With increasing internet penetration and greater interest in what they put on or inside their body, consumers now care about the ingredients that brands use.
They are also becoming more conscientious about how their products affect the environment, and they are willing to give up brands they have used for decades if it uses ingredients that are a threat to our natural ecosystems. In turn, brands are now more transparent about what goes inside their products. 'Ethically-Sourced", "All Natural", "Organic", etc., have become precious buzzwords in the sector.
Leading brands are ensuring that they use ingredients that are good to the planet as well as the person using their products. This is just one of the ways that beauty brands are ensuring a sustainable approach to beauty. Read on to see how exactly this is being actualized in the world:
Combating climate change
Many sectors in the industry are introspecting their role in climate change. Beauty brands, too, are reassessing their process, including packaging, manufacturing, delivery, raw-material, etc, to ensure the reduction of environmental impact. Furthermore, brands are ensuring that their offices also leverage renewable energy to make a difference. Apart from this, the installation of solar panels at manufacturing facilities and factories is going a long way in reducing the brands' carbon footprint.
And, speaking of carbon footprint, it is common knowledge that CO2 emissions are choking our environment. This is why beauty brands are gearing up to reduce these issues by using environment-friendly logistics options. While these may seem like small steps, they can be of great impact on the sustainability of a brand.
Preserving ocean life
The runoff from manufacturing beauty products and that from using it ends up in the ocean. Therefore, it is important to use ingredients that will not harm marine life. For instance, brands commonly use plastic microbeads in their scrub products that literally choke marine species. The toxins from these products can also damage the balance of the oceanic ecosystem.
The solution: natural-origin exfoliants like almond shells in scrubs and bio-degradable ingredients in rinse-off products and masks. And, reducing water usage at factories along with a focus on recycled plastic. Choosing to use these alternatives is a reflection of a brand's respect towards nature and commitment to truly create a sustainable beauty industry.
Keeping our forests thriving
From absorbing carbon to preserving biodiversity, forests play a important role in our environment. However, according to the World Wildlife Fund, we are losing around 18.7 million acres of forests annually to deforestation. This a threat not just to the Earth's forest coverage but to every living being that inhabits the planet. Reducing impact in this aspect is important. Brands are doing this by adopting sustainable forestry practices. Brands like Oriflame, source paper for packaging, catalogues, etc., through certified sources of recycled material such as the Forest Stewardship Council (FSC™).
The sustainable road ahead
There's much to be said about the need for protecting our nature and the bounty that it offers us. Beauty brands are waking up to realize that nature is not for us to pilfer from, and are doing their best to give back as much as they have sought. Brands such as Oriflame are co-existing with nature, not harming it, and in the process, are creating highly safe and effective products for their end-users. Being respectful to the planet, they are using natural extracts that are certified safe, they are avoiding ingredients that are derived from endangered sources, and simply celebrating nature through their offerings.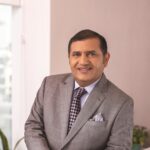 Marketing veteran Naveen Anand is the Senior Director, Marketing, Oriflame South Asia, the leading Swedish beauty company with a wide portfolio of nature-inspired, innovative beauty, and skincare and wellness products. Bringing with him a treasure trove of valuable insights and experiences to Oriflame, Naveen spearheads marketing operations and strategy in India, Sri Lanka and Pakistan.  He is responsible for accelerating growth and enhancing brand equity for the cosmetic brand's business.
To read more articles from the author, click here.
Views of the author are personal and do not necessarily represent the website's views.
Thank you for reading. Please drop a line and help us do better.
Regards,
The CSR Journal Team