Kotak Mahindra Bank CSR Report: Empowering Indians through Education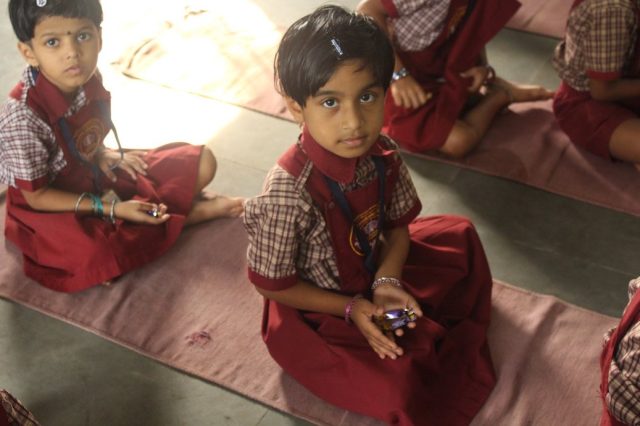 The Kotak Mahindra Bank has been in business for 17 years now. The bank has a wide reach with about 1,600 branches across the country. It also has a presence outside India in Singapore, London, the USA and the Middle East. The Bank has cemented its distinctive status through unique offerings and services, e.g. its industry-leading differentiated interest rate strategy on savings accounts; and India's first video-based KYC savings account that serves the twin purpose of convenience and contactless opening of an 811 account in a highly digitised post-COVID 'new normal'.
Kotak Mahindra Bank is conscious of the interdependencies between its economic activities and the ecosystem it operates in. Therefore, it has ensured that Environmental Social Governance (ESG) philosophy goes beyond a set of policies and practices and is an integral element of the culture of the bank.
The Bank's Corporate Social Responsibility (CSR) Programmes are largely long-term, implemented in focused geographies, are sustainable and scalable, and aligned with the United Nations Sustainable Development Goals (SDGs) and India's development priorities.
Over the years, the bank has increased its CSR expenditure. In FY 2019-20, the firm spent 85.20 crores for its CSR initiatives which was 133% higher than the spend of 36.55 crores in FY 2018-19, which in turn was 38.45% higher than 26.40 crores spent in FY 2017-18.
1. Kotak Mahindra Bank CSR
Kotak Mahindra Bank believes in positively contributing to the economic, environmental and social well-being of communities through Corporate Social Responsibility (CSR) agenda. Its mission is to create a lasting value for communities by promoting and supporting education and other interventions for the underprivileged, encouraging employee volunteering, and supporting Non-Governmental Organizations (NGOs) and other institutions with financial and other resources to collectively deliver community initiatives.
The Bank identifies suitable NGOs partners to carry out these programmes. It focuses on implementing programmes that are sustainable, scalable and can be implemented across various locations with measurable and sustainable impacts amongst the community. Most of the Bank's CSR programmes undertaken are in the area of Education and Livelihood, Healthcare, Promoting Sports, Relief and Rehabilitation and Reducing Inequalities Faced by Socially and Economically Backward Groups. The Bank does not consider "administrative overheads" as part of its CSR Expenditure.
2. CSR Policy
Kotak Mahindra Bank has established a Board-level Corporate Social Responsibility Committee which is responsible for monitoring, reviewing and approving CSR initiatives and expenditure. The Committee makes recommendations to the Board on CSR policy and related matters. As per the CSR policy, Kotak Mahindra Bank, at all times, is committed to:
Engage with communities to understand their material expectations and concerns, and will consider these material expectations and concerns to design its CSR agenda.
Implement, monitor, review and evaluate CSR initiatives to achieve the desired outcomes in a transparent manner.
Undertake projects in the areas of promoting education, enhancing vocational skills and livelihood, promoting preventive healthcare and sanitation, reducing inequalities faced by socially and economically backward groups, sustainable development, relief and rehabilitation, and interventions towards a cleaner India under Swachh Bharat Mission with the aim to serve communities at large and to transform their lives.
Partner with government agencies, non-governmental organizations (NGOs) and other institutions to collectively deliver the community development initiatives and support such organizations and institutions with appropriate and necessary resources.
Encourage its employees to contribute and volunteer for various community development initiatives.
Ensure that surplus arising out of CSR initiatives is utilized to further augment the CSR agenda and does not form part of the Bank's profits.
Comply with all legal provisions applicable for CSR and adopt industry best practices, where feasible.
2.1 CSR Committee
The CSR Committee of Kotak Mahindra bank comprises of the following Directors: 1) Mr. C. Jayaram 2) Prof. S. Mahendra Dev 3) Mr. Dipak Gupta
The CSR activities, projects and programmes to be undertaken by the Company are to be approved by the CSR committee. The CSR Committee is responsible for the approval of undertaking of such activities, projects and programs as are covered in Schedule VII of the Companies Act, 2013.
3. Kotak CSR Initiatives in Education and Livelihood
Kotak Mahindra Bank implements its CSR programmes on Education and Livelihood through Kotak Education Foundation (KEF). The foundation supports children & youth from underprivileged families through different education and livelihood based interventions to help them rise above the poverty line & lead a life of dignity through sustainable processes. In FY 2019-20, KEF worked with some of India's most economically underprivileged communities in and around Mumbai city. It reached out to over 1.05 lakh students in FY 2019-20 and also empowered nearly 2,700 youth, including about 1,900 women, through livelihood training.
Through the foundation, Kotak conducts many initiatives such as the following.
3.1 Excel Program
Excel is a program through which the foundation offers scholarships and counselling to meritorious students from below poverty line families starting from 10th standard until their graduation. In FY 2019-20, the counselling sessions were modernised and mock exam sessions were conducted for 12th standard students. Online life skill sessions were also started in the year and over 104 students participated in the same. An in-house counsellor was also made available for the students.
3.2 Unnati Program
Unnati

is a livelihood enhancement programme that caters to the youth belonging to the age group of 18-25, who have dropped out of school or college due to financial, personal or academic reasons. Under the program UNNATI, youths are imparted life skill and vocational training in multiple domains such as hospitality, retail, beauty care, banking and technical multi-skills. In FY 2019-20, KEF also collaborated with Life supporters Institute of Health Sciences (LIHS) and K.J. Somaiya Private Industrial Training Institute (KJSPITI) for providing quality training to the youth.
3.3 Umang Program
Under Umang, KEF empowers the partner school students to develop proficiency in Spoken English and also provides exposure to students for digital literacy, critical thinking, and problem-solving. As an outcome of the program, 5,783 students were trained in Spoken English in FY 2019-20 and 1200 SSC students were supported by the Language Enrichment programme during the year. About 877 students participated in the Accelerated Learning Program and 990 students participated in the RAYZ – Spoken English performance on the professional stage. A video made on personal hygiene by UMANG students was chosen as one of the top 100 inspiring projects in an initiative driven by Design for Change.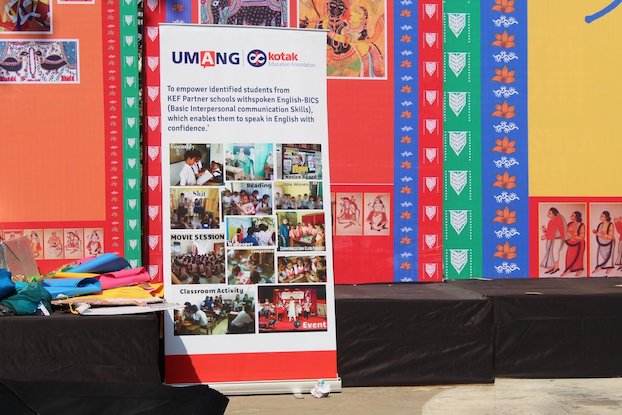 3.4 Guru Program
Under the Guru programme, KEF focuses on the development of teachers in order to enhance their teaching capabilities which eventually impacts students' learning outcomes. The intervention focuses on content, pedagogy, integration of information technology and continuous learning attitude to strengthen teaching practices in school.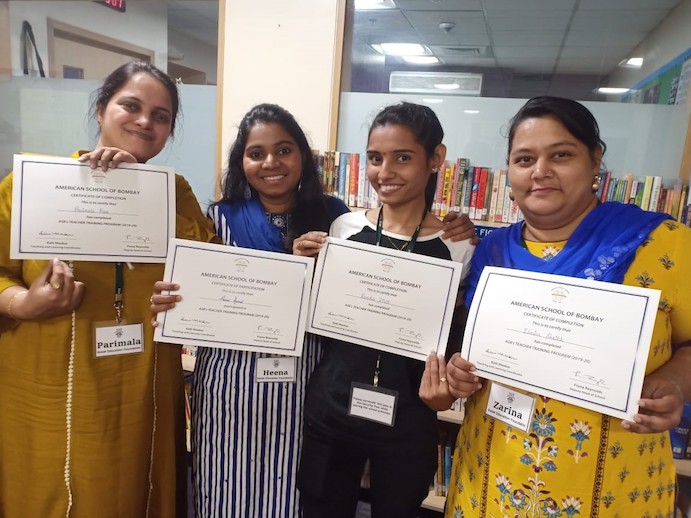 Under this initiative, 330 teachers across various schools were trained in FY 2019-20, which is a growth of 17% compared to FY 2018-19. It was observed during assessing teachers' capabilities that 97 teachers exhibited an improvement. More than 80 teachers have attended workshops on robotics, Sustainable Development Goals implementation and design thinking.
In FY 2019- 20, three teachers and nine students were selected to represent India at 'Our Future Earth Conference', held in Singapore between 4th and 6th December 2019. Teachers from six schools implemented the 'Young Person's Plan for the Planet (YPPP)' programme to analyse community-related issues as a step towards sustainable development.
3.5 Health Program
The objective of the HEALTH initiative is to generate awareness about preventive and corrective health measures. KEF through HEALTH endeavours to improve the wellbeing of students and to inculcate healthy habits so that they can attend school more regularly. Under this programme, the KEF team reached about 1,562 beneficiaries to enquire about their health to make aware of measures to be adopted for the prevention of the COVID-19. A non-invasive technique for haemoglobin estimation and timely results were also introduced during the year.
3.6 Kotak Karma Vidhi Inclusive Education Programme
Vidhi Centre for Legal Policy (Vidhi) is a not-for-profit company and an independent think-tank doing legal research to make better laws and improve governance for the public good importantly for the marginalised and underprivileged community. Under Kotak's CSR Programme, Vidhi has initiated a programme "Kotak Karma Vidhi Inclusive Education Programme". The main objective of the programme is to identify, suggest and amend the key provisions in the Right to Education Act, which are not conducive to the mandate of inclusive education, and to identify the key challenges to the implementation of the policies related to inclusive education in India.
During the financial year, a report titled 'Towards an Inclusive Education framework for India: An analysis of the rights of children with disabilities and the RTE Act' was prepared after consultation with multiple stakeholders such as civil society organisations, government officials etc. A research proposal to understand the issue of special educators and special schools based on the report is also initiated.
3.7 AADI
Action for Ability Development and Inclusion (AADI) is a Delhi based NGO that works towards creating an enabling environment so that people with disability can become an integral part of society, participating in the community and living life to the fullest, with equitable access to opportunities and services. Kotak supports AADI's Lifeskills Training Programme for People with Disabilities (PWDs). The endeavour of the programme is to facilitate PWDs to develop everyday life skills which include communication, decision making, problem solving, developing social skills for interpersonal interactions, healthy relationships and most importantly a positive self-concept. The programme has impacted 61 young adults with disabilities.
3.7 Pratham Project
Pratham Education Foundation (Pratham) is an innovative learning organization that believes that every child should be in school and learning well. Pratham is focused on providing high-quality, low cost and replicable interventions to address gaps in the education system. Pratham has also been training underprivileged youth from economically disadvantaged backgrounds for employment or self-employment. Kotak-Pratham Women Employment and Hospitality Programme seek to train youth from economically disadvantaged backgrounds in the age group of 18-30 years and provide them with employable skill sets, coupled with access to employment and entrepreneurship opportunities across 9 states in India through 19 residential and non-residential training centres. 4,256 youth were enrolled, and 3,686 students have completed their training, out of which 3,118 students have been placed in FY 2019-20.
4. CSR Initiatives for Healthcare
4.1 Kotak CSR in Collaboration with Wockhardt Foundation
Wockhardt Foundation's flagship programme 'Mobile 1000' aims at operating 1000 Mobile Vans in rural India and administering free primary healthcare to 25 million Indians every year. The Medical Mobile Vans (MMVs) provide a wide array of medical services that range from helping the homeless in assisting disaster victims. The service forms an effective medium to provide accessible, affordable and accountable quality health services to the disadvantaged and vulnerable communities in the different parts of the country.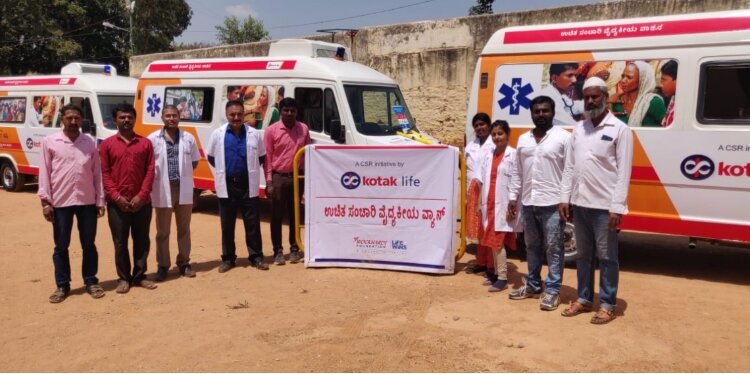 In order to support the cause of providing basic healthcare facilities to the underprivileged, Kotak partnered with the Wockhardt foundation for the project. Under the partnership, six MMVs operate for 6 days per week in and around Hyderabad, Telangana and provide free medical check-ups, free distribution of medicines for patients, free basic diagnostic tests, health education and awareness and also provide referral to other healthcare facilities. Over 1,75,000 beneficiaries were treated and directly benefited through the six MMVs in the FY 2019-20.
4.2 Kotak's Collaboration with Ganga Foundation
The Ganga Foundation is a non-profit working towards enhancing the quality of life of persons with spinal cord injury in India by ensuring quality rehabilitation, enabling livelihood and breaking attitudinal barriers. Kotak implemented 'The Right Wheelchair Programme and The Spinal India Peer Trainers-Quality Rehabilitation Programmes' in collaboration with the Ganga Foundation. These programmes are, to empower persons with spinal cord injury by providing quality mobility solutions to persons with spinal cord injury from underprivileged sections for indoor and outdoor use that enables them to lead a normal life. During this year, wheelchairs were provided to 69 people with spinal cord injury. The Spinal India Peer Trainers-Quality Rehabilitation Programme enables peer training and mentoring for persons with spinal cord injury across India by persons with spinal cord injury. Under this programme, 10,780 unique lives were touched by direct and technology connect.
5. CSR Programme on Relief and Rehabilitation
5.1 Fani Relief
Odisha State Disaster Management Authority (OSDMA) Odisha was hit by a severe cyclonic storm 'FANI' in May 2019. The wind speed of more than 200 km/hr caused extensive damage including loss of life apart from the toll on infrastructure, Fani also impacted livelihood through destruction of the crops, vegetable cultivation and also horticulture (mango and coconut plantation). The devastation led a large number of families homeless and lose their belongings. The sanitary and hygiene conditions were impacted as toilets collapsed and drinking water was largely contaminated.
OSDMA undertook several mitigation initiatives pertaining to disaster management including promoting a culture of preparedness among stakeholders, coordinating with partners involved in reconstruction and recovery and coordinating with relevant organisations for effective disaster management. In FY 2019 -20, Kotak contributed 5 crores to OSDMA to aid effective disaster management.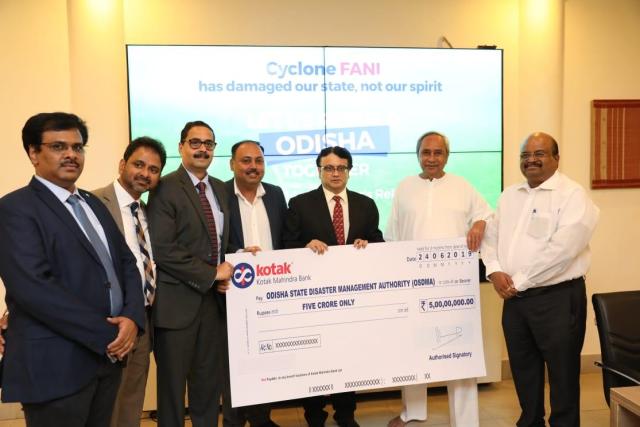 5.2 COVID-19 Relief
Coronavirus (COVID-19) pandemic has posed a major healthcare challenge to mankind in modern times. It has been the worst healthcare disaster since the Spanish flu. Prime Minister's Citizen Assistance and Relief in Emergency Situations Fund' (PM CARES Fund) has been exclusively set up, in March 2020, to accept contribution towards conducting rescue and relief operations against the COVID-19 pandemic.
In order to support the government's effort in combating COVID-19, Kotak has contributed 25 crores to the Prime Minister's Citizen Assistance and Relief in Emergency Situations Fund (PM Cares Fund).  Additionally, Kotak has also contributed 10 crores to the CM Relief Fund of Maharashtra State government to support its efforts in combating the virus.
The Bank has also been involved in supporting various constituencies including the urban & rural poor, tribal communities, doctors, nurses and policemen on COVID-19 duty via various means such as contributing food packets, ration kits, masks, face shields, sanitisers, Personal Protective Equipment Kits (PPE Kits), and the like.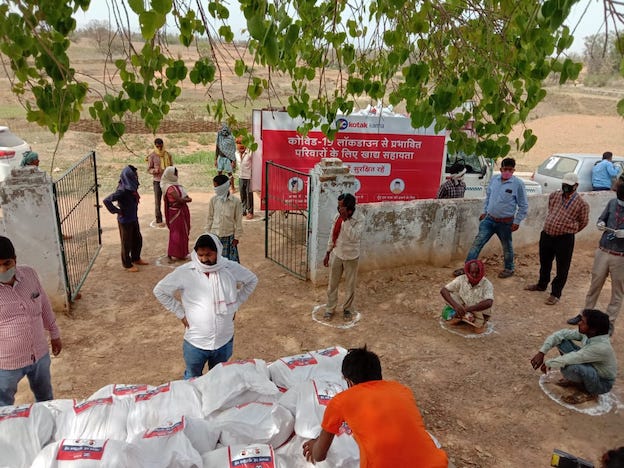 Conclusion
Kotak Mahindra Bank follows a practical, effective and scalable approach with utmost transparency in both – its business operations as well as CSR initiatives. Kotak CSR is highly aligned with the UN SDGs, which helps in the holistic development of the Indian Society.