K.C. College Initiates Solar Energy Project in Palghar
K.C. College, Mumbai, one of the constituent colleges of the HSNC University cluster recently inaugurated the Solar Urja Project in Maharashtra's Palghar district.
The NSS Unit of the college has been the driving force behind this mega initiative in lieu to support the academic institutions that are economically backward and face obstacles in providing education. Under this drive, students of the NSS Unit installed solar panels at Zila Parishad Anganwadi, primary schools, secondary schools as well as private schools that are economically weaker.
This project intends to spread the awareness of solar energy, the renewable energy source which is immensely available and can be optimally utilized. To amplify this strategic approach, 'The Change Foundation' came forward as a donor and Karm NGO as a promoter for the NSS Unit who implemented the entire project.
The main objective of the drive has been to ensure that sustainable power is supplied from alternative resources which is eco–friendly and cost-effective to the remote villages of Navghar, Ghatim, Kandarvan, Karwale and Sartodi villages of east Saphale, Palghar District. The cadets have installed nearly 75 solar panels in order to provide electricity in these backward regions as part of their social reform activities.
Expressing contentment on this social activity of community development, Dr. Niranjan Hiranandani, Provost – HSNC University commented that "It is pleasure to see today's youth voluntarily initiating and participating in such exercises that lead to better growth of the society and especially that of who are underprivileged. This drive is aligned with the 'Ujala Yojna' commenced by our PM Narendra Modi in view to harness

solar power

to the prosperous rural India."
Since NSS Unit is one such segment of K.C. College that keeps lending a helping hand in remote places and villages, there is self-motivation among all associating individuals to do the best for society.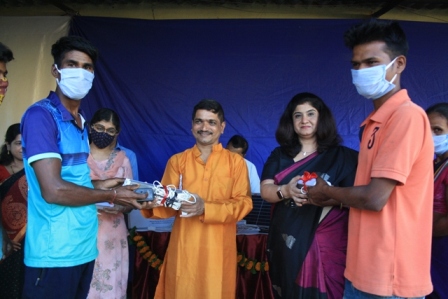 Says Dr. Hemlata Bagla, Principal of K.C. College said, "Due to the pandemic, education has radically shifted online and there are areas where students couldn't study due to lack of resources and majorly due to unavailable or less electric supply. The members of the NSS Unit came with an effective idea that can help magnify the availability of electricity in villages and at the same time lower the burden of Maharashtra State Electricity Board by introducing renewable source of energy through Solar Urja Project."
Disclaimer: This media release is auto-generated. The CSR Journal is not responsible for the content