The Complete Report on CSR of Jindal Steel and Power Limited
Shri O.P. Jindal found Jindal Steel and Power Limited (JSPL) 30 years ago and made the Jindal Group synonymous with mining and Industrialization in India. He also ensured that JSPL used its profits and resources for the betterment of the society through the CSR initiatives of JSPL Foundation. JSPL Foundation has been spending on social development projects through CSR initiatives before it became mandatory for companies in India to spend 2% of their net profits on Corporate Social Responsibility. As CSR in India is mandatory as per the Companies Act 2013, The CSR Journal in its #LetsTalkCSR series is evaluating the CSR initiatives of Jindal Steel and Power Limited (JSPL).
The Foundation addresses some of India's most pressing development challenges in the fields of Healthcare & Nutrition, Skill Development & Education, Sanitation & Hygiene, Women Empowerment, promoting Art & Culture and Sports. JSPL follows a location-centric approach and works in partnership with the community around its plants and offices.
Corporate Social Responsibility initiatives of JSPL have touched over 10 lakh lives and continues to work on building a visionary India.
The below video highlights the various CSR activities of JSPL Foundation.
https://www.youtube.com/watch?v=RZDZzzEJglk
In view of the losses in the previous three years, JSPL is not obligated to spend on corporate social responsibility (CSR) as per section 135 of the Companies Act, 2013. However, the company has voluntarily spent funds for ongoing CSR initiatives of the company. CSR for JSPL is an integral part of its business strategy, which includes creating an organization intended to maximize the wealth of shareholders and establish productive and lasting relationships with all stakeholders, with an emphasis on fulfilling our responsibility towards the entire community and society.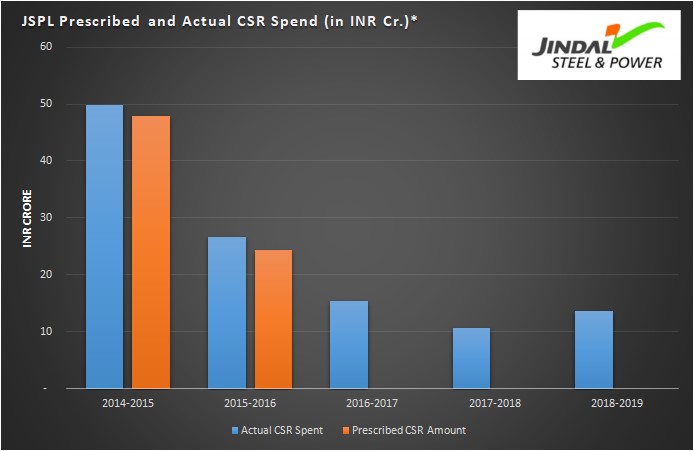 1. JSPL Foundation – The CSR arm of Jindal Steel and Power Limited
Jindal Steel and Power Limited (JSPL) carries out its CSR activities in India through JSPL Foundation. Ms Shallu Jindal leads the JSPL Foundation which was founded on the basis of doing good for the society and taking care of all its stakeholders.
The triple bottom line is a framework or theory that recommends that companies focus on social and environmental concerns along with profits. The TBL proposes that instead of one bottom line, there should be three: profit, people, and the planet.
2. CSR Policy
JSPL believes in the holistic growth of the company which not only grows the organization but also contributes significantly to a sustainable world. The Sustainability Division at JSPL monitors different functions in the company which are related to long term growth of JSPL's business. It focuses on the following goals:
– Ensuring compliance and raw material security
– Establishing sustainable steel and power production processes
– Building an authentic corporate identity and brand
– Enabling innovation
– Attracting and nurturing leaders
– Maintaining robust internal management processes
– Motivating employees to innovate, be dynamic and provide leadership on issues critical to the state of the world
2.1 CSR Committee
According to the guidelines of the Ministry of Corporate Affairs, the Company has constituted a Board-level CSR Committee to monitor the implementation of the Corporate Social Responsibility Policy of the Company from time to time. The Company's CSR policy and initiatives delineate the vision, mission, thrust areas, and critical requirements as per the Schedule VII of Section 135 of the Companies Act, 2013 which lists out various areas in which corporate entities are expected to deploy their CSR funds and implement programs for social development. The Jindal Steel and Power Limited Corporate Social Responsibility Committee comprises:
1) Mr Sudershan Kumar Garg (Chairman)
2) Mr Hardip Singh Wirk
3) Mr N.A. Ansari
4) Mr Dinesh Kumar Saraogi
This committee meets every quarter to create strategy and monitor actions as well as outcomes of JSPL's social development projects.
2.2 Jindal CSR Team
Mr Manish Kharbanda, Executive Director, CSR and Sustainability, oversees the CSR activities of JSPL under the leadership of Smt. Shallu Jindal. Mr Prashant Hota is the CSR Group Head who has the knowhow of implementing sustainable projects at the grassroots level. JSPL Foundation has decades of experience in executing social development projects and is working towards bringing about a monumental change in the life of the community around its plants and mining sites. The Foundation and the CSR committee ensure that the sustainable goals of JSPL lead to the all-round development of the community and build a strong nation.
Smt. Shallu Jindal was also recently awarded the 'Best CSR Practices Award 2019' for Social Entrepreneurship by CMO Asia at Singapore and Ekalavya Award 2019. Smt. Shallu Jindal also received the Golden Peacock Award for Social and Cultural Leadership in 2019 for being a leader in the world of social welfare and for being a pioneer in creating awareness and generating respect for India's rich cultural heritage. Shallu Jindal was conferred with the Mahatma Award for Leadership in Corporate Social Responsibility in 2019 along with other accolades for the CSR activities of the JSPL Foundation.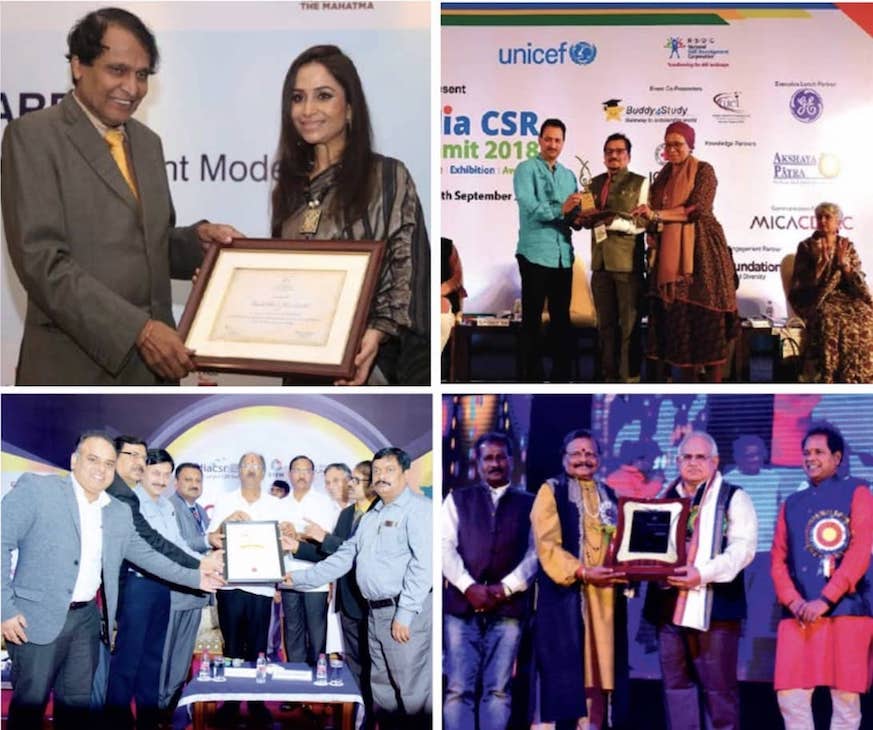 3. CSR Strategy
JSPL CSR initiatives are operated on the basis of "The Triple Bottom Line" principle and focus not only on profit but also on the people, and the planet. The CSR interventions are executed under a 360-degree approach.
3.1. Need Profile and Analysis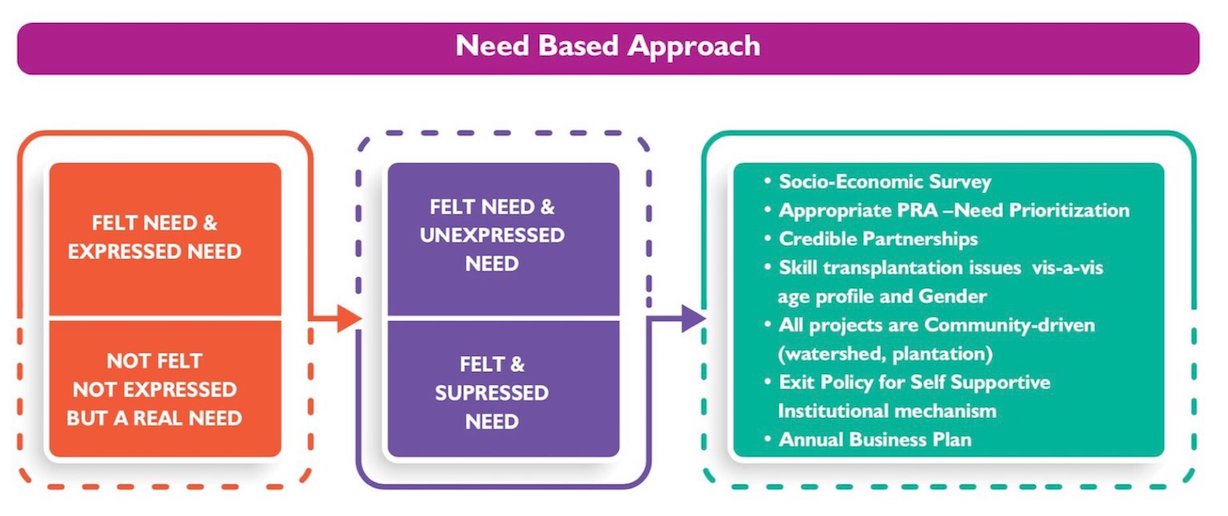 JSPL Foundation uses Need-Profile Analysis and Participatory Rural Appraisal(PRA) techniques to get a grip on the real need of the community. After a thorough evaluation of the needs of the community, Need Prioritization selects the projects with maximum outcomes for the benefit of the stakeholders.
3.2. Project formulation with stakeholder and responsible partnership
JSPL Foundation understands that the UN Sustainable Development Goals can only be realized with a strong commitment to global as well as local partnerships.
The UN Sustainable Development Goals can only be realized with a strong commitment to global as well as local partnership and cooperation. Given that the world today is more interconnected than ever before, improving access to technology and knowledge is an important way to share ideas and foster innovation. JSPL realises that there are many synergies possible and we drive to introspect as to in what way are JSPL's CSR activities are aligned with International, National and Sustainable Development Goals.
3.3. Project implementation
JSPL has the core competency of running huge factories and mining sites, which it leverages in implementing the CSR projects through JSPL foundation. The foundation provides concept and leadership in the CSR intervention programmes.
JSPL understands that access to technology and the right information is of paramount importance in ensuring the sharing of ideas and fostering innovation. The CSR projects are implemented in collaboration with the community bringing about a lasting change and also building leadership for the project once the company exits the project.
3.4. Concurrent participatory monitoring
The company monitors the execution and impact of the CSR projects by arranging site visits for the top management including Directors and also hires third-party monitoring agencies to get a holistic view of the project outcomes. The CSR project goals are pivoted if there is a need to create maximum impact at the ground level.
3.5. Launch of new projects based on learning
The learnings of the CSR projects are documented so that new social development projects can be launched with clear goals and create higher impact.
4. Healthcare
4.1. Telemedicine centre and Mobile Healthcare Dispensaries
JSPL collaborated with HP in creating a telemedicine centre to provide advanced health and medical services to the community to reduce mortality and morbidity. The 7 Telemedicine centres are linked to the Fortis OP Jindal Hospital at Raigarh, Chhattisgarh. In 2018-19 more than 20 thousand people visited these telemedicine facilities across the 7 centres and received advance medical care.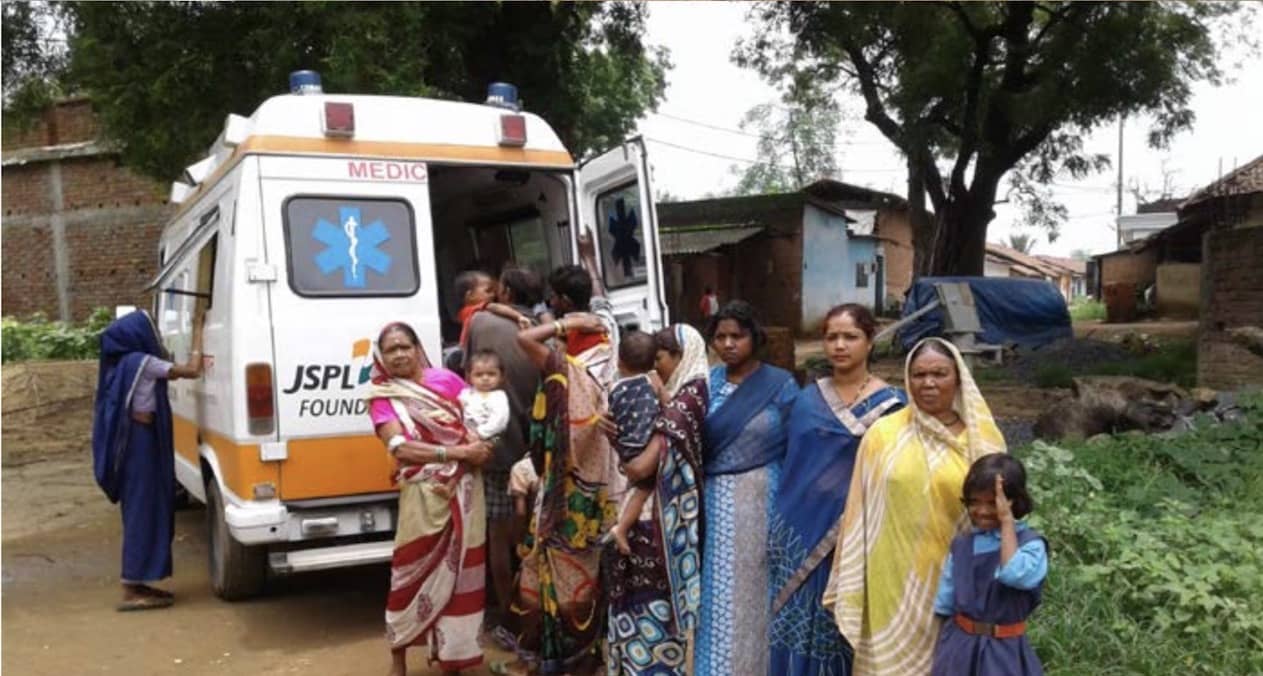 JSPL operates majorly in Chhattisgarh, Odisha and Jharkhand. These regions have a lot of difficult geographical pockets where medical resources and help is scarce. These camps not only provide curative services but also help raise health awareness thereby sensitizing the community in improving in healthcare-seeking behaviour. In 2018-19 more than 46 thousand people were provided help or assistance in healthcare-related requirements through these healthcare dispensaries.
4.2. OP Jindal Hospital and Research Centre (Managed by Fortis)
OP Jindal Hospital and Research Centre, Raigarh, Chhattisgarh is a 70 bedded state-of-art tertiary care hospital, established on 7th August 2008, as the 78th birth anniversary of the Jindal group founder Shri OP Jindal with a solitary aim of providing complete healthcare services to areas around Raigarh. It is equipped with advanced medical instruments and provides end-to-end facilities to its patients. The hospital is managed by Fortis Healthcare Ltd which is known for managing some of the best hospitals in India.

The OP Jindal Hospital and Research Centre strive to provide accessible and affordable top-class healthcare services to the lowest rung of the society and community around Raigarh.
O.P. Jindal Hospital and Research Centre have super specialities in Cardiac Sciences, Ortho & Joint Replacement, Renal Sciences, Neuroscience, Gastro sciences, Mother and Child care, which are backed by a range of Multi-specialties. The hospital has a team of highly experienced physicians and surgeons who provide treatment across different clinical specialities. The hospital lays special emphasis on critical care as it is one of the few multispecialty hospitals in the region. 30% of the bed strength has been allocated to critical care beds to ensure the delivery of quality health care. The hospital uses the latest in medical technologies like eICU to deliver the best possible treatment to people in and around Raigarh.
The Hospital conducts Free Super specialist camps in the villages collaborates with District Health authorities for Family Planning camps and cataract surgeries. It also conducts free Polio and CP deformity correction camps. It offers free dental check-up camps and conducts Health Assessment for school children. It organizes Matritwa Suraksha Yojna, on the 9th of every month at government block hospitals. On every Friday free, OPD is conducted at the hospital for BPL(Below Poverty Line) cardholders.
In 2018-19, more than 6000 patients were treated at the hospital with around 60,000 patients visiting for OPD treatment. The hospital also provides preventive healthcare services and provided more than 15000 health check-ups last year.
4.3. Swachh Bharat Abhiyan
The Prime Minister of India, PM Modi, launched Swachh Bharat Abhiyan campaign on 2 October 2014 on the birth anniversary of Mahatma Gandhi, aimed to eradicate open defecation by 2 October 2019, the 150th anniversary of the birth of Mahatma Gandhi, by constructing 9 Crore toilets in rural India at a projected cost of ₹1.96 lakh crore. JSPL foundation took on this mission with gusto and laying special emphasis on the needs of women and girls when it comes to sanitation and hygiene. The CSR activities of Jindal Group included awareness drives which covered more than 15,000 villagers and educated them on the garbage disposal and use of toilets.
In order to ensure potable drinking water at the household level for the local community living in the vicinity of JSPL's Business locations, the JSPL Foundation has undertaken multidimensional efforts in partnership with the local community, Panchayati Raj Institutions and Government. In 2018-19, JSPL Foundation provided potable drinking water to more than 20 lakh people through various sources.
5. Sustainable Livelihood – Skilling and Employment
5.1. Jindal Institute of Power Technology (JIPT)
Jindal Institute of Power Technology (JIPT), a Category – I Institute as recognised by the Central Electricity Authority (CEA) which comes directly under the Ministry of Power. JIPT is located inside the 4X250 MW Jindal Thermal Power Plant in Tamnar, Raigarh, Chhattisgarh. This enables JIPT to give practical training which makes it one of the institutes delivering education in Power Technology to have this privilege. India is growing at a breakneck pace and so are her power needs. JIPT aims to provide well-trained manpower to give India an edge to keep up with this high growth. This also provides technical jobs which lead to the development of the country.
The training programmes at JIPT include classroom lectures for imparting theoretical and technical knowledge, plant visits (both on-site and at nearby power plants in Chhattisgarh). It provides real-time operation exposure through Power Station Simulators which are replicas of a working Thermal Power plant.
5.2. O.P. Jindal Community Colleges (OPJCC)
Colleges in India are churning out graduates by the dozen but it is a known fact that the employability of these people is highly questionable. OPJCC was founded on the basis of providing skills that provide employment. It supports the "Skill India" mission of the government and provides technical training which has a local demand leading to employment as well as curb migration. It is an open college which has provided vocational skill training programs to more than 1 lakh learners since its inception.
OPJCC strives to help India achieve the UN's Sustainable Development Goals and its vision is to develop a highly trained workforce. OPJCC operates five brick-and-mortar technical vocational education and training (TVET) facilities that offer comprehensive short and long-term programs ranging from three to twenty-four months.
Specifically, OPJCC Punjipathra (Raigarh), Chhattisgarh; OPJCC Angul and Barbil, Odisha; and OPJCC Patratu and Godda, Jharkhand serve residential and commuter students ages 18-45 from disadvantaged and often marginalised rural communities. OPJCC's vocational training programs in construction, mechanical engineering, hospitality, tourism, plumbing, security, electrical and power sector adhere to the National Skills Qualifications Framework (NSQF) thus increasing the employability of its trainees throughout India.
72% of OPJCC students are from historically marginalized communities, i.e. OBC, ST, SC, and females in addition to Left Wing Extremist districts in Chhattisgarh. This noble initiative is helping reduce inequality in education and brings about upliftment of society.
6. Education
The founder of the Jindal Group, Shri OP Jindal came from humble beginnings and recognised that education is the only way to overcome poverty and hence the CSR activities of Jindal Group primarily focus on providing access to higher-level education for the masses.
32% of CSR Funds of JSPL are dedicated towards education which is the highest for them highlighting the importance the group places on this social development index.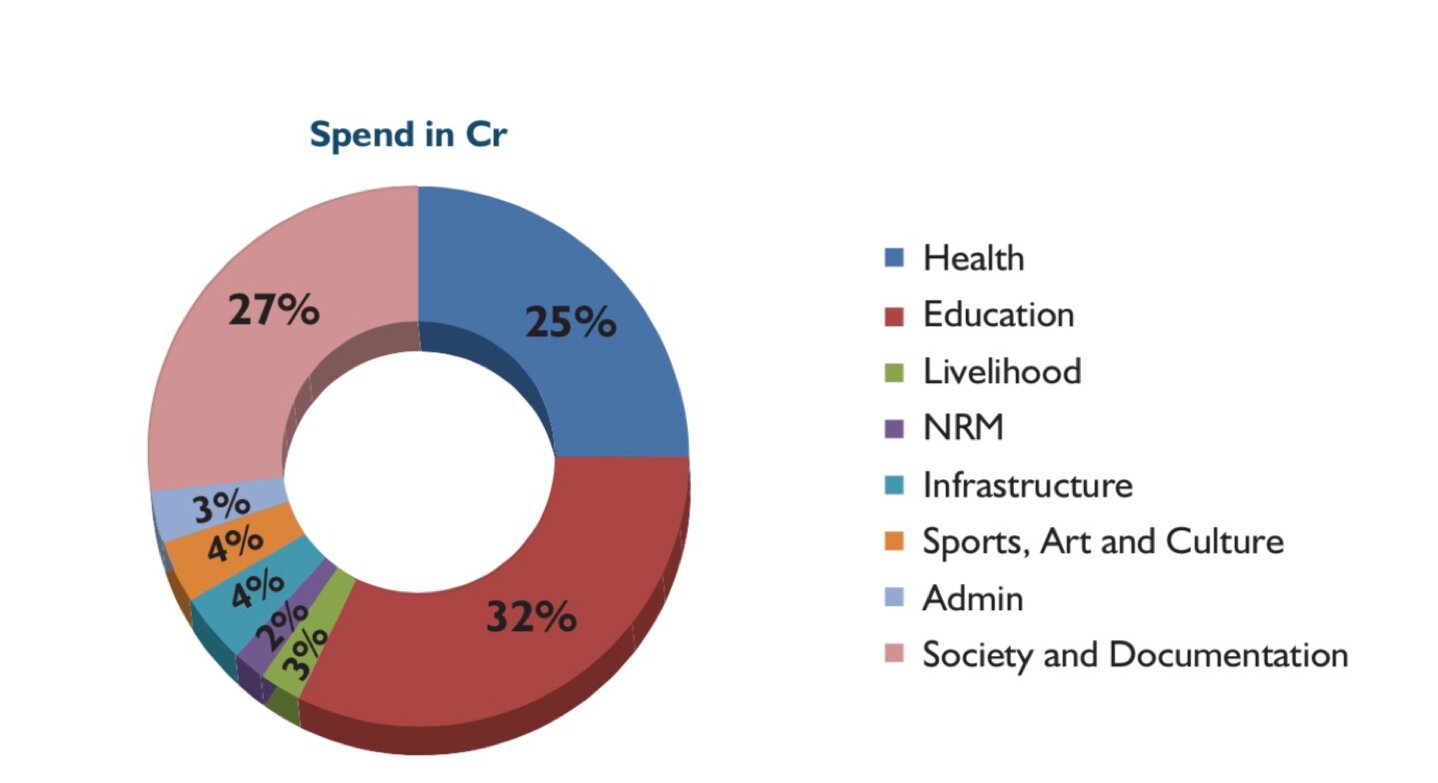 6.1. O.P Jindal University (OPJU)
O.P Jindal University (OPJU), Raigarh, Chhattisgarh, India is recognised by the State Government of Chhattisgarh and thus has the "full University Status". It is also recognised by the UGC (Universities Grant Commission), Government of India. It runs Engineering and Management programs which are approved by AICTE, India's apex body in education certification.
OPJU which is the cherry of the JSPL CSR projects strives to provide holistic education of world-class level to students in India. It is spread across 34 acres which include a residential campus and more than 300,000 square feet of academic space catering to almost 1200 students who can live on the campus as well as hundreds of students who are enrolled in its day programs. As of today, OPJU has three schools of higher education in the field of Engineering, Management and Sciences. India needs huge infrastructure to become a developed country and OPJU has taken the mantle to provide for skilled people to achieve this dream. OPJU is India's first private University dedicated to Steel Technology and Management through excellence in teaching, research and practice. Research Scholars and Teachers are an important pillar of excellence in education and OPJU has 5 centres to promote these initiatives.
6.2. O.P. Jindal Global University (JGU)
O.P. Jindal Global University (JGU) is a non-profit global university. The vision of JGU is to promote courses, programmes, researches, collaborations and interactions through a global faculty. JGU is situated on an 80-acre state-of-the-art residential campus. It is one of the few universities in Asia that maintains a 1:10 faculty-student ratio and appoints faculty members from different parts of the world with outstanding academic qualifications and experience. It is a research-intensive university, which has established several multidisciplinary research centres. JGU has been awarded the highest grade 'A' by the National Accreditation & Assessment Council (NAAC).
JGU has established eight schools: Jindal Global Law School (JGLS), Jindal Global Business School (JGBS), Jindal School of International Affairs (JSIA), Jindal School of Government and Public Policy (JSGP), Jindal School of Liberal Arts & Humanities (JSLH), Jindal School of Journalism & Communication (JSJC), Jindal School of Art & Architecture (JSAA) and Jindal School of Banking & Finance (JSBF). JGU has also established three Research and Capacity Building Institutes: Jindal Institute of Behavioural Sciences (JIBS), Jindal Institute of Leadership Development and Executive Education (JILDEE), International Institute for Higher Education Research and Capacity Building (IIHEd).
JGU is the youngest Indian university to be ranked in BRICS and Asia editions of QS University Rankings. Having been ranked among the top 450 universities in Asia, JGU's place on the QS Asia University Rankings 2019 places it in the top 3% of over 13,000 universities in Asia. JGU was also ranked as the youngest Indian University in the QS BRICS University Rankings 2019 across five major countries that comprise the BRICS group (Brazil, Russia, India, China and South Africa) and places JGU among the top 3% of 9,000 universities.
OPJGU ranks in the top 1000 universities in OSWUR ranking in the 751-800 band. This has made OPJGU the youngest university to be ranked in the OSWUR 2020.
JGU was also awarded Diamond Rating in QS I-Gauge Rankings for its commitment towards academic excellence. In addition, QS I-GAUGE awarded an overall Diamond rating to JGU after a rigorous audit which spanned over six months. Besides awarding JGU with an overall rating, QS I-Gauge has also given the highest possible rating in six areas, namely Teaching and Learning, Employability, Facilities, Social Responsibility, Accreditation and Entrepreneurship.
Jindal Global Law School (JGBS) at JGU was ranked as the best private law school in India for the fifth consecutive year by Careers360 Law School Ranking 2019.
JGU ranked second on Swachh Campus Ranking 2018 of Indian higher educational institutions in which more than 6,000 higher education institutions participated.
6.3. O.P. Jindal School Group (OPJS)
The school arm, OPJS, of the JSPL Foundation, runs O.P. Jindal Schools across Chhattisgarh, Jharkhand and Odisha and provides high-quality education to 12,000 students every academic year. In 2018-19, the O.P. Jindal Schools, with a dedicated team of more than 440 teachers, achieved a 100% pass out rate in all schools. The schools are known for academics as well as imparting a range of skills to its students through its varied extracurricular activities. The schools also undertake special Competency Development classes for grooming students to compete for the Joint Entrance Examinations (JEE) /National Eligibility Cum Entrance Test (NEET) and ensure that students in Non-Metro areas also get the best education to compete with students from all over the country.
In Tamnar, Chhattisgarh, OPJS Rabo runs an English-medium school in a tribal village Rabo and imparts education to 170 children across 20 villages. It schools students till 6th standard and provides English-medium education to the underprivileged and socially vulnerable families.
6.4.   O.P. Jindal Scholarship
The O.P. Jindal Scholarship, a merit-cum-means scholarship, is awarded to high-performing rural students from weaker financial backgrounds to ensure that no deserving student in the vicinity of the Jindal Group's operations is denied an opportunity to pursue higher education due to the lack of funds.
These scholarships are intended to motivate students from these communities to pursue further studies. In this financial year, over 557 scholarships were given to deserving students across all business locations of JSPL in India. JSPL Foundation provides other forms of financial support to particular groups of students at certain locations, depending on the local need. These scholarships have effectively boosted the confidence of talented children in JSPL's areas of operations.
7. Rural Development – Need-based Community Infrastructure
JSPL supports the local communities for augmenting the rural infrastructure under the segment of rural development projects which ignites community ownership of Common Property Resources and also accelerates the faster movements of goods and services directly contributing to their socio-economic growth.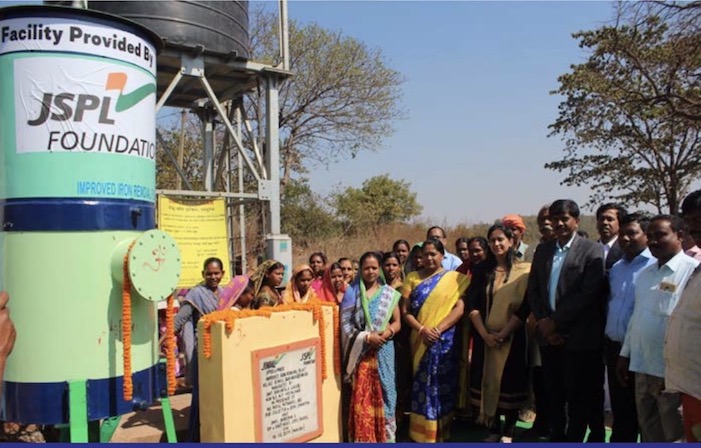 7.1. Strengthening Rural Infrastructure
India's population is moving towards Urban areas which neglect already substandard rural infrastructure. To achieve all-round development of India, it is imperative to narrow down the rural-urban divide across the country. To facilitate this, JSPL  works closely with the community and the government to build synergistic partnerships that go beyond just building the basic rural infrastructure, and also equipping the rural areas with reasonable urban facilities. Creating the necessary supportive infrastructure for sustainable healthcare, education and livelihood development is the primary motive of JSPL.
JSPL, through its CSR arm JSPL Foundation, has created a good number of critical infrastructure in its operational areas so as to improve the overall quality of life of the community. Roads, bridges, schools, hospitals, drinking water facilities, electricity and toilets improve the overall socio-economic as well as health scenario of the community. The infrastructure is constructed on a partnership basis where a component of community contribution in the shape of shramdaan(labour cost) is given by the community. That brings in greater ownership of the community of maintenance of the project. After project completion, such critical infrastructure is handed over to the gram samithis, village panchayat, a youth club for safety & proper maintenance of the assets created.
JSPL believes that improvement in communication through the building of roads and community buildings help in developing and strengthening the enabling factors for improving the quality of life of the communities. The need-based infrastructure support has been provided to the community in a partnership mode including high elements of community ownerships in process /outcome.
8. Promotion of Sports, Art & Culture
8.1 Flag Foundation
In 2002, JSPL CEO Mr Naveen Jindal won the 7-year battle that enabled all Indians to display our National Flag with honour and pride at their homes, offices and factories on all days of the year. After the Supreme Court Directive, Flag Foundation of India has undertaken numerous projects to motivate people to take inspiration from our national flag and take part in nation-building activities.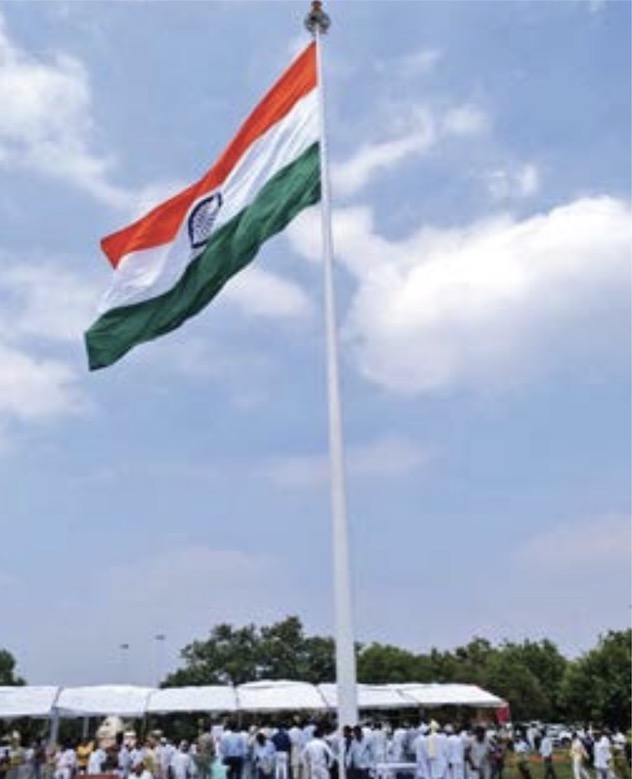 The Foundation has installed Monumental Flagpoles at 12 Locations and 40 ft High Monumental Flagpoles at 70 locations across India which includes Indian Military Station, Dehradun and National Bal Bhawan, New Delhi.
8.2 Jindal Art Institute
Shallu Jindal is a world-renowned Kuchipudi dancer and has performed at prestigious events nationally as well as Internationally. It isn't surprising then that the CSR activities of the Jindal Steel and Power Limited have a focus on promoting Indian arts and culture.
Jindal Art Institute was founded with a key objective of the promotion of art and cultural heritage through training & workshops. The JSPL Foundation believes in growing and preserving the rich culture and heritage of India.
It offers training and workshops in varied performing art forms including classical dance, traditional art forms, contemporary forms and popular genres of art, thereby helping in popularizing, creating awareness and preserving the cultural and artistic heritage including the dance and art forms in India as well as abroad. Highly accomplished trainers in their respective fields impart education to the participants.
JAI conducts various workshops with students which encourages youth to understand our art forms and develop respect for our varied culture. The institute also showcased its artistic excellence in 4 major performances and cultural events: Showcase of varied Art Forms, 5 Elements Show, Happiness Themed Diwali Showcase, Classical Dance Showcase. The Jindal Art Institute under the JSPL CSR program has an artist support program under which retired artists are entitled to a pension as a token of respect for the efforts they have put in preserving, performing and teaching the beautiful classical arts of India.
9. Awards
CSR initiatives of the Jindal Group have received multiple accolades over the years. For its women empowerment program, JSPL was awarded the "FICCI CSR Award" in 2018.
JSPL was awarded "Odisha Excellence Award, 2018", for its sustainable social development in the state.
Conclusion
Jindal Steel and Power Limited, since its inception has worked towards helping society and achieving sustainable development. It is one of the few companies in India that strives not only for profits but aims to create a real difference at the ground level through its CSR projects and sustainable operations.