"If I weren't an IPS officer I would have been a Teacher" – IPS Yashaswi Yadav | Cyber Department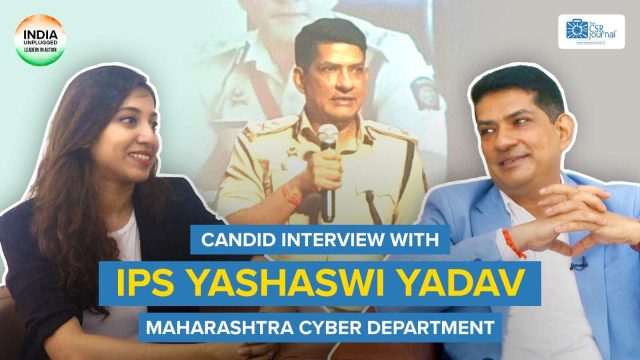 In the age of digital revolution, where the virtual world often mirrors the real one, the battle against cybercrime is one of paramount importance. Recently, on 'India Unplugged: Leaders in Action,' an enlightening interview took place with none other than IPS Officer Yashaswi Yadav. In this captivating conversation, he shed light on the growing concern of cybercrime in India and shared insights into his remarkable commitment to fitness. A black belt Dan 5 in Taekwondo and an international squash player one would think that in a hypothetical scenario he would choose sports as an alternate career option but it is surprising that the passion that he thinks would have consumed him if it weren't for the Indian Police Force, would have been that of teaching. In fact he also regularly trains several IAS and IPS officers in cybercrime as guest faculty in National Police Academy, Hyderabad and Lal Bahadur Shastri Academy, Mussoorie.

The Cyber Crime Conundrum:
"Future wars will not be fought with bombs and bullets, but with bits and bytes", says Officer Yadav. India, with its ever-expanding digital footprint, has witnessed a surge in cybercrimes in recent years. In this riveting interview, he delved into the intricate world of cyber terrorism, sharing his experiences, challenges, and strategies to combat this menace. His invaluable insights can serve as a wake-up call for individuals and organisations to be more vigilant in safeguarding their digital assets.
Officer Yadav's extensive knowledge of cyber threats and the steps needed to counter them provide a unique perspective into the world of law enforcement's battle against online criminal activities.  He is not just passionate about preempting cyber crimes before they occur but also advocates constitutional changes to make punishments more stringent against these crimes.
The IPS Officer's Tilt Towards Fitness:
In addition to discussing cybercrime, the interview provided a glimpse into Officer Yadav's personal life, particularly his dedication to fitness. It's not often we get to see the human side of our law enforcement heroes, but he is breaking stereotypes by advocating for a fit and healthy lifestyle through a combination of gymming and tennis.
His commitment to fitness not only serves as an inspiration for his colleagues but also for citizens at large. In a demanding profession like the Indian Police Service, maintaining physical and mental well-being is crucial, and Officer Yadav sets a stellar example in this regard.
Join the Conversation:
The interview with IPS Officer Yashaswi Yadav on 'India Unplugged: Leaders in Action' is not just a conversation; it's an opportunity to gain valuable insights into the pressing issue of cybercrime in India and the importance of leading a fit and healthy life.
To watch this insightful interview and to be a part of the conversation, catch the full episode. Officer Yadav's knowledge and passion for his work and fitness are sure to leave a lasting impact on anyone who watches.
In an ever-evolving world, staying informed about cyber threats and prioritising one's health and fitness is essential.