How can labour saving technologies reduce the care burden for women and girls in India?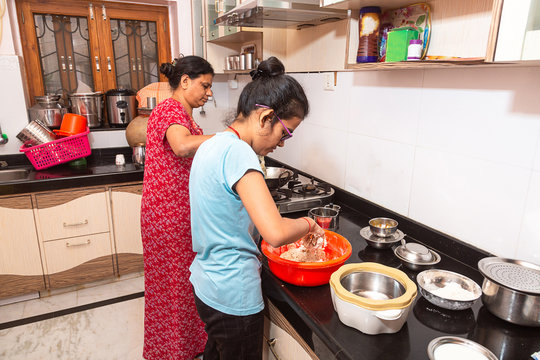 On average, women in India spend nearly ~10x more time on unpaid domestic work than men.  This includes childcare, elder care, and domestic chores, which are crucial for the health, development, and day-to-day well-being of members of the household. Domestic chores include activities such as cleaning, collecting firewood for cooking and lighting, collecting and purifying water for drinking, home management and cooking. Because of entrenched patriarchal norms, the burden of this unpaid and informal care work usually falls on the women and girls of the house. This disproportionate burden negatively impacts women, as the time that they spend performing unpaid care work could be spent on income-generating tasks or resting and socializing. Young girls could use their time for resting, playing, and attending school. It is evident that unpaid care activities, which are time-consuming and laborious, limit women's access to the labour market, increase psychiatric morbidity in women (depression, anxiety, and lower life satisfaction), and disallow women from investing in their educational and vocational skills. While women across income groups bear a disproportionate responsibility for unpaid care work, this workload is far more time-consuming and difficult to undertake for the poor.
To reduce this burden of unpaid care work, women need access to affordable care services (childcare, elderly care, care for special needs – the sick, the disabled etc.) and labour-saving products.  Access to affordable daycare services can enable women and girls to reduce the time spent taking care of young children within the household. Access and use of labour-saving products such as affordable water filters can reduce the time spent collecting and purifying drinking water for households. Similarly, access to clean cookstoves has significant potential to reduce the time spent by women in obtaining fuel (collecting firewood) for cooking and cooking.
It is estimated that 40% of the population in India lacks access to clean fuel for cooking. In rural areas, 56% of the population uses fuels such as coal, wood, charcoal, and dung cakes for cooking. This widespread use of wood and charcoal not only contributes to increasing the time spent by women on domestic chores but also contributes to environmental degradation, increases pressure on limited natural resources, and exacerbates health risks and gender-based violence. A study by the Clean Cooking Alliance found that women in India spend approximately 374 hours each year collecting firewood and 4 hours every day cooking using traditional cookstoves. The collection of firewood also exposes women and girls to the risk of gender-based violence (sexual harassment, assault) as women often need to walk long distances and/or enter secluded areas such as forests. Many studies also show that lack of access to clean fuel and cooking technologies impacts women's empowerment as it worsens the household burden for women and girls who often bear the burden of both collecting fuel (such as firewood) and cooking.
Businesses can play a significant role in providing such households with access to clean cookstoves and/or fuel and reduce the time spent by women and girls in collecting fuel for cooking and cooking.  In India, businesses that manufacture and/or sell clean cookstoves and clean fuel can help enhance outcomes for women and girls. For example, a company called Greenway Appliances manufactures clean cookstoves in the form of single-burner, high-efficiency cookstoves that work on all solid biomass fuels such as wood, dry dung, crop waste, coconut waste, bamboo etc. These stoves are modern replacements for traditional mud stoves (chulhas) and deliver 65% fuel savings and 70% smoke reduction while working on all solid biomass fuels. The stoves not only reduce the time spent by women in cooking but also minimize emissions of noxious gases. Another company, Sistema.bio, manufactures high-efficiency biodigesters that convert organic waste into renewable biogas and organic fertilizer. It also manufactures and sells clean cooking appliances such as burners and cookstoves.
Distribution companies are playing a crucial role in increasing access to and uptake of clean cookstoves among households. Dharma Life, a social enterprise supplies advanced biomass and induction/electric cookstoves along with other products to rural households. Women from rural communities are trained as change agents to work to create awareness, drive behaviour change, and distribute products. On similar lines, The Energy and Resources Institute (TERI) in collaboration with the Bihar Rural Livelihoods Promotion Society has developed a women entrepreneurship-based model, to promote clean energy and clean cooking solutions among households. The model (currently being implemented in the Bihar state of India) involves setting up Uttam Urja Kendras or Solar Marts at strategic locations in semi-urban and rural areas. These Kendras are run by well-trained Women Energy Entrepreneurs (WEEs) who are trained in business-related activities such as awareness generation, marketing, product demonstrations, after-sales service, etc. The Uttam Urja Kendrassell a variety of clean energy products such as improved forced-draft cookstoves, solar charging stations, solar torches, LED bulbs, etc. through which women entrepreneurs can earn substantial margins.
These businesses show that there is potential for the private sector to enhance outcomes for women and girls.  Such businesses can create several benefits for women and girls.  First, access to labour-saving products such as clean cookstoves and/or clean fuel reduces the time spent by women and girls on domestic chores. Second, the use of these products reduces the exposure of women and girls to indoor air pollution, which is a major cause of respiratory illnesses and household poverty (due to resources spent in seeking healthcare services). It is estimated that clean cookstoves significantly reduce indoor air pollution (by an estimated 50-80%) and thus reduce the health problems and economic burdens that disproportionately impact women. Third, some of these business models create income-generation opportunities for women in the communities. Lastly, these businesses can also help households reduce household expenditure on cooking.
Views of the author are personal and do not necessarily represent the website's views.
Shraddha Kothari – Principle, Intellecap, has over 12 years of experience supporting enterprises in the private and social sector in India and United States. She has worked with these enterprises driving a variety of strategic and operational initiatives. In addition, she has strong expertise in client relations, impact evaluation, and capacity development. At Intellecap, she has worked on projects across sectors such as financial services, gender, livelihoods and WASH.
Dr. Samira Verma is a Consultant with Intellecap. At Intellecap, she is researching enterprises that address care economy issues. In the past, her research focused on varied gender subjects in South Asia ranging from women as homemakers, the position of women in the caste system, construction and contestation of gender identity, gender-based violence, sex-work, child abuse and women's rights. She has a PhD in History and Gender Studies from Jawaharlal Nehru University in India.